Voters are more enthusiastic about voting than in any midterm election in over 20 years of Pew Research Center polling. Still, millions of Americans will not exercise their right to vote on Tuesday.
When people are asked about their overall impressions of voting, there is a broad consensus that voting is "important." But smaller majorities say it is "convenient," "straightforward" or "exciting," according to a new Pew Research Center survey on elections in America.
Young adults, in particular, are less likely than older people to say voting is convenient and exciting: 50% of adults younger than 30 say voting is convenient, while 49% say it is exciting. That compares with majorities in older age groups.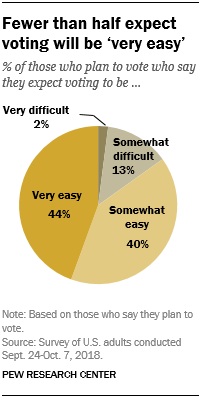 The survey also asks people about whether voting this year will be easy or difficult. A large majority (84%) of those who plan to vote in the midterms say voting will be easy, though fewer than half (44%) say they expect it will be very easy. About one-in-seven people (15%) who plan to vote say it will be difficult.
There are age and racial differences in views of whether voting will be difficult. About one-in-five adults under 30 who plan to vote (22%) say it will be difficult, compared with 13% of those 50 and older. Among those who plan to vote, blacks are more than twice as likely as whites to say it will be difficult (29% vs. 13%).
Why some think voting will be difficult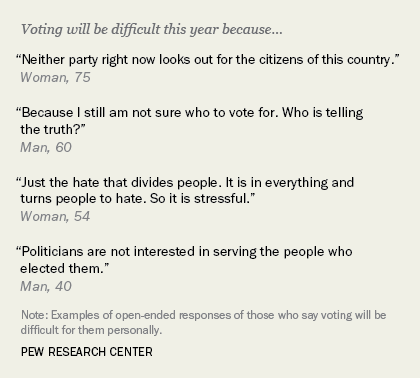 Those who plan to vote and say voting will be difficult were asked an open-ended question about why they think this will be the case. This group cites a variety of reasons for why they expect voting to be difficult; the most frequent center on the general political environment (23%) and logistical concerns (22%).
About a quarter (23%) offer a response related to the political environment, including 10% who cite concerns regarding candidate choices and 10% who mention the divisive political environment.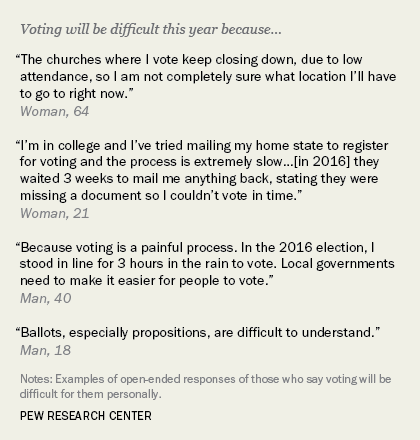 Concerns about logistical hurdles are mentioned by more than a fifth of these voters (22%). These include long wait times and large crowds at the polls (6%), not having enough time to research the candidates and ballot propositions in each race (6%), personal scheduling conflicts (4%), lack of polling places or difficulty in accessing voting stations (3%) and uncertainty about how to vote in general (3%).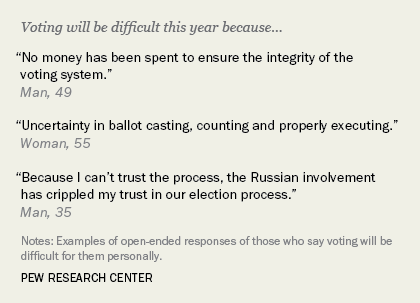 The security of the vote count is cited as a concern by 9% of those who plan to vote but say it will be difficult – 6% are concerned about the accuracy of vote tabulation by polling officials or corruption in the counting of ballots, and 3% are worried about foreign interference in the process by Russia or other outside actors.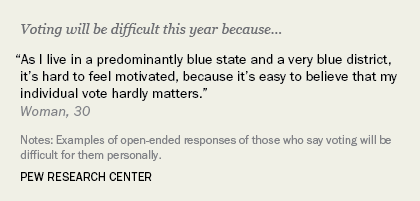 About the same number of voters for whom it will be difficult (8%) say that participating in elections doesn't matter all that much. Among these voters, 4% express a lack of trust in the candidates, or say their views were not effectively represented by either party's viewpoints. Another 4% say that their vote would not change things much either way.
Note: The methodology and topline can be found here. 
Hannah Hartig
is a senior researcher focusing on U.S. politics and policy research at Pew Research Center.