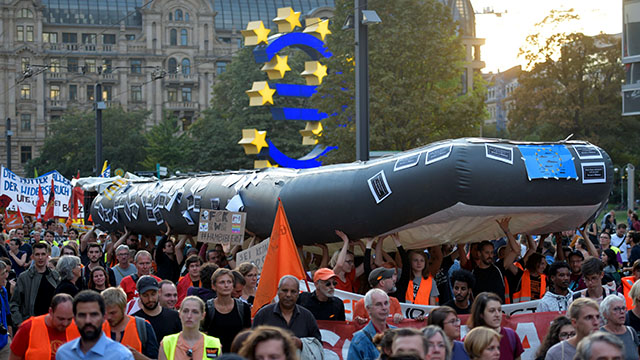 Three years after a record 1.3 million migrants sought asylum in Europe, a majority of people in several European countries say they support taking in refugees who are fleeing violence and war, according to a Pew Research Center survey. However, most people in these countries disapprove of the way the European Union has dealt with the refugee issue.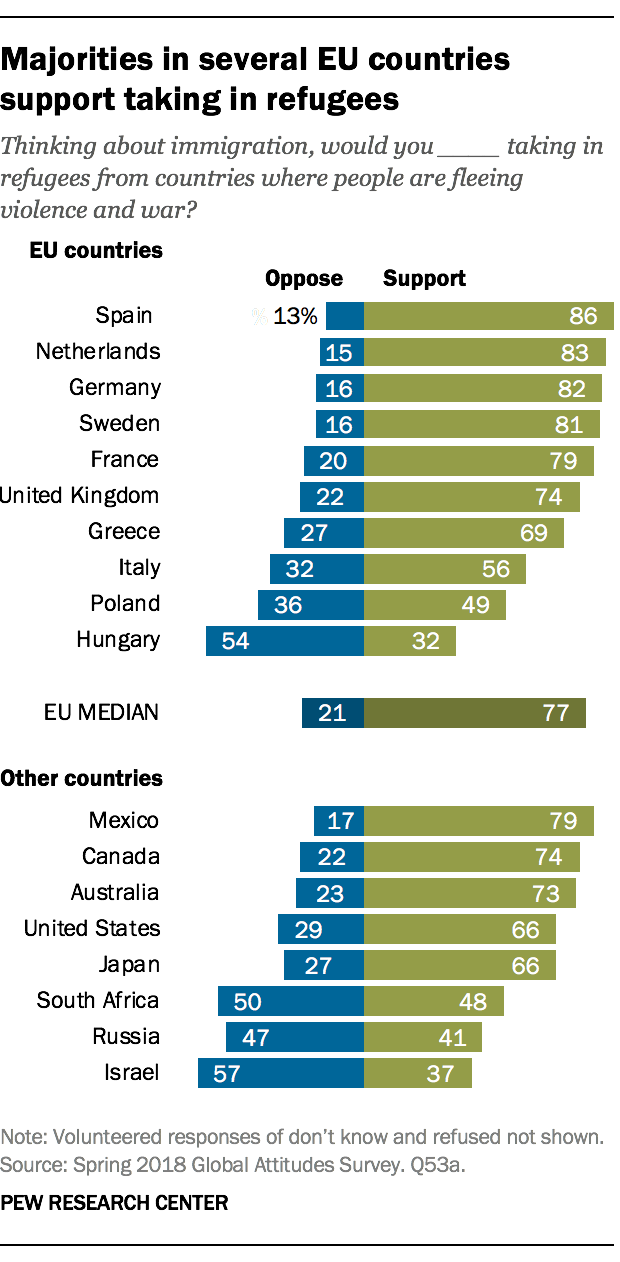 About three-quarters or more of adults in Spain, the Netherlands, France and the United Kingdom support taking in refugees from countries where people are fleeing violence and war, according to a global survey conducted in the spring of 2018 that included 10 EU countries. Similar shares in Germany and Sweden – which saw large influxes of migrants seeking refugee status in 2015 and 2016 – back taking in refugees.
There is also majority support for taking in refugees in Greece and Italy, which have been main entry points into Europe for migrants in recent years. Notably, people in these countries generally expressed negative views toward refugees following the 2015 migration surge.
People in Poland and Hungary are less likely to support taking in refugees. About half in Poland (49%) voice support, and only about a third (32%) say the same in Hungary, where thousands of migrants sought asylum in 2015. In June, Hungary's parliament passed legislation that made it a crime to assist asylum seekers and refugees – one reason why the European Parliament recently voted to pursue sanctions against Hungary for not upholding core EU values.
Support for taking in refugees varies around the world. About two-thirds or more of people in Mexico, Canada, Australia, the United States and Japan say they support taking refugees from countries where people are fleeing violence or war. This support comes at a time when the number of refugees allowed to resettle in Canada, Australia and the U.S. has decreased. In September, the U.S. announced it would resettle a maximum of 30,000 refugees during fiscal 2019, a record low.
There is mixed support, however, in South Africa, Russia and Israel, where roughly half or fewer say they support taking in refugees fleeing violence and war.
The EU is grappling with how to handle the ongoing arrival of migrants seeking asylum on its shores. Nearly all of these migrants arrive on the Mediterranean shores of Greece, Italy or Spain; more than 2 million migrants have entered Europe this way since 2009. About half have come from the Middle East-North Africa region, including large numbers of Syrians and Iraqis displaced by conflict. Hundreds of thousands from sub-Saharan Africa have also arrived.
Most migrants apply for asylum after arriving in a European country in hopes of gaining refugee status. Asylum seekers then often wait for months, if not years, to have their applications processed. Those who obtain refugee status receive permission to stay in the country a year or longer, and many receive help to integrate. Not all asylum seekers receive refugee status. Rejected applicants who do not appeal the decision are required to leave Europe either voluntarily or through deportation, though some remain in Europe without authorization.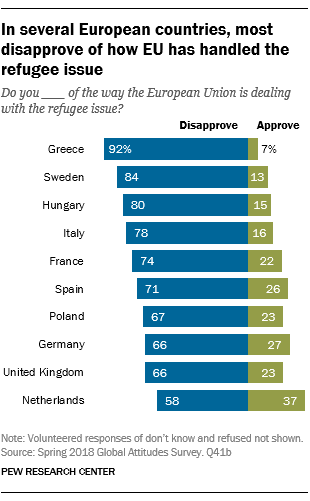 While people in some EU countries support taking in refugees, there is widespread disapproval of how the EU has handled the refugee issue, the survey finds. In Greece, Sweden, Hungary and Italy, about eight-in-ten or more disapprove of the way the EU is dealing with the issue. In fact, across all 10 EU countries surveyed, majorities disapprove of how the EU is dealing with the refugee issue.
Europeans were not asked what elements of the EU's actions on refugees they disapprove of. However, disapproval levels in Germany, Hungary, the Netherlands and Sweden are at similar levels as in 2016, immediately following the migration surge. A previous Pew Research Center survey showed that majorities in most EU countries surveyed prefer that their national government, and not the EU, make decisions on migration issues.
In many countries, disapproval levels with how the EU has dealt with the refugee issue have exceeded disapproval rates of the EU's handling of the economy, according to the Center's spring 2017 survey. This suggests that the refugee issue is not simply a sign of broader disapproval of the EU.
Discontent with how the EU is dealing with the refugee issue comes as Austria holds the European Union's presidency through the end of 2018. Austria is advocating for policies that prevent migrants from entering Europe without authorization and applying for asylum.
Correction (Jan. 8, 2019): The chart "Majorities in several EU countries support taking in refugees" has been corrected to reflect a revised weight for Australia in 2018. The change does not materially affect this analysis.
Note: See full topline results (PDF) and methodology.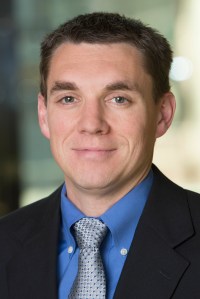 Phillip Connor
is a former senior researcher focusing on demography and migration studies at Pew Research Center.