Almost five years since his election, Pope Francis continues to make headlines around the world with his encyclicals and comments on a variety of issues, from the environment to human sexuality to poverty. At the same time, the first pontiff from Latin America has appointed many cardinals from the "global south" – that is, developing nations mostly in the Southern Hemisphere – which has shifted the church's leadership structure away from Europe.
As Francis approaches the fifth anniversary of his papacy on March 13, here are six facts about how American Catholics view the pope.
1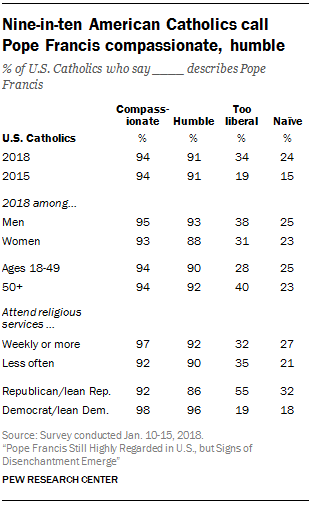 Pope Francis remains very popular among U.S. Catholics, with 84% saying they have a favorable opinion of him, according to a survey conducted by Pew Research Center in January 2018. This is similar to the 85% of U.S. Catholics who had a positive opinion of Francis in 2014, just a year after the start of his papacy. Even larger shares of U.S. Catholics see the pope as compassionate (94%) and humble (91%), exactly the same as in 2015, the last time we asked about these attributes.
2The pope's consistently high approval ratings haven't led to an increase in Mass attendance among U.S. Catholics. About four-in-ten (38%) now say they attend Mass at least once a week, slightly less than the 41% who said so in a series of aggregated surveys conducted in 2012 and the beginning of 2013, right before Francis was elected pope.
3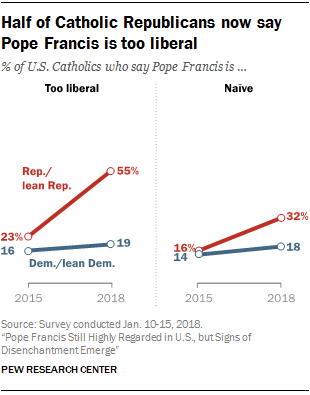 A growing share of Catholics see the pope as being too liberal (34%) as well as naïve (24%), up from 19% and 15%, respectively, in 2015. This is especially true among Catholics who are Republican or who lean Republican; they are much more likely to see Francis as being too liberal than Democrats or those who lean Democratic (55% vs. 19%). A partisan gap also exists among Catholics on views about whether the pope is naïve (32% among Republicans vs. 18% among Democrats).
4Fewer American Catholics now give Francis high marks for addressing one of the greatest challenges facing the church: the sexual abuse of minors carried out by priests. Between 2015 and 2018, the share of U.S. Catholics who give the pontiff "good" or "excellent" marks for handling the sex abuse scandal dropped from 55% to 45%.
5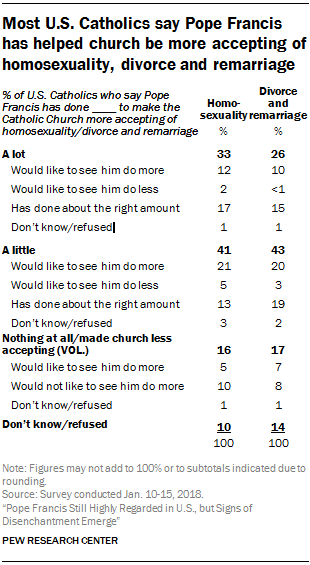 Most Catholics say Francis has done at least a little to make the church more accepting of homosexuality as well as divorce and remarriage. About three-quarters of U.S. Catholics say Francis has done either a little (41%) or a lot (33%) to increase acceptance of homosexuality, while seven-in-ten say he has done either a little (43%) or a lot (26%) to increase acceptance of divorce and remarriage.
6Roughly six-in-ten Catholics (58%) say the pope represents a positive change for the church – down from 68% who felt that way early in his papacy in 2014, but still quite high. About six-in-ten Catholics (58%) also say Francis has done an excellent or good job appointing new bishops and cardinals.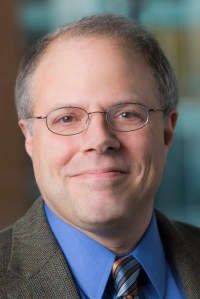 David Masci
is a former senior writer/editor focusing on religion at Pew Research Center.