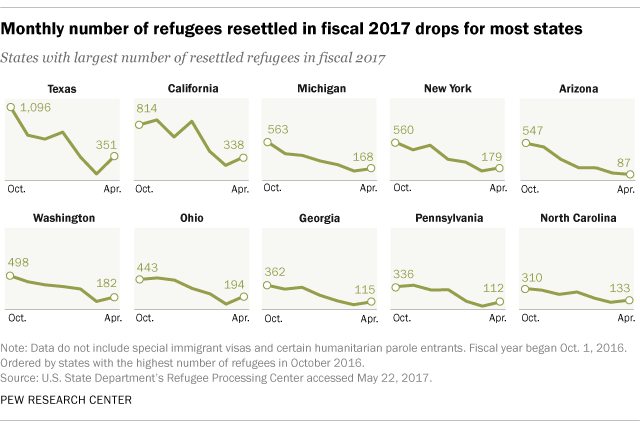 The number of refugees entering the United States each month has declined sharply so far in fiscal 2017, falling from 9,945 in October 2016 to 3,316 in April 2017, according to a Pew Research Center analysis of U.S. State Department data. All but four states reported declines in monthly arrivals.
Nationwide, the number of refugee arrivals decreased in each of the first five months of the fiscal year, the longest consecutive monthly decline on record (monthly data before 2000 are not available). In April, however, the number of arriving refugees rose to 3,316, compared with 2,070 in March.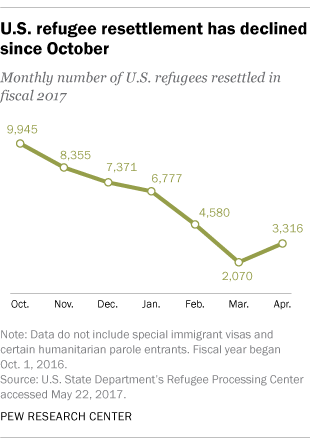 President Donald Trump, by executive order, has ordered a ceiling of 50,000 total refugee arrivals in fiscal 2017, less than half the annual limit set by the Obama administration, though the order's implementation remains tied up in court proceedings. If the new ceiling were in place, the U.S. could resettle a maximum of 7,586 additional refugees during the final five months of the current fiscal year, which ends in September (though refugee ceilings went unreached until recent years).
Earlier this month, a group of U.S. senators sent a letter to the U.S. State Department asking for more information about the refugee resettlement ceiling and whether refugees continue to be screened. As states have received fewer refugees, several refugee assistance organizations have also laid off staff and seen their programs quickly decrease in size.
So far in fiscal 2017, states that have received the highest number of refugees in recent years have seen the biggest numeric drop in monthly refugee arrivals. For example, 1,096 refugees resettled in Texas in October 2016, the first month of the current fiscal year. By April 2017, that number had dropped to 353.
Similarly, California and Arizona each had 500 fewer refugee arrivals in April 2017 than October 2016. Other states with substantial drops in monthly refugee resettlement include Michigan and New York. States with the most significant percentage decreases in resettled refugees include Maine (90% decrease), Oklahoma (87%), Virginia (81%) and Nebraska (80%).
Four states – Arkansas, Louisiana, Mississippi and Montana – had a higher number of refugees in April 2017 than October 2016. However, these states combined resettled only 155 refugees during the first seven months of fiscal 2017. (A full list of monthly numbers of refugee arrivals by state in fiscal 2017 is available here.)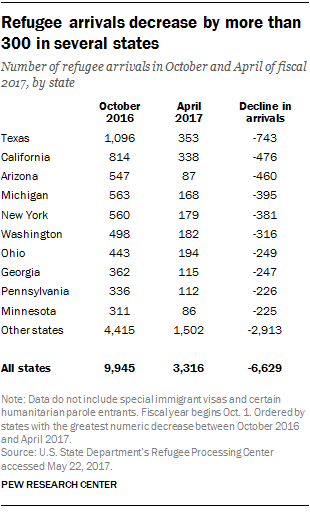 The State Department's Bureau of Population, Refugees and Migration reviews refugee applications based on referrals from the United Nations High Commissioner for Refugees, U.S embassies, nongovernmental organizations and other programs. Applications are then processed by the State Department, the Department of Homeland Security's U.S Citizenship and Immigration Services and other federal agencies. The application and approval process can take up to 24 months.
For U.S. resettlement, the International Organization for Migration and the U.S. Office of Refugee Resettlement work with voluntary agencies such as the International Rescue Committee or Church World Service to resettle refugees. These agencies have offices across the country and resettle refugees across many states. After 90 to 180 days, financial assistance from federal agencies stops.
Note: A full table with monthly numbers of refugee arrivals by state in fiscal 2017 is available here.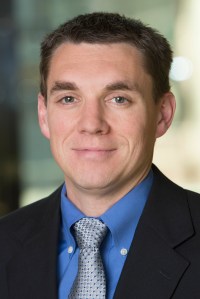 Phillip Connor
is a former senior researcher focusing on demography and migration studies at Pew Research Center.