Nearly a quarter of Americans say they've earned money in the digital "platform economy" in the past year, according to a new Pew Research Center survey. Perhaps surprisingly, though, the most commonly cited motivation for these workers is not the pay.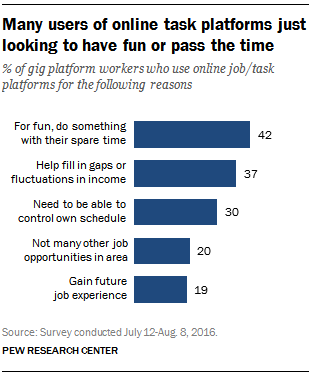 Our survey asked those who have earned money through digital employment platforms – such as ride-hailing apps or various digital task sites – why they take on this type of work. They cited a number of reasons, from helping to fill in gaps in their other sources of income (37% mentioned this) to needing ways to earn money that could fit into the other demands on their time (30%). But the number one motivation, cited by 42% of respondents, was fun, or because the work gives them something to do in their spare time.
A closer examination of this group highlights several themes that speak to the significant diversity in the broader gig economy.
First, many of these "platform earners" engage in this work for a variety of reasons. Among those who are motivated by a desire to have fun or for something to do in their spare time, around one-quarter (27%) also say that they engage in this work to help fill gaps or fluctuations in their other income. Meanwhile, around one-in-five say they are also motivated by a desire to gain work experience (19%) or because of a lack of other jobs in their area (17%), while 15% cite the need to control their own schedule due to other obligations.
Second, those who take on gig work for this reason engage in a wide range of jobs and tasks – including some that many Americans might not immediately think of as fun. Overwhelmingly, this group gravitates toward online tasks that might be completed on sites such as Amazon's Mechanical Turk: 69% say that they have earned money in the past year performing online tasks on these platforms. But just under one-in-five have earned money in the past year by shopping for or delivering household items (18%), doing chores like cleaning or laundry (17%), or driving for a ride-hailing service (16%).
Third, just because they are motivated in part by a desire to pass the time does not mean that the income they earn is not important to them. Three-in-five of these earners (62%) say that the income they earn from their platform work is nice to have, but that they could live comfortably without it. But around one-in-five say this income is either essential to meeting their basic needs (20%) or at minimum an important component of their overall budget (18%).
In the end, these findings highlight the extent to which participants in the digital gig economy cover a wide spectrum of characteristics and a diverse range of motivations – from dedicated workers who rely heavily on their income to hobbyists for whom financial considerations are of secondary importance to doing something they love.