Russian President Vladimir Putin denies the Kremlin has had a hand in the continued fighting in eastern Ukraine, even as President Obama and other Western officials say they have proof of "deep Russian involvement." At home, Putin faces far fewer questions from a public that draws a distinction between support for separatist rebels and having a direct role in the continued violence in eastern Ukraine.
A 56%-majority of Russians say their country has yet to get involved in what is happening in Ukraine, compared with roughly a third of Russians (32%) who think Russia has already intervened, according to a survey conducted August 22-25 by the independent, Moscow-based Levada Center.
The nationwide, representative survey of 1,600 adults suggests that many Russians do not consider support to separatist rebels as actually intervening in Ukraine. Half say the Kremlin actively backs pro-Russian forces in Ukraine and 55% think this is the right thing to do.
Only about a quarter of Russians (26%) think their country and Ukraine are currently at war, compared to six-in-ten (59%) who disagree, according to the Levada poll.
The perception among Russians that the country is principally providing support to the separatists and has not entered the war itself is an important one. The public is split on whether they would support the Kremlin in the event of open military conflict with Ukraine: 41% say yes, 43% say no, while 16% are unsure. And, the share of Russians prepared to back the government in the event of war with Ukraine has fallen dramatically from this past spring, when seven-in-ten or more in March and May (74% and 69%, respectively) said they would back such intervention.
Although most Russians do not think their country is directly involved in the fighting in eastern Ukraine, a nationwide August 1-4 poll of 1,600 adults by Levada indicates that many suspect the West of intervening. Asked the main reason they thought the new Ukrainian government was seeking to distance itself from Russia and draw closer to Europe, the most frequent answer (52%) was that "Ukraine had become a puppet in the hands of the West and U.S.A., who are pursuing an anti-Russian policy."
Even more emphatically, in the same early August poll, three-quarters of respondents (77%) subscribed to the view that Ukrainian President Petro Poroshenko's "anti-terrorist operation" against separatist rebels was launched with the support and encouragement of the U.S., compared with 7% who thought the campaign was the Ukrainian leader's own initiative.
Overall, the two Levada polls suggest that the Russian public is likely to remain skeptical of international claims that the Kremlin is fomenting unrest in eastern Ukraine, especially if Russians continue to suspect the U.S. and other Western powers of stacking the deck against their country.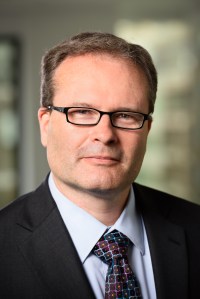 James Bell
is Director of International Survey Research at the Pew Research Center.