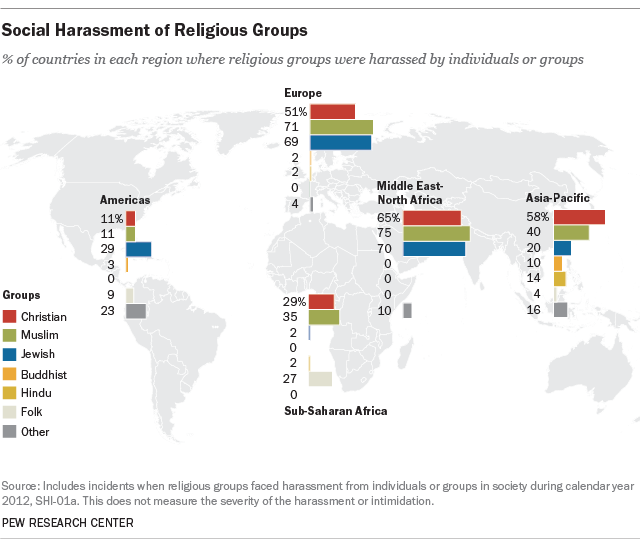 In nearly three out of every four countries of the world, religious groups experience harassment by individuals or groups in society. The harassment and intimidation take many forms, including physical or verbal assaults; desecration of holy sites; and discrimination against religious groups in employment, education and housing. Every year, we track such harassment through a variety of sources, including the U.S. State Department's International Religious Freedom Report and U.N. Special Rapporteur on Freedom of Religion and Belief reports. (For more information on our sources and procedures, see our latest report on religious restrictions and hostilities.) Here's a region-by-region look at where it takes place, and to which groups:
Middle East-North Africa: Muslims most harassed group in the region  Harassment or intimidation of Muslims took place in 75% of countries in the region (15 of 20) in 2012, the latest year for which data are available. Christians and Jews also faced harassment in roughly two-thirds of countries (13 and 14, respectively).In Tunisia, for instance, Salafists continued to attack religious sites, including a Russian Orthodox Church, Jewish synagogues and dozens of Sufi Muslim shrines. And in Egypt, Al-Azhar, Egypt's leading Sunni Muslim religious authority, condemned the building of Shia places of worship, claiming they disrupt the country's "spiritual unity." The Grand Mufti Ali Gomaa denounced Shia beliefs and doctrine, saying that the spread of Shia Islam could lead to strife and social instability.
Americas: Harassment of Jews found in nearly a third of countries In the Americas, Jews faced harassment or intimidation in 29% of countries (10 of 35) – more than any other group in the region. In August 2012, for example, a neo-Nazi group in Chile attacked a 14-year-old boy, drawing a swastika on his stomach with a syringe. Christians and Muslims each experienced harassment in about one-in-ten countries in the region (11%, or four countries each). In Mexico, for instance,a group of Catholics burned and destroyed more than a dozen homes belonging to indigenous evangelical Protestant families in retaliation for the families' refusal to convert to Catholicism. And in Canada in 2012, "hooligans" vandalized a mosque in Quebec with anti-Islamic graffiti and damaged the mosque's windows and vehicles.
Europe: Jews, Muslims faced intimidation in seven-in-ten countries In Europe, Jews were harassed in 69% of countries in the region (31 of 45). Muslims experienced harassment in 71% of countries (32 of 45) – a rate nearly as high as in the Middle East and North Africa (75%). In Greece, for instance, vandals defaced Jewish cemeteries and arsonists attacked informal mosques as well as Jehovah's Witness congregations. In France, a group of at least 10 people attacked three Jewish youth with hammers while they were walking to Shabbat services.
Asia-Pacific: Christians harassed in more than half of countries In the Asia-Pacific region, Christians faced harassment from social groups in about six-in-ten countries (58%, or 29 of 50) – more than any other group in the region. In Buddhist-majority Sri Lanka, for example, monks attacked Christian as well as Muslim places of worship, including reportedly occupying a Seventh-day Adventist church in the town of Deniyaya and converting it into a Buddhist temple. In Turkey, on Easter 2012, three men attacked a Protestant lay minister in his church, beating and threatening him for not leaving the neighborhood.
Sub-Saharan Africa: Harassment of folk religions prevalent About three-quarters of the countries in which incidents of harassment took place against practitioners of folk religions were in sub-Saharan Africa. Followers of folk or traditional religions – including those practicing or accused of witchcraft – were harassed in nearly three-in-ten countries (27%, or 13 of 48) in this part of the world. In the Democratic Republic of the Congo, churches reportedly forced children accused of witchcraft to endure exorcisms involving isolation, beatings, starvation and other torture. And in Malawi, a mob attacked an elderly woman accused of witchcraft, beating her and burning her home.  Muslims (35% of countries) and Christians (29%) also faced considerable harassment in the region.
Peter Henne
is a former research associate who focused on religion research at Pew Research Center.