The Egyptian military issued an ultimatum to both President Mohamed Morsi and his opponents today, declaring that the two sides must find a resolution to the country's political crisis in the next 48 hours or the military will impose its own "roadmap for the future."
Since the revolution that toppled Hosni Mubarak two and a half years ago, the armed forces have consistently been held in high regard by the Egyptian people. In a Pew Research Center poll conducted in March, fully 73% of Egyptians said the military was having a good influence on the country, down somewhat from the 88% registered in a 2011 survey conducted a few weeks after Mubarak was pushed out of office.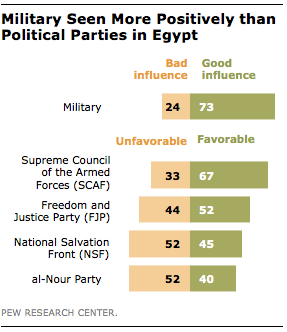 Moreover, the ideological and partisan divisions that characterize Egyptian public opinion on a variety of issues are not apparent in views about the military. Among supporters of both the Salafist al-Nour party and the Muslim Brotherhood affiliated Freedom and Justice Party (FJP), nearly eight-in-ten said the military was having a positive influence. Similarly, seven-in-ten held this view among supporters of the National Salvation Front (NSF), a more secular coalition of opposition forces.
The Supreme Council of the Armed Forces (SCAF), the military's governing body, also receives high marks. Two-in-three Egyptians (67%) had a positive view of the council.
Of course, today's announcement could have a major impact on public opinion – it's likely that FJP supporters will react negatively to the ultimatum – but it is clear that the military comes into this crisis with a stronger public image than many of the country's key political players. For example, the March survey found mixed views regarding the nation's largest political parties. About half (52%) had a favorable opinion of the FJP, while 44% expressed a negative view. Meanwhile, ratings for both the NSF (45% favorable, 52% unfavorable) and al-Nour (40% favorable, 52% unfavorable) were on balance negative.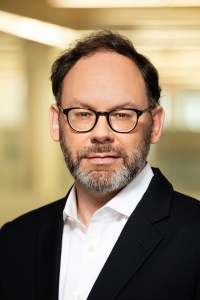 Richard Wike
is director of global attitudes research at Pew Research Center.