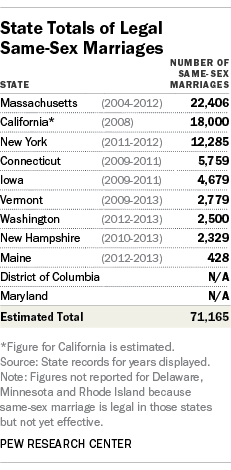 Today, the Supreme Court struck down the Defense of Marriage Act's key section, which prohibited federal recognition of same-sex marriages and denied same-sex couples who were married under state law a panoply of federal benefits — from favorable tax treatment to the ability to be buried together in veterans' cemeteries — that are available to opposite-sex married couples.
Which got us wondering: How many same-sex marriages have there been in the United States since 2004, when Massachusetts became the first state to legalize them? Our best estimate: At least 71,165, but almost certainly more.
Gathering reliable figures on same-sex marriages turns out to be a lot trickier than one might think — largely because, as Justice Kennedy wrote in his DOMA opinion, "[b]y history and tradition the definition and regulation of marriage…has been treated as being within the authority and realm of the separate States."
Among other things, that means each state can decide how it collects and publishes marriage statistics. We were able to obtain figures from eight of the nine states that currently permit same-sex marriage. Maryland, where same-sex marriage became legal as of Jan. 1, has yet to compile figures on how many there have been; data from the District of Columbia, which legalized same-sex marriage effective March 2010, weren't available. (Three more states — Delaware, Minnesota and Rhode Island — will begin issuing same-sex marriage licenses later this summer.)
Massachusetts, which has authorized same-sex marriages the longest, also has had the most: 22,406 through 2012. New York had at least 12,285 same-sex marriages in 2011 and 2012; Connecticut witnessed 5,759 from 2009 through 2011. Nearly 2,500 same-sex couples were married in Washington state between Dec. 6, 2012 and March 31 of this year. Maine, where same-sex marriages became legal on Dec. 29, had 428 through last week.
California presents a special case. Same-sex marriages there were performed from June 2008, when the state Supreme Court legalized them, until voters passed Proposition 8 that November, which inserted a ban in the state constitution. In the absence of any official state figures, we relied on an estimate by the UCLA School of Law's Williams Institute that 18,000 same-sex marriages took place in California during the four-and-a-half months they were legal; the state still recognizes those marriages. (The Supreme Court today also declined to rule on an appeal of a lower-court ruling invalidating Proposition 8, essentially clearing the way for same-sex marriages to resume in that state.)
But there almost certainly have been more U.S. same-sex marriages than the official records show, for several reasons.
First, there are significant lags in most of the states' data. Many states have yet to compile marriage statistics for 2012, and only a few have counts for any part of 2013. New York City, which keeps marriage records separately from the rest of New York state, counted 7,184 same-sex marriages in the year after they were legalized in July 2011, but the city hasn't released any figures since.
Also, some states no longer require couples applying for marriage licenses to designate their genders (asking for "Party A" and "Party B," for instance, instead of "bride" and "groom"). In 2012, for instance, New York state's preliminary marriage count (excluding New York City) was 50,899 opposite-sex couples, 2,865 same-sex couples, and 7,950 couples where the gender of at least one spouse was unknown. At least some of those unknown-gender couples likely are same-sex.
Some states, such as New Hampshire, that allowed same-sex couples to form civil unions automatically converted them into marriages after the law was changed. And none of the states include same-sex couples who were married overseas (in one of the 16 countries that permits such marriages in all or part of their territory), even though their marriages are recognized under state law.
In a brief filed earlier this year in the Supreme Court case challenging the federal Defense of Marriage Act, Williams Institute scholar Gary Gates used Census data to estimate that 114,100 same-sex couples in the United States are legally married, though that figure would include couples married overseas.
The growing availability of marriage to more U.S. same-sex couples has economic, as well as social and demographic, impacts. For instance, the Williams Institute estimated that within  three years after Washington state legalized same-sex marriage in late 2012, some 9,500 in-state same-sex couples would get married, spending an aggregate $88 million (in wedding arrangements and tourism expenditures by their guests) to do so.
Such analyses, though, rely on projections of how many same-sex couples will want to marry. In the Pew Research Center's recent survey of LGBT Americans, similar percentages of unmarried gay men and lesbians (56% and 58%, respectively) said they would like to get married someday; 4% of gay men and 6% of lesbians said they were currently legally married (the report did not attempt to estimate the total LGBT population).
But the marriage figures to date suggest a somewhat different story: Lesbian couples accounted for over three-fifths of the more than 50,000 same-sex marriages that were identified by gender. In fact, female-female marriages outnumbered male-male marriages in every reporting jurisdiction except New York City.