Overview
As the midterm elections approach, there is every indication that voter turnout will be as high as in 2006, but unlike four years ago, Republicans – not Democrats – are now more engaged and enthusiastic about casting a ballot. The prospects for a GOP turnout advantage on Election Day are almost as favorable in the new Pew Research Center survey as they have been in all previous polls throughout the campaign.
The new survey does show some signs of the Democrats awakening. A growing number of Democratic voters say they have given a lot of thought to the coming elections and more say they have been closely following campaign news. However, Republican engagement continues at record levels, dwarfing even improved Democratic showings on these indicators.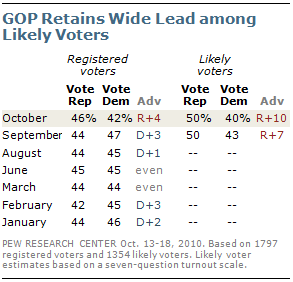 Consequently, a considerably greater percentage of Republicans than Democrats still fall into the likely voter category. Moreover, the new survey shows that Democrats have lost ground among all voters: Currently, 46% of registered voters favor the Republican candidate in their district or lean Republican, while 42% favor the Democratic candidate or lean Democratic. In early September, 44% backed the Republican while 47% supported the Democratic candidate.
When the current survey is narrowed to those most likely to vote, the GOP holds a double-digit advantage – 50% to 40%. In early September, Republicans held a seven-point lead among likely voters (50% to 43%).
The latest national survey by the Pew Research Center for the People & the Press, conducted Oct. 13-18 among 1,797 registered voters, including 1,354 likely voters, finds more ominous signs for Democrats. First, the growing popularity of early voting means that Democrats have less time to make up ground. The survey finds that about a quarter (27%) of voters nationally, including 52% of voters in the West, say they plan to vote before Election Day or have already voted. Republicans (29%) and Democrats (28%) are equally likely to say they plan to vote early or have already voted. At a comparable point in the 2006 midterm, 18% said they would be early voters.
Second, while the parties' voter mobilization efforts are well underway at this stage of the campaign, there is no indication that Democrats are making more headway on these efforts than are Republicans.
Overall, voter outreach by the candidates and political groups now outpaces
levels seen in October 2006. Currently, 59% say they have been reached by phone (either through a pre-recorded or live call) by candidates or political groups; four years ago, 41% said they had been reached over the phone. About a quarter of voters (26%) report receiving email from candidates or political groups; 16% said they had been contacted by email in October 2006. Nearly one-in-five (18%) say they have been visited at home by someone talking about the elections, which is up slightly from 2006 (14%).
In the new survey, 67% of Republicans say they have received live or recorded calls, compared with 54% of Democrats. In 2006, somewhat more Democrats (45%) than Republicans (37%) said they had been reached by phone. Republicans and Democrats are about equally likely to have been reached by email or through a personal visit at their home.
Campaign Ads Pervasive
Nearly nine-in-ten voters (88%) say they have seen or heard campaign commercials, and a majority (56%) say they have seen a lot of ads. In competitive House districts across the country, fully 67% say they have seen or heard a lot of campaign commercials.
And the tone of the campaign – on both sides – is negative. By greater than two-to-one (58% to 26%), voters say Republican candidates in their state have spent more time attacking Democrats than explaining what they would do if elected. Voters offer a similar assessment of Democratic candidates: 56% say they spend more of their time attacking Republicans, 26% say they have been explaining their proposals.
Voters are divided as to whether it is important to know who paid for campaign ads – 49% say it is important while 50% say it does not matter much. And for the most part, they say they have no difficulty determining who is paying for campaign ads. More than half (55%) say it easy to tell who paid for the ads while 32% say it is difficult.
The survey finds that levels of voter participation in the midterm campaign are on par with 2006. However, significantly more Republicans report contributing money to candidates than did so four years ago (18% vs. 11%). And more conservative Republicans (21%) say they have donated to a candidate this year than gave to any of the presidential candidates in 2008 (13%).
Overall, Democrats are about as likely to say they have donated money to a candidate as did so in 2006 (15% now, 13% then). But far fewer liberal Democrats say they have donated than gave to a presidential candidate in 2008 (20% now vs. 34% then).
Only about one-in-ten voters (11%) say they have attended a campaign event this year. But that figure rises to 17% among voters who say they agree with the Tea Party. Tea Party supporters are more likely than either Republicans (12%) or Democrats (9%) to say they have attended an event. And nearly three-in-ten (28%) of those who agree with the Tea Party say they have visited a candidate's website or followed a candidate online, compared with 19% of registered voters generally.
Campaign Engagement
In the new survey, 55% of voters say they have given a lot of thought to the election, which is about the same as in October 2006 (54%), but much higher than levels in the three previous midterms.
Compared with 2006, more Republican voters report giving a lot of thought to the election (64% now vs. 50% then). The reverse is true among Democrats: 49% now say they are giving a lot of thought to the election, compared with 59% at about this point in the 2006 campaign. At the high end of the engagement spectrum are those who agree with the Tea Party movement, 80% of whom have given a lot of thought to the coming election.
Only a third (33%) of voters under age 30 have given a lot of thought to the campaign, which is comparable to 2006 and significantly less than among voters 30 and older (59%). This is the typical pattern for young people in midterms, and very much unlike their high level of engagement in the 2008 presidential campaign.
Reactions to Victory…or Defeat
While there are substantial differences between Republican and Democratic voters in overall engagement and enthusiasm at this point, both groups offer remarkably similar reactions to the possibility of their party winning – or losing – this November. When asked to describe in a word how they will feel if the Republican Party wins a majority in the House after the elections are over, Republican voters say they will feel hopeful, happy, relieved, and good. For the most part, these are the same kinds of words that Democrats volunteer to describe how they will feel if their party keeps its majority after the elections are over. One noticeable difference is that more Republicans than Democrats say the word hopeful best captures their feeling if their party has a majority after Election Day.
Reactions to defeat are also similar across party lines. By far, disappointed is the most common reaction each side expresses
to the possibility of not winning a House majority this fall. A number of voters – on both sides – also say they will feel sad or bad. The words disgusted and depressed come up more frequently among Republican voters than among Democratic voters. Relatively few voters on either side express extreme reactions, such as devastated, scared or fearful. And, while it has been a common catchphrase in this election cycle, virtually no voters – Republican or Democratic – used the word angry to describe their reaction to the possibility that the other party will have the majority when this election is over.
Other Important Findings
•The Republicans' advantage in 2010 is largely being driven by a swing in preferences among independent voters. Currently, likely independent voters favor the Republican candidate by 19 points (49% Republican vs. 30% Democrat). In November 2006, Democrats held a seven-point lead among likely independent voters.
•Anti-incumbent sentiment has remained high all year, and is substantially greater than in 2006, 2002 and 1998 and on par with levels in 1994.
•President Obama's approval ratings among the public remain unchanged from early September; currently, 46% approve, while 45% disapprove. About as many voters say they think of their vote as a vote against Obama as a vote for him (30% vs. 27%). Four years ago, President Bush was more of a negative factor; just 20% said they were voting for him and 37% against him.
•Republicans hold a 12-point edge among likely voters in the most competitive districts in the nation, and have a bigger lead in safe Republican districts (27 points) than Democrats have in safe Democratic districts (10 points).
•Some signs of growing campaign interest among Democrats is consistent with the pattern in past midterm elections. Democratic engagement has increased as Election Day approached in every midterm since 1994, except in 2006 when Republican engagement surged in the campaign's closing weeks.