True crime is the most common topic; 15% of the top podcasts focus on news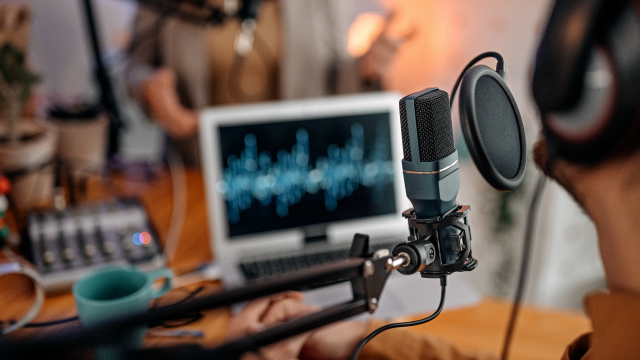 This study takes a close look at key characteristics of top-ranked podcasts. It is a continuation of work that Pew Research Center has done analyzing podcasts as a part of the news and information landscape in the U.S.
This analysis examines 451 top-ranked podcasts. Researchers identified these top podcasts by analyzing daily lists of the top 200 podcasts on Apple Podcasts and Spotify from April 1 to Sept. 30, 2022 (chart data provided by Podchaser, Inc.). The average chart position of each podcast that appeared on either list was calculated, and the top 300 podcasts from each site were included as top podcasts. By combining these lists so that podcasts that were among the top 300 on both sites were not counted twice, researchers identified 451 top podcasts.
A team of trained researchers then analyzed these 451 podcasts to determine podcast affiliation, topic, format and other key characteristics of each podcast. Additional data on episode length and frequency was analyzed after collecting data on all episodes published in 2022 through the Spotify and Apple Podcasts APIs.
Here are the detailed tables for this report, and the methodology.
Pew Research Center is a subsidiary of The Pew Charitable Trusts, its primary funder. This is the latest report in Pew Research Center's ongoing investigation of the state of news, information and journalism in the digital age, a research program funded by The Pew Charitable Trusts, with generous support from the John S. and James L. Knight Foundation.
Although it's much newer than other media like television or books, the podcast ecosystem has created a rich library of content covering a wide range of topics both popular and niche.
A new Pew Research Center study of 451 of the top-ranked podcasts in the United States shows this diversity of subjects: No single topic is the main focus of more than a quarter of these podcasts.
True crime is the most common topic, making up 24% of these top-ranked podcasts – perhaps reflecting the early popularity of Serial. The next most common topics are politics and government (10%); entertainment, pop culture and the arts (9%); and self-help and relationships (8%).
There are also a number of podcasts that don't fit into any of these topics (12%), such as fictional radio stories and teams of people playing the role-playing game Dungeons & Dragons.
One-fifth of these top podcasts – which are those with the highest average daily rankings on Apple's and Spotify's lists of top podcasts in a six-month period in 2022 – discuss multiple topics. Many of these podcasts are like talk shows, with the discussion flowing across topics.
The list of top podcasts generally reflects the interests of U.S. listeners. Among the 49% of U.S. adults who said in a 2022 Center survey that they listened to a podcast in the last year, entertainment, politics, history and true crime were all among the most common topics these podcast listeners turned to.
What is a top-ranked podcast?
To create a list of top-ranked podcasts for this study, researchers collected the top 200 podcasts from the daily top charts on Apple Podcasts and Spotify from April 1 to Sept. 30, 2022, (chart data provided by Podchaser, Inc.). Although exactly how each site compiles its list is not public knowledge, it is assumed to broadly reflect the site's most popular podcasts, perhaps along with some other podcasts the site sees as being buzzworthy. For each podcast, researchers calculated the average chart position for each day the podcast appeared on the top charts, removing any podcasts that had not appeared on these charts for at least seven days or were not primarily in English. The top 300 podcasts with the highest average chart position on their respective listing sites were then considered "top-ranked podcasts." Podcasts that appeared on both listing sites were then merged, adjusting for duplicates. This resulted in 451 unique top-ranked podcasts.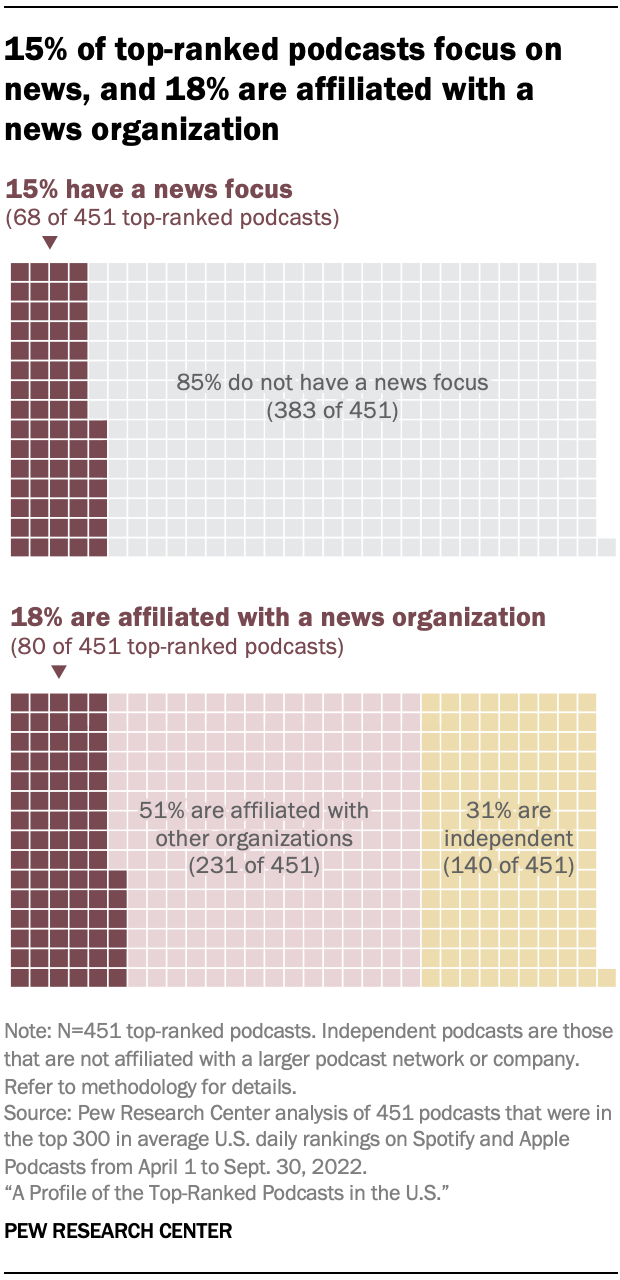 To assess the presence of news in the podcast universe, researchers also looked at how many of the top-ranked podcasts are focused primarily on news and current events, finding that 15% of the podcasts studied fit this description.
News-focused podcasts can be about any topic, though most are about politics and government (49%) or sports (29%). Many have their roots in talk radio, and some, like The Dan Le Batard Show with Stugotz, are directly connected to radio shows.
Across topics, the most common format among news-focused podcasts is commentary (49%), while smaller shares – 22% each – are centered around deep reporting (podcasts that do in-depth examinations or analyses of a topic or story) or interviews. Just 6% are news summaries. Commentary is especially dominant among sports podcasts (82%).
News organizations have been investing in podcasts for several years, and some produce podcasts about news and other topics. They have had some success in this area: 18% of top-ranked podcasts are affiliated with one of several dozen news organizations, such as NPR, The Wall Street Journal or The Ringer. About half (51%) are affiliated with some other kind of organization, such as Wondery or iHeartRadio, and 31% of top podcasts have no affiliation (i.e., they are independent).
Current events likely come up on podcasts more frequently than these figures may suggest. Two-thirds of U.S. podcast listeners say news is discussed on the podcasts they listen to, according to a recent Center survey, and a similar share (64%) say they listen to podcasts to stay up to date about current events. This disconnect may be the result of podcast formats or other factors. For example, some podcasts might discuss news topics in passing, even if they do not focus on news exclusively. This analysis did not capture this type of news reference.
Podcasts are often viewed as a relatively easy way for anyone to tell a story. But actually getting an audience for that storytelling is more difficult, and podcast producers use several means to grow and connect with their audiences. Most of the top-ranked podcasts studied are available on four major listing sites – Spotify, Apple Podcasts, Google Podcasts and Stitcher – and roughly three-quarters have a website.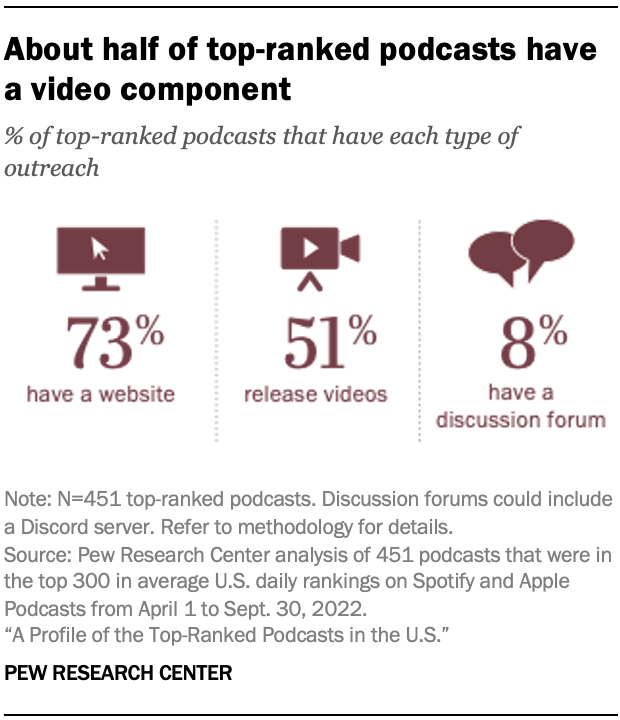 Some of these podcasts also experiment with other ways to engage their audiences. About half of top podcasts (51%) produce a video to accompany most episodes. Many of these videos show the podcast being recorded, providing a more engaging experience for viewers. And 8% have a discussion forum or Discord server, to directly engage with their fans or allow fans to connect with each other.
We studied 451 podcasts that had the highest average daily ranking on Apple and Spotify from April 1 to Sept. 30, 2022. This new report builds on the Center's recent survey of U.S. podcast listeners to give context around what podcast audiences are listening to.
Other key findings from this analysis include:
The rise of podcasts
Podcast listenership in the U.S. has increased steadily since 2013. In 2014, the popular true crime podcast Serial was released, becoming the fastest podcast to reach 5 million downloads on iTunes. Years later, this was followed by investments in podcasts by platforms like Spotify, which paid at least $200 million for an exclusive deal with The Joe Rogan Experience in 2020.
In a recent survey, Pew Research Center found that 49% of U.S. adults have listened to a podcast in the past year. However, as podcast audiences continue to grow, some podcast hosts have been accused of spreading unsubstantiated false claims, and others have drawn backlash for offensive content.
This report is the latest from the Center's ongoing research into podcasts. Previous reports covered how Americans engage with podcasts, which podcasts they listen to most, and the differences in engagement with podcasts depending on factors like age and race.
Top-ranked podcasts use a variety of formats: 38% feature deep reporting or explain a topic, roughly a quarter (23%) are interview shows, and 16% are based around commentary.
True crime podcasts tend to feature deep reporting, while other topics use a more diverse set of formats. The vast majority of top true crime podcasts (95%) use deep reporting. In contrast, politics and government podcasts are roughly evenly split among interview (33%), deep reporting (28%) and commentary (28%) formats, while an additional 9% are news summaries.
Most top-ranked podcasts have a single host. A majority of top podcasts (58%) feature a single host, while roughly four-in-ten (37%) have multiple hosts.
Top-ranked podcasts tend to be less than an hour long. For six-in-ten top podcasts, the average episode length in 2022 was less than 50 minutes.
Many top-ranked podcasts turn to their audiences for financial support. Around half of top podcasts (47%) ask for audience support through options such as subscriptions, donations or merchandise for sale. The Center's recent survey of U.S. podcast listeners found that 13% have paid for a podcast subscription and 12% have bought merchandise.