Podcast hosts use a mix of formats and structures to tell stories, convey information and hold discussions. These approaches differ in a number of ways, including the number of hosts and the overall format – such as an interview-based show vs. one centered around reporting or commentary – as well as the frequency and length of episodes.

Roughly four-in-ten top-ranked podcasts (38%) use deep reporting, in which the podcast does an in-depth examination or analysis of a topic or story. Some that follow this format include true crime podcasts such as Small Town Murder and My Favorite Murder, in which the hosts break down evidence about different crimes, and History is US, a podcast that focuses on race and American history.
Other common formats include those in which the host or hosts interview a guest or group of guests every episode (23%), and those in which hosts offer their commentary on a given subject (16%). A small share of the podcasts examined involve hosts giving a recap of episodes of TV shows or other media (4%), such as the Always Sunny Podcast or Office Ladies, and 1% are news summaries.
About one-in-five top podcasts (18%) use another type of format, such as soundscapes or a team playing through a Dungeons & Dragons campaign.
Some podcast topics are more likely to be tied to specific formats than others. For example, the vast majority of true crime podcasts (95%) use the deep reporting format.
Politics and government podcasts, however, are about evenly split among interview (33%), deep reporting (28%) and commentary (28%) formats, with an additional 9% that are news summaries. Recaps are the most common format among entertainment podcasts (36%), while most sports podcasts (82%) use the commentary format.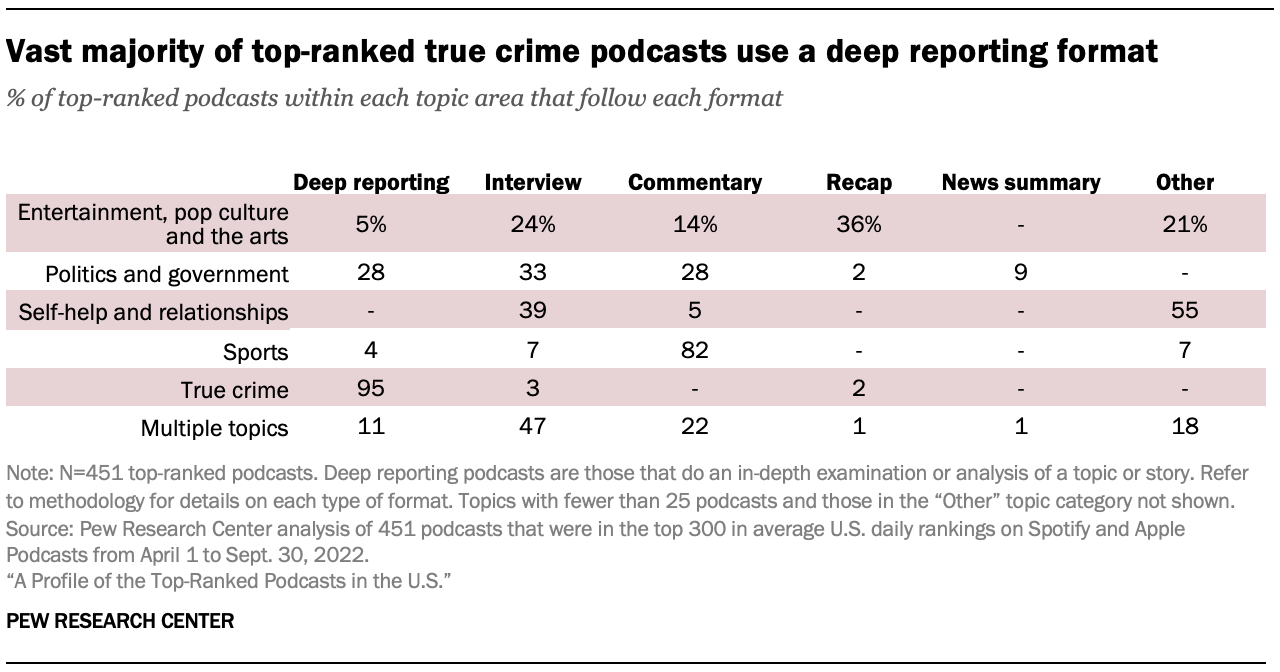 Top-ranked podcasts most often have a single host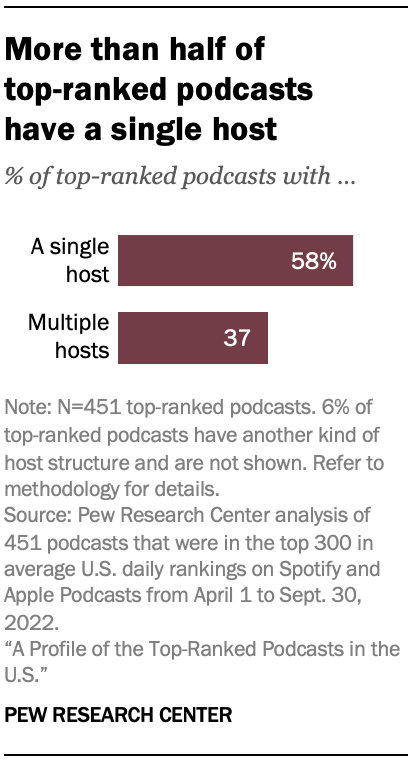 A slim majority of top podcasts feature a single host (58%), though the host often is joined by guests. For example, In the Bubble with Andy Slavitt is hosted by Slavitt, but he is regularly joined by guests. A smaller share of top podcasts feature multiple hosts (37%) – such as Adulting, which is hosted by Michelle Buteau and Jordan Carlos. And 6% of top podcasts do not have a host; these are often fiction podcasts that have a narrator or a cast of voice actors, like Batman Unburied.
Podcasts about true crime and politics and government are especially likely to have a single host (67% and 63% do, respectively), while most sports podcasts have more than one host (71%), reflecting their roots in sports talk radio.
The number of hosts top podcasts have also differs by the overall format of the show. Top podcasts that use a deep reporting (65%) or interview (78%) structure are much more likely than commentary (35%) or recap (25%) podcasts to have a single host.
Of U.S. podcast listeners who named a top podcast in a recent Pew Research Center survey, about a quarter (27%) say they feel extremely or very connected to that podcast's host or hosts.
Most podcasts' episodes average less than an hour in length
Most podcasts are not quick listens – but relatively few are significantly longer than an hour per episode.
Just 6% of top-ranked podcasts averaged less than 20 minutes per episode in 2022, while just over half (54%) were longer than 20 minutes but less than 50 minutes. About four-in-ten top podcasts (37%) averaged about an hour or more per episode, including 18% that averaged more than 70 minutes.1
Top podcasts on certain topics tend to have longer episodes than others. For example, about a quarter or more of top podcasts about sports (36%) or entertainment and the arts (29%) averaged at least 70 minutes in length during the six months studied, larger shares than for other topic categories studied.
Podcasts that release videos are also longer than others, on average. Roughly a quarter (28%) of podcasts with videos released alongside an episode averaged 70 minutes or more between April and September of 2022, compared with just 8% of podcasts without video.
How frequently podcasts release episodes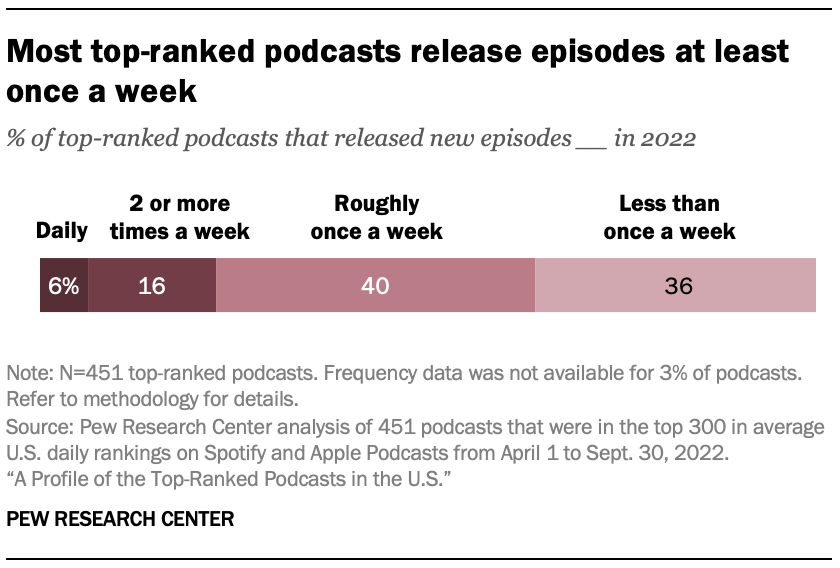 Of the 451 top-ranked podcasts included in this analysis, most (61%) released episodes at least once a week during the study period, including about a quarter that released multiple episodes per week.
Top podcasts that focus on sports are the most likely to release more than one episode per week (57%).