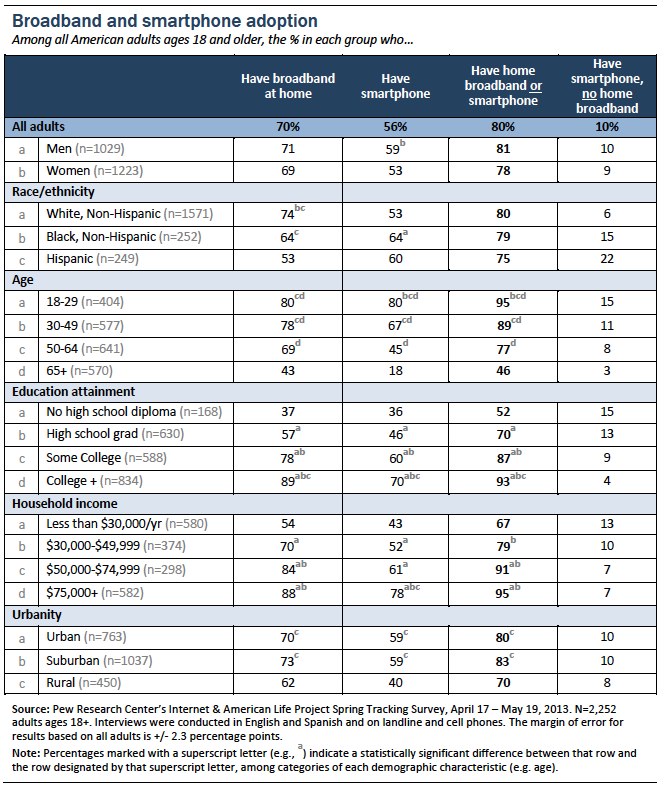 In recent years internet-connected mobile devices such as smartphones have exploded in popularity, offering an alternate form of "home" internet access. Today 56% of American adults own a smartphone of some kind, compared with 70% who have broadband at home.
There is no widespread consensus as to whether 3G or 4G smartphones qualify as "broadband" speed, and many would question whether they offer the same utility to users as a dedicated home internet connection (activities such as updating a resume, filing taxes, or viewing educational content are certainly more challenging on a smartphone operating over a cell phone network, than on a broadband-connected home computer). For these reasons, smartphones are qualitatively distinct enough that we do not include them in our standard definition of what constitutes a "broadband user."
At the same time, smartphones do offer a potential source of online access to individuals who might otherwise lack the ability to go online at all from within the home, even if that access is somewhat limited in comparison. And indeed, 10% of Americans indicate that they do not have a broadband connection at home but that they do own a smartphone (another way to say this is that 32% of non-broadband users own a smartphone).  If we include that 10% of Americans with the 70% who have traditional broadband, that means that 80% of Americans have either a broadband connection, a smartphone, or both. Here is how the 80% breaks down:
46% of Americans have both a home broadband connection and a smartphone
24% have a home broadband connection, but not a smartphone
10% have a smartphone, but not a home broadband connection
The remaining 20% of Americans have neither a home broadband connection nor a smartphone.