While this survey was designed to collect information about arts organizations' public-facing participation in technology and social media, it also gathered some benchmark data about how they are infusing technology into their staffing, training, and workflow, and how they are normalizing its use through new guidelines and organizational procedures.
Staffing and hiring
Eighty-eight percent of the arts organizations participating in the survey post job openings online and on social media, while 62% accept job applications via the internet. Seventy-one percent of arts organizations also research job applicants online. Thirty-five percent are using the internet for employee training or education.
Policies about internet usage
Many businesses and corporations have amended employee handbooks to now include policies related to employees' use of the internet and social media. The survey asked arts organizations if they were following similar patterns. Only 24% have "written rules regarding how employees present themselves online" while 15% provide formal employee training on acceptable uses of internet and social media. Only 13% of organizations restrict which websites employees can visit on their work computers.
Monitoring staff members' internet use
Arts organizations are also using the internet and digital technologies to monitor inappropriate online activities by staff and to assess them as job candidates. One in five of the organizations surveyed (20%) say they have reprimanded an employee because of something that person posted or shared online, but only 3% have terminated an employee for improper online behavior. Social media activity can also affect hiring; 17% of these organizations say they have recruited or hired someone based in part on his or her online activities, while 10% of organizations say they decided not to hire someone because of something that person posted or shared online. Here are the data:
20% of the participating arts organizations have reprimanded an employee because of something that person posted or share online
17% have recruited or hired someone based in part on their online activities
10% have rewarded an employee because of something she posted or shared online
10% have decided not to hire or work with someone because of something that person posted or shared online
3% have fired someone because of something he or she posted or shared online
Work/life balance: Tech helps and hurts
While 44% of survey respondents agree or somewhat agree that current technologies have made it harder for employees to maintain a work/life balance, a slightly larger portion of respondents (48%) thought that technology has not negatively impacted this balance.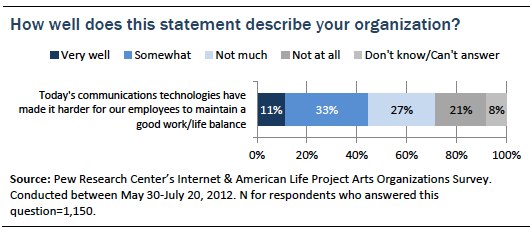 How arts organizations measure their online profiles
While building and maintaining websites and creating social media profiles help arts organizations serve their patrons and their mission, there is an ancillary benefit as well: being able to quantify traffic, visits, and the viral nature of campaigns through analytic software. Website analytics can give arts organizations information about how users find their website, how many pages they view, the duration of their visits, the pages that attract the most traffic, and where users exit the site. All of these metrics are helpful in making websites more user friendly, efficient or compelling, and they are also useful data to present in funding applications.
Some 82% of arts organizations in this survey say they track digital usage metrics.
Analytic software: 55% of these arts organizations use Google Analytics to measure their web traffic and campaigns. Smaller numbers of organizations are using similar analytic tools including WordPress plugins (8%), Webtrends (2%) or Yahoo Analytics (2%). However, 14% of respondents did not know if their organization uses any metrics measurement tools, and 8% state their organization is not using any metrics tools at this time.
Modest traffic: Respondents were asked to share some top-level metrics based on these analytic tools. The majority of respondents thought their organization's website receives fewer than 25,000 unique visitors per month, a modest but fairly standard number.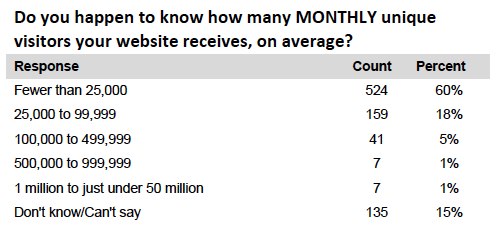 Organizations' annual budgets have a slight impact on unique visitors at the very top of the range; organizations with budgets of $5 million or more report more monthly unique visitors (this sub-population is also the least likely to not know about their web traffic). Otherwise, organizations with different sized budgets don't seem to report much of a difference in unique visitors.
A second measure, page views, is the total number of website pages viewed by users in a given jtime period. This number should typically be higher than the number of unique visitors, because users generally click through multiple pages of an organization's website to find more information or dig deeper into a topic. Thirty-eight percent of organizations thought they receive fewer than 25,000 page views per month, while another 26% thought it was between 25,000 and 500,000.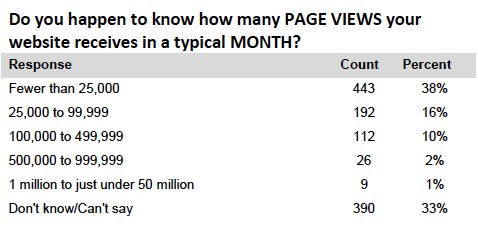 As with the metric above, organizational budget does seem to have some bearing on page views. Organizations with budgets over $2.5 million, and especially over $5 million a year, report more pageviews per month.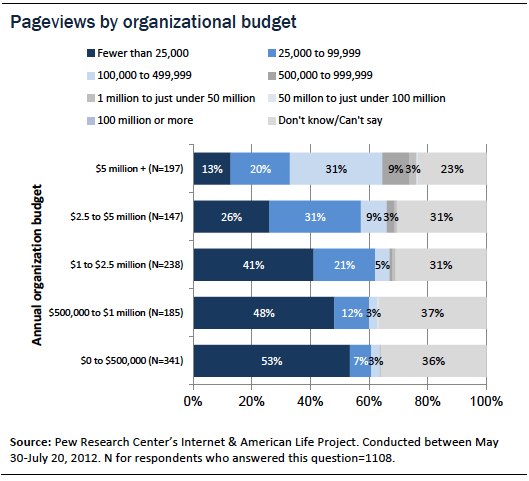 Website analytics
Survey respondents were asked to describe the most useful or meaningful metrics for their particular organization, particularly measures that have been important to potential funders.
Google Analytics and Facebook's Insight data were mentioned most frequently, but some other common responses included:
the number of Facebook likes
the number of Twitter followers
emailed feedback
comments on Facebook or on their website
the open rate on their emailed newsletters
Some respondents suggested that for their organization, the important metrics are not the analytic data, but the measurable outcomes of an online presence, such as ticket sales, museum visits, or donations:
The most useful metric has been in measuring the amount of tickets that are sold via our website and the amount that percentage has changed in the last two years. Greater or fewer Facebook comments and likes have also been a useful metric to gauge interest in certain ideas.
Number of people visiting the website and number of people being trained and receiving on-line certifications.
We gauge our audience primarily through tracking number of click throughs to our donation form from our website and through tracking click throughs from Constant Contact email blasts. Also, we track in theater audience numbers.
The most meaningful indicator is bodies through the door to our gallery and theater shows. We provide questionnaires to attendees to gauge their use of our online content and use that to direct our digital media plans.
As to potential funders' requests, most respondents say that funders have not asked for metrics to date, but funders do care about measurable outcomes. How closely web metrics and programmatic success align depends on the arts organization and its goals:
I have not been asked for a measure of online impact from potential funders.
To my knowledge, there are no particular measures of our organization's online impact or success that are important to potential funders, though we do provide donors with online visibility though our webpage, social media presence and e-newsletter.
The most important metric is the sales of books. Funders are interested in distribution figures.
The best overall indicators are ticket sales, audience attendance, CD sales, and individual fundraising in evaluating web presence. The web is part of an overall marketing plan for the organization and the organization seeks to utilize it to help expand in exposure that translates to a measurable impact with the items mentioned above. In our experience, those items are what is important for funders, who are concerned with the organization furthering its mission in a variety of ways including through digital media.
Thus, for many arts organizations, website analytics can be powerful tools. They can provide critical information about website use which can be helpful in making websites more user friendly, efficient or compelling. Just like many other internet tools, organizations are faced with not only knowing about and installing these tools, but also learning how to use them, and deciding how information gleaned from analytics will impact future decisions. All of these pieces take staff time, capacity and training, as well as a commitment to including these data in future strategic planning processes.