Holidays online
The role of the Internet in the life of American families continues to evolve. For three years, the Pew Internet & American Life Project has tracking how Americans use the Internet for socializing, shopping, and pursuing religious activities during the holiday season. This year's survey shows that email has become an ever-more important means for people to plan and enjoy seasonal events and that holiday gift shopping online is growing in popularity.
The kinds of emails holiday celebrants sent
Two-thirds of American email users sent an email that related to the season. Compared to last year, there was growth in every category of email about which we ask. For instance, 48% of email users sent or received emails from family members about holiday plans this year, compared to 42% last year. On a typical day during this holiday season, one out of every six email users, close to 20 million people were communicating with family and friends via email specifically about the holidays.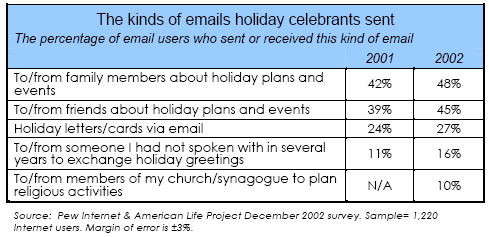 Whites and Hispanics with Internet access were more likely than African-Americans to use email with family and friends to make holiday plans. And those who fit the typical profile of heavy Internet users also were the most likely to use email to plan and celebrate. That includes those in high-income households, those with advanced educations, those with lots of Internet experience (six or more years experience), those with high-speed broadband connections at home, and those who use the Internet daily. Baby boomers were more likely than other age groups to use email to plan religious activities. Similarly, parents were more likely than non-parents to use email for this purpose.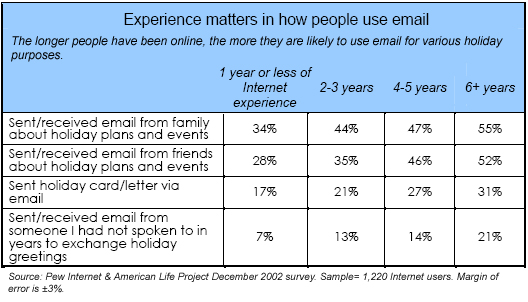 Holiday season and spiritual uses of the Web
About a third of Internet users also went online to get information about various seasonal activities. Some 25% looked online for new ideas about crafts, food, or other ways to celebrate the holidays. Online women were twice as likely as men to use the Internet this way.
In addition, 11% of Internet users researched religious material or traditions related to the holiday season. Baby boomers and parents were among the most likely to use the Internet this way. Further, 6% of Internet users went online to find ways to attend or participate in holiday celebrations.
Overall, 30% of online Americans say they use the Internet to get religious and spiritual information, according to our tracking survey in November. That amounts to nearly 35 million people and is one of the online activities that continues to grow as a healthy clip. For instance, a year ago, we found that the number of religious seekers online was 28 million and two years ago it was between 19 million and 20 million. On any given day, more than 4.5 million Internet users are getting spiritual or religious information online and this is up from 3 million on an average day in late 2001. And it is still the case that more people use the Internet for religious or spiritual activities than have gambled online, used Web auction sites, traded stocks online, or used Internet-based dating services.
Women with Internet access are more likely than men to pursue spiritual information and activities online. African-Americans are especially interested in getting such information. Fully 47% of wired African-Americans have gone online in search of religious material, compared to 28% of online whites and 24% of wired Hispanics. Middle-aged Americans are more likely to get this kind of information online than those who are under 30 or over 60. And parents with Internet access are more likely than wired non-parents to have sought spiritual material online.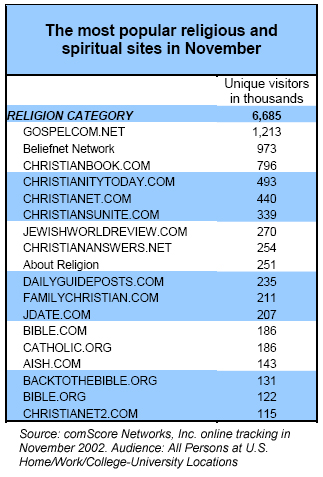 Making holiday travel plans online
One in ten U.S. Internet users (11%) went online to make holiday travel plans and reservations. The general portrait of those who use the Internet for making travel plans and reservations matches the profile of early and heavy adopters. This group is made up of Internet veterans (often with broadband connections) and they have high levels of education and income. However, there is no longer a gender gap when it comes to online travel. As many women as men exploit online tools for planning and making trips.