More Parents Go Online and Use Computers
The latest survey by the Pew Internet & American Life Project from October 7-27 shows that parents of minor children at home are considerably more likely than non-parents to use computers and go online. Some 45 million American parents – 70% of those with children under 18 living at home – use the Internet. Parents make up almost 43% of all the adult users of the Internet in America, even though they make up just 36% of the overall adult population in the United States.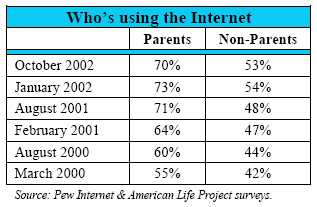 Pew Internet Project surveys from 2000 through the fall of 2002 consistently show that parents are more likely than non-parents to say they use the Internet. While high levels of Internet adoption correlate with high education and income, we find that after adjusting for these demographic characteristics the reality of having a child living at home still matters when it comes to having Internet access. All other things being equal, people who are parents are more likely to be online than those who are not. Or, put another way, the fact that someone is a parent at least partially explains his or her decision to use the Internet.
Some of our previous research suggests some of the reasons that parenthood is a prod for going online. For starters, many parents first use the Internet after their children have done so. It is likely that these children nudge their parents online. Our survey of teens and parents in late 2000 showed that 25% of teenagers had been online longer than their parents. Many of these children who learn to use the Internet at school, from friends, or are self-taught subsequently teach their parents how to use the Internet. In addition, data from our March-May 2002 survey indicate that, of those parents who are not online, 56% said they will probably or definitely go online at some point. This is significantly larger than the 34% of non-parents who said they think they will eventually go online. One strong reason for parents' enthusiasm about the Internet is that the vast majority believe that it is very important for their children to learn how to use the Internet in order to succeed later in life.
Parents are More Enthusiastic about Technology
In our October 2002 survey, we asked several questions about people's general attitude towards information and technology and we found, invariably, that parents were more enthusiastic and interested than non-parents. Asked to pick between two statements, one expressing concern about information overload and another expressing appreciation for having so much information to choose from, parents were more likely than non-parents to express appreciation for having information available from so many sources: 74% of parents supported that statement, compared to 64% of non-parents.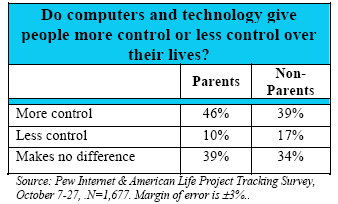 Similarly, respondents were asked how they felt about computers and technology: 68% said they like technology, compared to 58% of non-parents. Finally, parents were also more likely than non-parents to say that technology gives them more control over their lives.
Parents are Less Frequent, Less Heavy, and Less Experienced Internet Users
For parents, access to the online world does not necessarily translate into heavy Internet use. Comparing online parents and online non-parents, we find that parents are somewhat less likely to be online on any given day, are somewhat less likely to report they use the Internet frequently, and spend somewhat less time online during the periods when they are online. For instance, in a survey in March-May this year, we found that 54% of online parents were online during a typical day, compared to 60% of online non-parents. Asked another question about the frequency of their Internet use, 53% of online non-parents said they go online at least once a day, compared to 44% of online parents who said they use the Internet that frequently. In our survey in March 2000, we found that during an average day parents with Internet access spent 13 fewer minutes online than non-parents. In subsequent surveys we found the gap fluctuated from 7 minutes to 15 minutes, but always favored non-parents.
Parents Are Less Experienced Internet Users
Another important difference between online parents and non-parents is their level of Internet experience. Online non-parents as a group have been online longer. In our March-May 2002 survey, we found that 55% of online non-parents had first gone online more than three years ago, compared with 48% of online parents. Our previous studies show similar trends: in January 2002, 50% of wired non-parents had been using the Internet for more than three years compared with 41% of wired parents.
The Places Where Parents Access the Internet
Online parents and non-parents reveal different patterns in where they access the Internet. Online parents are more likely than non-parents to have access at both home and work, while non-parents are more likely to have access only at home. This is not an unexpected difference. The age demographics of each group can explain different types of access. Since a large percentage of non-parents are relatively young or retired, this helps explain why more non-parents have Internet access only at home. Parents are in their core working years and are likely to have access on the job.
We have found that growing numbers of Internet users also access the Internet from places other than work or home. About 14% of parents say they go online from a place other than home or work, compared to 23% of online non-parents who say they go online from another spot. Wired parents are more likely than non-parents to use a library to go online; wired non-parents are more likely to go online from school. Both groups are equally likely to use a neighbor's or a friend's computer to access the Internet.