Schools and the Internet
In 1996, the Telecommunications Act was signed into law, creating the E-Rate program that provided discounts of 20% to 90% to schools (depending upon the number of poor children in a district) to allow them to purchase Internet access for the school or library. More than 98% of American public schools have some kind of Internet access for students. Some 77% of instructional classrooms have Internet connections, and the number drops to 60% for schools with the highest concentrations of poverty.11 Our surveys show that 11% of online teens say their primary Internet access location is their school. Even if teens primarily access the Internet from home, many say the Internet's ability to help them with their schoolwork and to learn about new things is one of the best things that the Internet has brought to their lives and is often one of the major reasons why families first go online.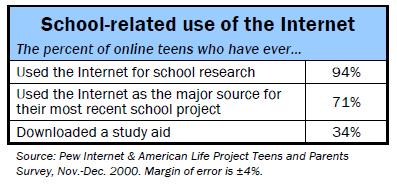 Access at school
More than six in ten (64%) youth who say they have Internet access say they have gone online at school at one time or another. Our survey suggests that school is often the place where those who are less privileged have their primary access to the Internet. A greater percentage of youth of single parents, from low-income families and whose parents do not go online (some respondents are part of each of those groups), have their primary access at school or at friends' houses. Youth with parents who have been online for a long time are less likely to have their primary access at school.
The Internet as teaching tool
Parents agree with their online children that Internet helps with learning. Almost all the parents interviewed (93%) believe that the Internet helps their children learn new things. Eighty-seven percent of parents also believe that the Internet helps with school.
Research for papers and projects—From Dewey Decimal to dot-com
For the teens in this survey, the Internet has replaced the library as the primary tool for doing research for significant projects. Almost all online teens use the Internet to do research for school—94% report using the Internet for this purpose. "I find the Internet most useful when I need help for school," maintained a 15-year-old boy in the Greenfield Online group discussion. "With out the Internet you need to go to the library and walk around looking for books. In today's world you can just go home and get into the Internet and type in your search term. The results are endless. There is so much information that you have to ignore a lot of it."
When asked to think about the last big report they wrote for school, 71% of all online teens report relying mostly on Internet sources for their research. Another quarter (24%) reported using mostly library sources, and 4% said they used both equally. Older teens were slightly more likely than younger ones to report relying on Internet sources (74% compared to 68%) And three-quarters of youth who go online every day used the Internet as their main source for their last school report compared to 68% of youth who go online less often. Students cite the ease and speed of online research as their main reasons for leaving the library behind, and also say that the Internet frees them and their parents from the hassle of getting to the library to find the information they need.
Learning which information to trust
How do teens know what Web information is accurate? Some teens use a "gut-sense" or an "I know it when I see it" rule to determine what is good information and what is not. Said one 17-year-old girl in the Greenfield group: "I think you have to use your best judgment – and best guess." Some double check with books or other Web sites on similar topics, and some go by whether a Web site has a good reputation or a trustworthy offline counterpart. Many teens are fairly skeptical of the information they see on Web sites because they are aware of how easy it is to publish online. Anne Hird supports this sentiment in her book Learning from Cybersavvy Students. She writes that "as a result of their own experience designing Web pages, these students approach online information with caution. They are quick to recognize that there is nothing to prevent anyone – themselves included – from providing either biased or erroneous information on the Internet."12