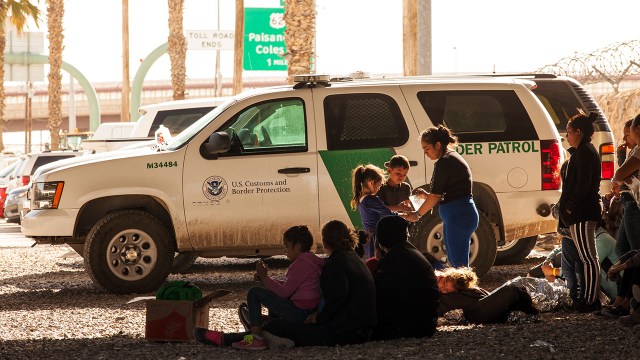 Border Patrol agents apprehended more migrants at the U.S.-Mexico border in fiscal 2019 than in any year since fiscal 2007, according to new federal data. The influx of migrants has strained border facilities and become a major policy focus for President Donald Trump's administration.
Below is a closer look at the shifting dynamics at the southwestern border, based on the new numbers from U.S. Customs and Border Protection, the federal agency tasked with patrolling the border.
1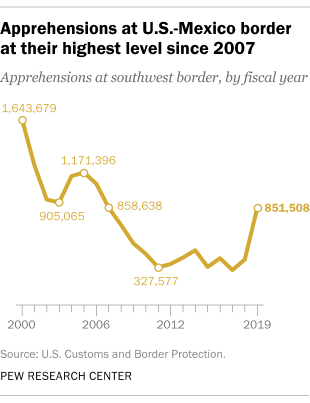 Apprehensions at the U.S.-Mexico border more than doubled between fiscal 2018 and fiscal 2019 but remained below historical highs. There were 851,508 apprehensions in the 2019 fiscal year (October 2018-September 2019), a 115% increase from the previous fiscal year and the highest total in 12 years. Still, the total remained far below the 1,643,679 apprehensions recorded in 2000, the peak year. And apprehensions regularly exceeded 1 million per fiscal year during the 1980s, 1990s and 2000s.
2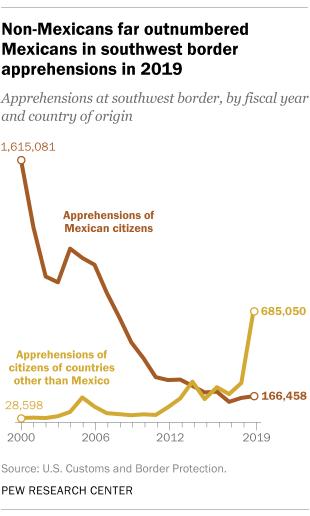 There has been a major shift in who is being apprehended, with non-Mexicans now far outnumbering Mexicans. Non-Mexicans accounted for 80% of apprehensions in fiscal 2019, marking the fourth consecutive year in which they outnumbered Mexicans. In 2000 (the earliest year for which data is available), non-Mexicans accounted for just 2% of apprehensions while Mexicans accounted for 98%.
For the first time on record, Mexicans did not account for the largest single country of origin in fiscal 2019. There were more apprehensions of Guatemalans (264,168) and Hondurans (253,795) than Mexicans (166,458), while El Salvador was fourth on the list with 89,811 apprehensions.
The Northern Triangle nations – El Salvador, Guatemala and Honduras – together accounted for 71% of all apprehensions in fiscal 2019. The 607,774 apprehensions from these three countries outnumbered the total from Mexico even though their combined population (32.6 million) is only a quarter of Mexico's (129.2 million).
3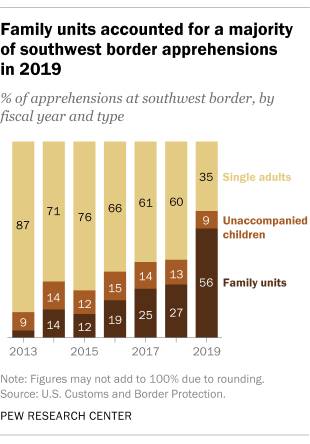 People traveling in families accounted for the majority of apprehensions in fiscal 2019, a big shift from the recent past. There were 473,682 apprehensions of "family units" (defined as the number of individuals traveling in a family), representing 56% of apprehensions overall and more than four times the next-highest annual total of family member apprehensions on record (107,212 in fiscal 2018). Apprehensions of unaccompanied children ages 17 and younger also reached their highest level on record (76,020 in fiscal 2019, compared with a previous high of 68,541 in fiscal 2014). In all other recent years, apprehensions of individual adults far outnumbered those of family members or unaccompanied children.
The changing profile of those being apprehended has strained the Border Patrol, which follows different legal protocols for detaining family members and single adults.
People apprehended by Border Patrol may be subject to expedited removal (except for unaccompanied children) but could also become eligible for asylum if officials determine they meet the definition of a refugee. Asylum applications have increased substantially in recent years, while the acceptance rates have remained constant.
4Apprehensions rose in every border sector in fiscal 2019, especially in the El Paso sector. The El Paso region saw a 477% surge in migrant apprehensions in fiscal 2019 compared with fiscal 2018 (from 31,561 to 182,143). That was by far the largest percentage increase of any of the nine southwest Border Patrol sectors. In fiscal 2019, El Paso ranked second in apprehensions only to the Rio Grande sector, which saw an increase of 109% between fiscal 2018 and fiscal 2019 (from 162,262 apprehensions to 339,135).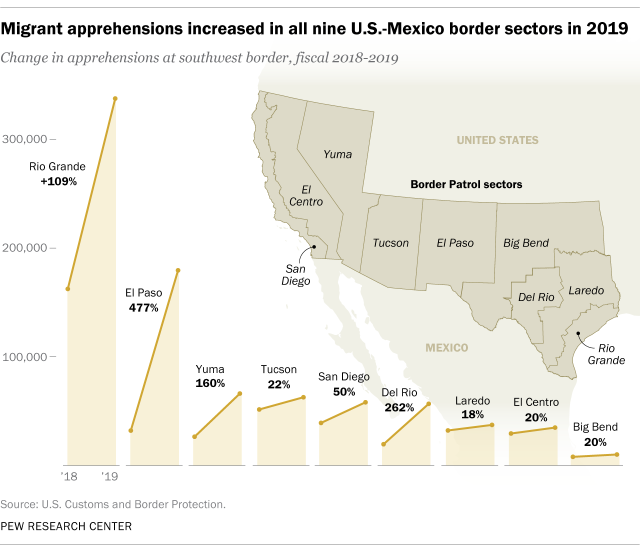 5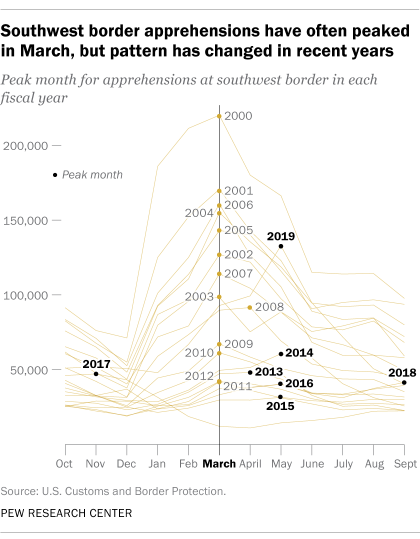 Seasonal migration patterns have changed in recent years. Since 2000, border apprehensions have typically peaked in the spring – most often in March – before declining during the hot summer months, when migration journeys become more perilous. But the pattern has changed since 2013, with the annual peak occurring in months other than March. In 2019, May was the peak month, with 132,856 apprehensions. Apprehensions fell dramatically after May, declining to 40,507 by September, the final month of the fiscal year.
This is an update of a post originally published on April 10, 2019.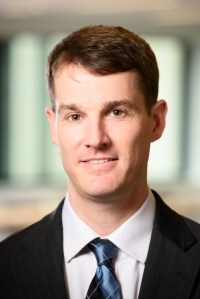 Luis Noe-Bustamante
is a research analyst focusing on global migration and Hispanic trends at Pew Research Center.