Because of the newness of the technology, not much is known about the use of artificial intelligence in the business world. The most recent data collected by the government pertains to 2020, and AI systems have grown dramatically since then. While some policymakers are moving to create the ground rules for artificial intelligence, it is a rapidly evolving technology for which the speed of deployment and the purposes of adoption are hard to track in real time.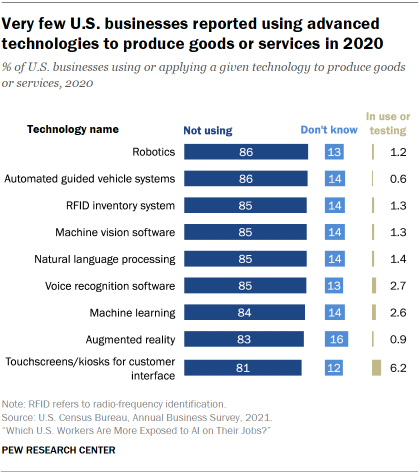 The early reading suggests that AI has some distance to travel before its adoption is on par with other computer-based technologies. The 2020 data collected in the Census Bureau's Annual Business Survey shows that the use of advanced computer-based technologies then was scarce among U.S. businesses. About nine-in-ten businesses or more reported that they were either not using or did not know if they were using AI-related technologies such as natural language processing, machine learning, machine vision software or augmented reality to produce goods or services.
With the exception of touchscreens and kiosks for customer interface, only about 1% to 3% of businesses said they were using or testing any of the technologies to supply goods or services.
Nonetheless, the businesses that were using or testing a technology had a much larger footprint in the labor market. Notably, while only about 1% of firms were using or testing robotics, those companies accounted for 20% of U.S. employment in 2020. Firms applying machine learning, machine vision or natural language processing accounted for about 11% to 16% of employment. The use of touchscreens and kiosks for customer interface affected firms employing 27% of all workers.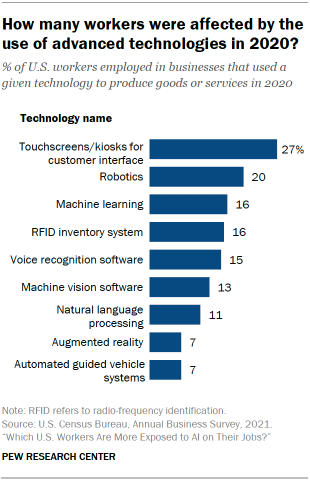 These estimates show that the adoption of advanced technologies at the time was led by large businesses, and their decisions related to the use of AI affected a larger share of workers.
More direct evidence on the business use of AI comes from the Annual Business Survey conducted in 2019, which collected data for 2018. That survey found that about 3% of firms were using AI and 2% were using robotics. This lagged well behind the use of technologies such as specialized software (38%), cloud computing (32%) and dedicated equipment (18%). But firms using AI or robotics accounted for about 13% and 15% of U.S. employment, respectively.
The share of firms using AI was higher in the information sector, the professional, scientific, and technical services sector, and the finance and insurance sector. This is consistent with the analysis in this report, which finds that these sectors are among the top four in terms of the share of their workforce that is most exposed to AI.