When it comes to places to live, Americans like it hot. By nearly two-to-one, the public says it prefers a hotter place to live over one with a colder climate. No surprise, then, that San Diego, Tampa and Orlando rank at the top of places to live for those who favor a balmy climate.
But for hearty folks who like their weather on the chilly side, Denver, Seattle and Portland top the list of favorite metropolitan areas to call home, according to a survey conducted from Oct. 3-19, 2008 among a nationally-representative sample of 2,260 adults by the Pew Social & Demographic Trends project.
The survey also finds that when it comes to preferences among cities, climate isn't always a deal-maker — or a deal-breaker. Many Americans who prefer a warmer place in general say they'd like to live in a chilly metro area, while many of those who like it cold give the nod to warmer places. For example, snowy Denver finishes high on the list of favorite cities among those who prefer to live in a place with a hotter climate. And sun-washed San Diego ranks similarly high among those who say they would like a colder climate.
To measure how the public rates the country's largest cities as places to live, three separate nationally representative samples of adults were asked whether they would or would not want to live in each of 10 large metropolitan areas taken from a list of the nation's 30 largest metro areas. All respondents were then asked, "Which of these kinds of places would you prefer to live in: A colder weather climate or a hotter weather climate?" The results were then analyzed together to see if climate preference and city preference were related.
Majority Prefers Hotter Climate
By an overwhelming margin, Americans want to live in a sunny place. Fully 57% of the public prefer a hotter climate while 29% would rather live in a colder one.
Relatively few significant demographic differences emerge between people who like it hot and those who prefer it on the colder side. Blacks (69%) and Hispanics (62%) are significantly more likely than whites (54%) to prefer to live in a hotter place. Conversely, nearly a third of whites (32%) favor colder climes, compared with 21% of blacks and 26% of Hispanics. About six-in-ten Southerners and nearly as many Midwesterners prefer to live in a warmer place, compared with slightly more than half of those who live in the East or West.
But overall, other demographic groups share a similar affinity for warm weather. Exactly the same proportion of men and women (57%) prefer a hotter climate. Likewise, schooling and income make virtually no difference when it comes to climate preferences. Rich or poor, college grad or high school dropout, similarly sized majorities favor living in a place that is hotter over one that is colder.
There also are few notable differences by age, with one exception. Men and women age 65 and older are significantly more likely than younger people to say they had no preference.
Climate and City Preferences
Among those who like hotter weather, San Diego and Tampa draw the most positive ratings (each with 44%) among the 30 largest metropolitan areas tested in the survey. Nearly as many favor Orlando (42%) and Phoenix (40%). Other hotspots among the heat lovers include Miami (34%) and Houston (32%).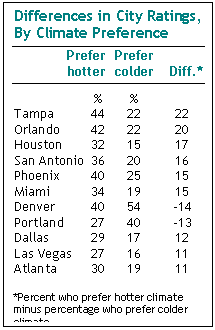 But not all of the top-ranking towns among heat lovers have hot climates. Four in ten say they would like to live in Denver — the overall favorite place to live among the 30 cities tested. Indeed, Denver is just as popular as sun-baked Phoenix among hot-weather fans — and more popular than Las Vegas or Dallas. San Francisco, known for its fog and chilly summers, and Seattle, famous for its frequent rains, also are among the top choices of those who would prefer to live in hotter places, suggesting that climate is only one of several factors that people use in deciding where they would like to live.
Similarly, a slight majority of Americans (54%) who prefer colder weather say they would love to live in Denver, with just under half saying they would like to live in Seattle (45%) and four-in-ten choosing Portland, Ore. (40%). But San Diego, a place known for it warm summers and mild winters, rates almost as highly: 35% of cold-weather fans say they would like to live in this metropolitan area. Two other warmer cities make the top 10 desirable metro areas for those who like the cold: Sacramento (26%) and Phoenix, which are tied with Washington, D.C. and Philadelphia with 25%.
The biggest differences between those who like it hot and those who prefer a colder climate occurred in attitudes toward some of America's warmest locales: Fully 44% of those who want to live in a hotter place said they would like to live in Tampa, compared with 21% of those who prefer colder weather, a 23-point difference. The climate gap was nearly as large in views about Orlando (a 20-point difference), Houston (17 points) and San Antonio.
For more see For Nearly Half of America, Grass Is Greener Somewhere Else; Denver Tops List of Favorite Cities