If form holds, Mother's Day will once again be the busiest Sunday of the year for telephone volume. But the traditional holiday phone call to mom may not have the pop it once had – not because fewer sons and daughters remember to call, but because more are already talking to mom every other day of the year.
A recent Pew Research Center survey found that 42% of adults say they see or talk with a parent (usually, it's mom) every single day. Back in 1989, just 32% of adults said this.1
This rise in daily communication between adult children and their parents is a byproduct of a modern communication revolution that has made phoning less expensive and more convenient, according to a recent Pew Research Center report. (Read the full report)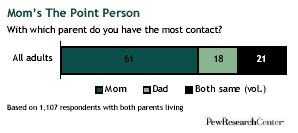 Back in 1989, when long distance telephone calls were more costly and cell phones were exotic devices, just 8% of adults maintained daily contact with a parent or parents who lived in a different town. Today, nearly triple that number – 22% – do.
There has also been a smaller – but not statistically significant – increase in daily contact among adult children and a parent or parents who live in the same town. As of 2005, 56% of adults living in the same town as their parent or parents, reported that they saw or talked to such a nearby parent every day.
One thing is clear from the Pew survey: mothers sit at the epicenter of most families' communication network. Among adults with both parents living, the Pew survey found, people are much more likely to have the most contact with mom (61%) rather than dad (18%), with the remainder volunteering equal contact with both.
The Pew survey also found:
Daughters keep in closer contact with their mothers than do sons. Some 70% of adult women say they have the most contact with mom rather than dad, while 50% of grown sons say the same.
Among racial and ethnic groups, more blacks (72%) than Hispanics or non-Hispanic whites (59% each) report more contact with mom than with dad.
Nearly everyone reports warms feelings about their mother – 87% of adult children say they feel "close" to rather than "distant" from (11%) mom. Just 74% say they feel close to dad. (This disparity may explain why, according to AT&T, Father's Day is the heaviest day of the year for collect calling.)
These feelings of closeness to mom do not vary by race, gender or age – or even physical proximity. Some 92% of those who live in the same household or town as their mother say they feel close to her – but so do 88% of those who live farther away than that.
In light of all this, it's no wonder that so many millions of extra phone calls will get made this Sunday. But remember, sons and daughters: your Mother's Day call home may not be quite the special event it once was. So would it kill you to send flowers?
About the Survey
Results for this survey are based on telephone interviews conducted with a nationally representative sample of adults, ages 18 years and older, living in continental U.S. telephone households.
Interviews conducted October 5-November 6, 2005
3,014 interviews of whom 1,875 had at least one parent living
Margin of sampling error is plus or minus 2 percentage points for results based on the total sample at the 95% confidence level. The margin of sampling error is higher for results based on subgroups of respondents.
Survey interviews conducted under the direction of Princeton Survey Research Associates International. Interviews were conducted in English and Spanish.
In addition to sampling error, bear in mind that question wording and practical difficulties in conducting surveys can introduce error or bias in the findings of opinion polls.
For more from the full report see, "Families Drawn Together By Communication Revolution" February 2006. Pew Research Center.