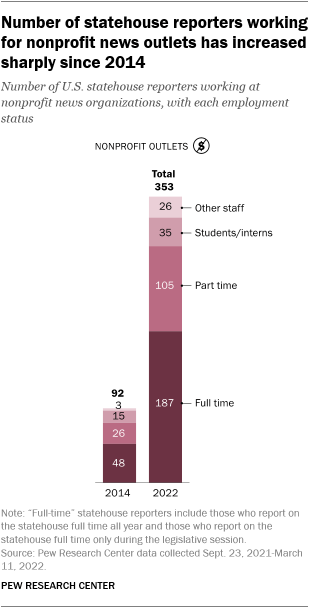 Nonprofit news organizations are playing an increasingly important role in covering state capitols, according to a recent Pew Research Center study. The number of nonprofit news reporters who cover state capitols has nearly quadrupled since 2014, and these journalists now account for 20% of the nation's total statehouse press corps, up from 6% eight years ago. Nonprofit journalists are now the second-largest contingent of all statehouse reporters, following those who work for newspapers.
While the nonprofit outlets that employ these statehouse reporters all have a digital presence, many reach their audiences in a variety of ways, including newsletters, print publications and podcasts. Many also allow other outlets to republish their original reporting, often at no cost.
A closer look at nonprofit news organizations that cover state government shows that they often focus on specific topics of coverage, such as immigration, education, the environment or health care, while many also function as state government watchdogs. Their emergence as key players in statehouse reporting is a relatively new phenomenon.

Pew Research Center's accounting of statehouse reporters in 2022 identified 80 nonprofit news outlets that cover U.S. statehouses. Of these, nearly half (39) were founded within the last five years. These relatively new nonprofits employ a total of 174 statehouse reporters – nearly half (49%) of the total number of nonprofit statehouse reporters counted in the study. Meanwhile, about a quarter of nonprofit outlets covering capitols (21 outlets) were founded between 2011 and 2016, 15 were founded between 2005 and 2010, and five were founded prior to 2005.
Much of this growth is due to new nonprofit outlets that have sprung up in an attempt to fill the legacy media gap in statehouse coverage. States Newsroom, for example, launched in 2017 as a large nonprofit network and now has 23 affiliate news outlets throughout the country. The organization cites a void in statehouse coverage by newspapers as a key factor in its founding. The Center Square, a project of the Franklin News Foundation, was also launched with the explicit purpose of filling "the need for high-quality statehouse and statewide news across the United States."
Nonprofit outlets that cover state government typically employ multiple statehouse reporters. More than half of the nonprofit outlets in the Center's recent study (45 of 80) have three or more statehouse reporters, while 15 employ two statehouse reporters and 20 employ only one.
They also tend to employ multiple full-time statehouse reporters – that is, journalists who cover the state capitol either year-round or when the legislature is in session. About a third of these outlets (27 of 80) employ three or more full-time statehouse reporters. And the majority (56 of 80) have at least one full-time statehouse reporter.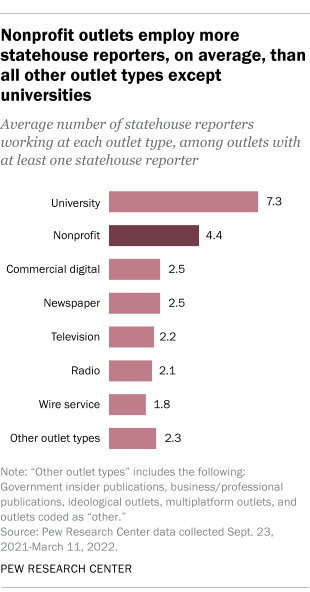 In fact, nonprofit outlets that cover the statehouse employ more statehouse reporters, on average, than any other media type except university outlets (which tend to employ student or intern reporters). Nonprofit outlets that cover state government have an average of 4.4 statehouse reporters – higher than the average for newspapers (2.5 reporters), TV stations (2.2) and radio stations (2.1).
Nonprofits also have more full-time statehouse reporters, on average, than other types of outlets covering the statehouse. Nonprofit outlets employ an average of 2.3 full-time statehouse reporters, compared with an average of 1.3 at newspapers and an average of 0.9 each at TV and radio outlets.
Note: For more details, see the sortable tables and methodology of the original report.