The first year of the coronavirus outbreak in the United States was characterized by sharp partisan differences in public attitudes on a wide range of pandemic issues. But in views of some aspects of COVID-19, there is little, or only modest, partisan difference. Here's what Pew Research Center surveys have found about partisan views of pandemic issues.
As the coronavirus pandemic enters its second year, public opinion on the outbreak and its handling continues to be marked by wide partisan divisions. We chose to highlight some of the areas where Democrats' and Republicans' views are closer together. All findings are based on surveys conducted by Pew Research Center between September 2020 and February 2021.
Most of the findings here are based on a survey of 10,121 U.S. adults conducted from Feb. 16 to 21, 2021. Everyone who took part in the survey is a member of Pew Research Center's American Trends Panel (ATP), an online survey panel that is recruited through national, random sampling of residential addresses. This way, nearly all U.S. adults have a chance of selection. The survey is weighted to be representative of the U.S. adult population by gender, race, ethnicity, partisan affiliation, education and other categories. Read more about the ATP's methodology.
Here are the questions asked in the February survey, along with responses, and its methodology.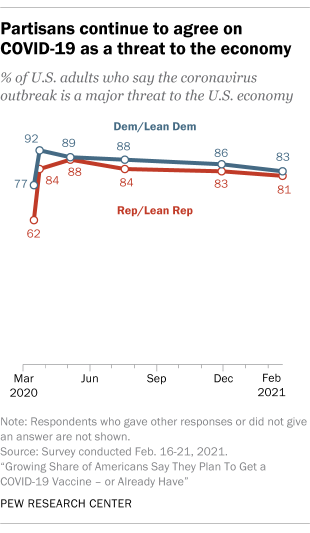 Comparable majorities of Democrats and Democratic-leaning independents (83%) and Republicans and GOP leaners (81%) continue to view the coronavirus outbreak as a major threat to the U.S. economy, according to February data. Republican and Democratic views have tracked closely together for much of the pandemic.

This contrasts with views of the nature of the public health threat COVID-19 poses: While 82% of Democrats say the outbreak is a major threat to the health of the U.S. population as a whole, half as many Republicans (41%) say the same.
The vast majority of both Democrats (88%) and Republicans (83%) say hospitals and medical centers in their area have done an excellent or good job responding to the coronavirus outbreak, a February survey found. By contrast, wide partisan gaps exist in positive ratings of other groups' and individuals' responses to the outbreak, with Democrats more likely to give high marks to President Joe Biden and public health officials such as those at the Centers for Disease Control and Prevention. Larger shares of Democrats than Republicans also give high marks to their state and local elected officials. But 71% of Republicans rate former President Donald Trump's response as good or excellent, while just 7% of Democrats say this.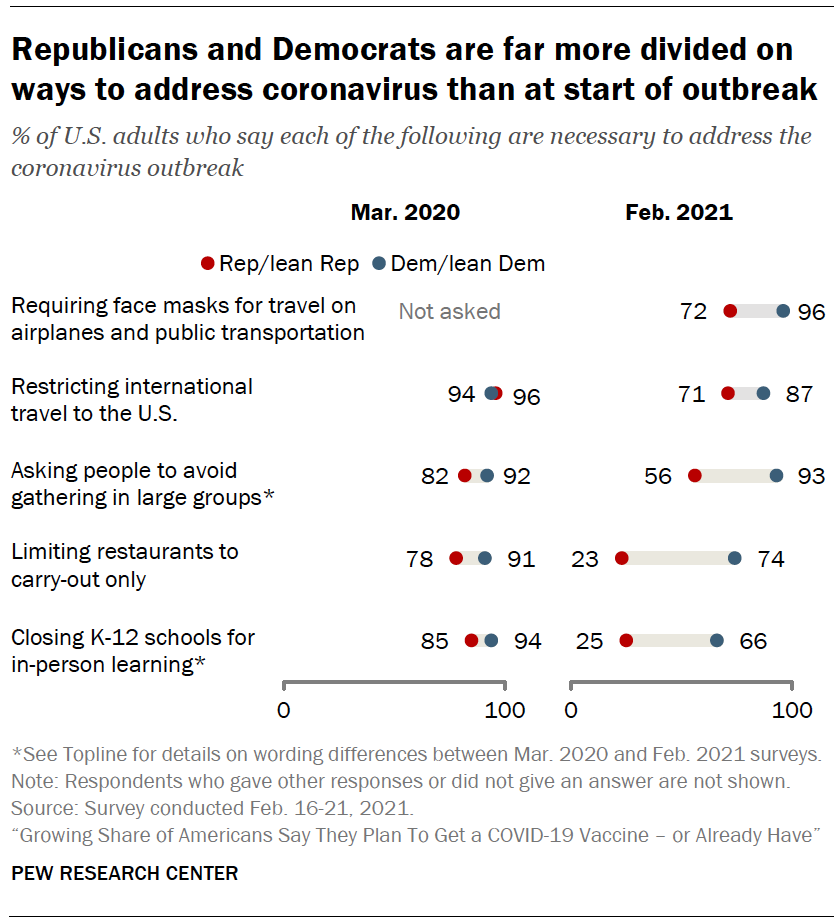 There are some restrictions on public activity that majorities in both parties see as necessary steps to control the outbreak. Majorities of Democrats and Republicans said in February that it has been necessary to require face masks for travel on airplanes and public transportation (96% of Democrats vs. 72% of Republicans), restrict international travel (87% vs. 71%) and ask people to avoid gathering in large groups (93% vs. 56%). Still, Democrats are more likely than Republicans to say these restrictions are necessary, and the partisan gaps on these measures have grown much wider since March 2020, when about eight-in-ten or more in each group said each of these precautions was necessary.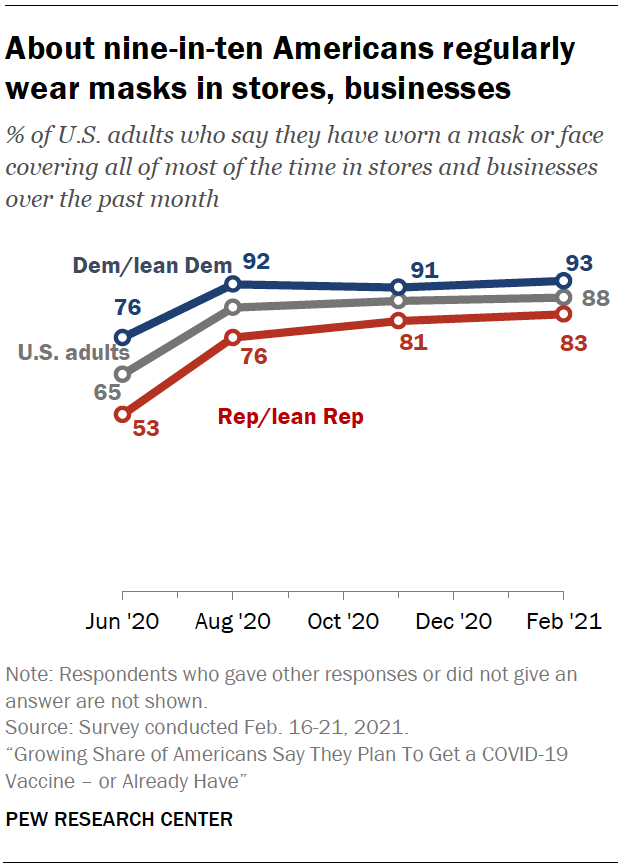 In a February survey, the vast majority of both Democrats (93%) and Republicans (83%) said they wore a face mask all or most of the time in stores and businesses over the past month. However, Republicans have been consistently more likely to report negative feelings about wearing a mask. For example, in a September 2020 survey that asked Americans to describe in their own words how the coronavirus outbreak has affected them negatively, "mask" was the most-used word among Republicans; it was the ninth most-used among Democrats. Republicans were also about twice as likely as Democrats to use the word "mask" when talking about negative effects of the outbreak (19% vs. 10%).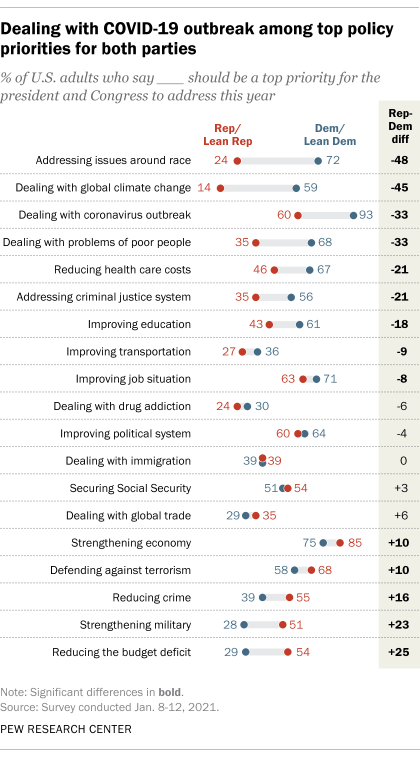 Both Democrats and Republicans ranked dealing with the coronavirus outbreak among their top five policy priorities for the Biden administration and Congress to address this year. The vast majority of Democrats (93%) identified this as a top priority, ranking it first out of 19 items asked about in a January survey. More Democrats said this than said the same of strengthening the economy (75%) and addressing issues around race (72%). Among Republicans, 60% said dealing with the outbreak should be a top priority, putting it in a tie for fourth on the list of GOP priorities along with improving the political system (60%). The only higher-ranking priorities were strengthening the economy (85%), defending against terrorism (68%) and improving the job situation (63%).
Note: Most of these findings are from a February survey; here are the questions asked for that survey, along with responses, and its methodology.