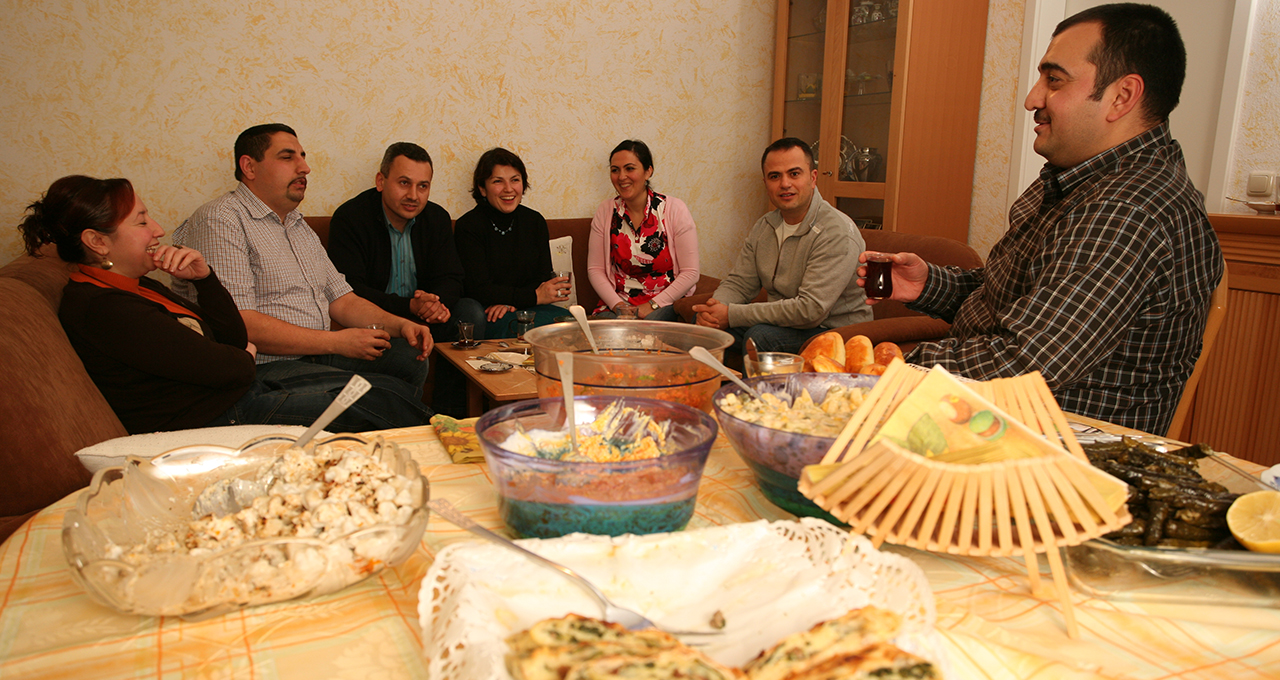 Not surprisingly, people in the European Union overwhelmingly speak their own country's national language when they are at home. But in some EU nations, sizable minorities speak something other than the national language in their household.
Across 14 EU countries surveyed by Pew Research Center in 2019, at least eight-in-ten adults say they speak their country's official national language at home, including nearly everyone in Poland (100%), Greece (98%), Hungary (97%), France (97%) and Italy (96%). Very small percentages in these five countries speak another language at home, including 1% of people in Greece who speak Albanian and 1% of people in France who speak Arabic. (If survey respondents indicated they speak more than one language at home, they were asked to pick the language they use most often. The survey did not ask about languages that people may use at work or may have learned in school.)
In other EU countries, the share of adults who speak the national language at home is smaller, including 90% in Germany, 89% in Slovakia, 81% in Spain and 80% in Bulgaria. These more diverse linguistic environments sometimes reflect immigration patterns or unique local conditions.
How we did this
This analysis focuses on the languages used at home by people in Europe (counting Ukraine and Russia) and in the United States. The European data stems from Pew Research Center's spring 2019 Global Attitudes Survey, while U.S. data is from the Census Bureau's 2017 American Community Survey.
The European data in this analysis comes from surveys of roughly 16,000 people. Surveys were conducted face-to-face in the six Central and Eastern European countries surveyed (counting Ukraine and Russia) and in Italy and Greece. Surveys were done on the phone in the six Western European countries surveyed (apart from Italy and Greece). The surveys took place from May 23 to Aug. 12, 2019. This question was open-ended, so respondents could reply in any way they chose, but they could only provide one answer. Respondents who said they spoke multiple languages at home were encouraged to pick the one they used most frequently.
Here is the questionnaire for the survey, along with responses, and its methodology.
In Germany, for example, 2% of adults speak Turkish at home, 1% speak Arabic and another 6% speak some other language. Germany has been Europe's leading destination for asylum seekers in recent years and saw an influx of migrant workers from Turkey in the 1960s, perhaps explaining the comparative prevalence of non-German languages.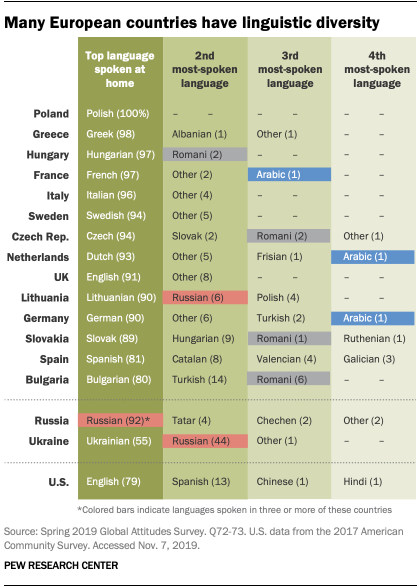 In Spain, roughly eight-in-ten adults speak Castilian Spanish – the country's only official language at the national level – when they are at home. But Spain also has numerous regional-level official languages that are spoken in the country's autonomous areas, including Catalan (8%), Valencian (a dialect of Catalan, spoken at home by 4% of adults), Galician (3%) and Basque (1%).
Likewise, while most in the Netherlands speak Dutch, a small group (1%) reports speaking Frisian, a West Germanic tongue that has been adopted as the official language of the Friesland province in the north of the country. Another 1% in the Netherlands speak Arabic and 5% speak something else.
Some secondary languages appear across multiple countries in the survey, though the shares of people who speak these languages are usually small, as is the case with Arabic in France, Germany and the Netherlands (spoken by 1% in each country). Romani, a language spoken by Europe's Roma people, appears as a language primarily used at home in Bulgaria (6%), the Czech Republic (2%), Hungary (2%) and Slovakia (1%). (Since the Roma are a nomadic community, these figures are most likely underestimates.) Turkish also appears in multiple countries: In addition to the 2% of people in Germany who speak it at home, so do 14% in Bulgaria.
For comparison purposes, the survey also included two non-EU countries, Ukraine and Russia. In Ukraine, 55% of adults report speaking Ukrainian at home and 44% predominantly speak Russian at home. Ukrainian speakers are more prevalent in the north and west regions, while those speaking Russian at home tend to be in Ukraine's eastern and southern regions bordering Russia. In Russia, fewer than 10% of adults report speaking something other than Russian at home. Secondary languages in Russia include Tatar (4%), Chechen (2%) or some other language (2%).
Across the Atlantic, meanwhile, most in the United States (79%) report that they speak English at home, according to the U.S. Census Bureau's 2017 American Community Survey. Roughly 13% of adults in the U.S. speak Spanish most often. The U.S. does not have an official language, though 31 states have passed legislation making English their official language.
See also: Most European students are learning a foreign language in school while Americans lag
Kat Devlin
is a former research associate focusing on global attitudes at Pew Research Center.