The first full fiscal year of the Trump administration saw large increases in the number of people arrested and criminally prosecuted for immigration offenses such as entering and reentering the United States illegally, according to recently published government data.
The number of federal criminal arrests for immigration offenses surged from 58,031 in fiscal 2017 to 108,667 in fiscal 2018 – an 87% increase, according to an August report by the Bureau of Justice Statistics (BJS). The 2018 total was considerably higher than in any other fiscal year in two decades.
Following the same trajectory, the number of suspects who were criminally prosecuted for immigration offenses rose 66% between fiscal 2017 and 2018, from 59,797 to 99,479 – also a two-decade high.
The tandem increases follow a sharp decline during the second term of the Obama administration and appear to be largely the result of recent policy changes to subject more border crossers to criminal rather than civil penalties, as opposed to an increase in migrant apprehensions at the U.S.-Mexico border. The year-over-year growth in criminal arrests and prosecutions far outpaced the 30% increase in apprehensions at the southwest border during the same period, according to separate data from U.S. Customs and Border Protection. (The 2018 fiscal year ended last Sept. 30.)
Growing emphasis on criminal prosecutions
Under federal law, people who illegally enter the U.S. or commit other violations of immigration law can face either civil or criminal sanctions. Civil immigration matters are heard in administrative courts run by the Department of Justice and can result in deportation. Criminal immigration matters are heard in federal trial courts and can result in incarceration prior to deportation. The executive branch has broad authority to decide how federal immigration law is enforced.
While most immigration cases are treated as civil or administrative matters, the federal government has long prosecuted some cases criminally, a trend that has accelerated greatly since the 1990s. The new BJS numbers underscore the extent to which the Trump administration is routing more immigration cases into the criminal courts, where they are being prosecuted as misdemeanors or felonies instead of handled as civil matters.
The Justice Department has made several policy changes during the Trump administration to increase the number of border crossers who are subject to criminal arrest and prosecution. In April 2017, then-Attorney General Jeff Sessions directed federal prosecutors to prioritize the criminal prosecution of immigration offenses in an effort to deter illegal immigration. A year later, with migrant crossings on the rise, Sessions announced a "zero tolerance policy" that urged federal prosecutors to criminally charge all migrants caught entering the country without authorization.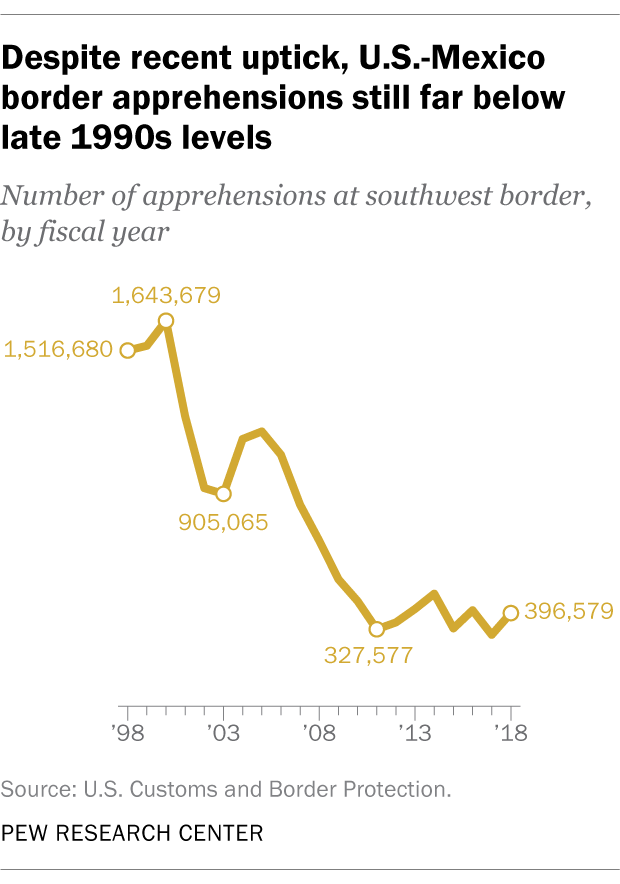 These and other policy changes – rather than an increase in migrant apprehensions at the border – appear to the driving factor behind the recent surge in criminal immigration cases. While criminal arrests and prosecutions for immigration offenses both reached their highest level in two decades in fiscal 2018, the number of border apprehensions that year (396,579) remained far below the levels recorded throughout most of the 1990s and early 2000s, when the number of apprehensions regularly topped 1 million per year. The BJS study notes that the number of criminal immigration arrests per 100 apprehensions at the U.S.-Mexico border nearly doubled between fiscal 2017 and 2018, rising from 12.2 arrests per 100 apprehensions to 21.
The rise in criminal arrests and prosecutions has come amid a severe strain on the nation's civil immigration courts, which as of August faced a backlog of more than a million cases, according to the Transactional Records Access Clearinghouse, a data organization at Syracuse University. The Justice Department has increased the number of judges who preside over these courts and taken other steps intended to reduce the civil court backlog even as it has prosecuted more immigration cases criminally.
Illegal entry cases drive recent surge
The recent increase in criminal prosecutions for immigration offenses has been driven by one particular kind of offense: illegal entry, or entering the country unlawfully – a misdemeanor punishable by up to six months' incarceration.
The number of suspects prosecuted for illegal entry more than doubled from 27,657 in fiscal 2017 to 61,581 in fiscal 2018, according to BJS. Prosecutions for the three other types of immigration offenses tracked by BJS – illegal reentry (or reentering the U.S. without permission), smuggling others into the country and misuse of visas – also increased between fiscal 2017 and 2018, but far less than those for illegal entry.
Overall, 62% of all suspects criminally prosecuted for immigration offenses in fiscal 2018 were prosecuted for illegal entry, compared with 32% for illegal reentry, 5% for smuggling others and 1% for misuse of visas. (Recent reporting from the southwest border has noted that some migrants who are being prosecuted for illegal entry may be repeat offenders who were initially charged with illegal reentry, a felony, before pleading guilty to the lesser misdemeanor charge.)
In fiscal 2018, the vast majority of illegal entry suspects (95%) were prosecuted before U.S. magistrate judges, who typically handle cases involving less serious offenses. By contrast, most suspects facing the more serious charges of illegal reentry (74%), smuggling others (85%) and misusing visas (78%) were prosecuted before U.S. district court judges.
While criminal prosecutions for illegal entry soared to their highest total in two decades in fiscal 2018, it was not the first time that prosecutions for this offense saw dramatic year-over-year growth. Prosecutions for illegal entry rose by more than 250% in a single year under President George W. Bush, soaring from 14,790 in fiscal 2007 to 52,087 in fiscal 2008, according to BJS. The growth that year came as the federal government expanded the use of a program called "Operation Streamline," in which border crossers were criminally prosecuted in large numbers.