Democrats and Republicans overwhelmingly agree that political leaders should be honest and ethical. There is far less common ground among partisans over whether particular leaders – including President Donald Trump – display these qualities.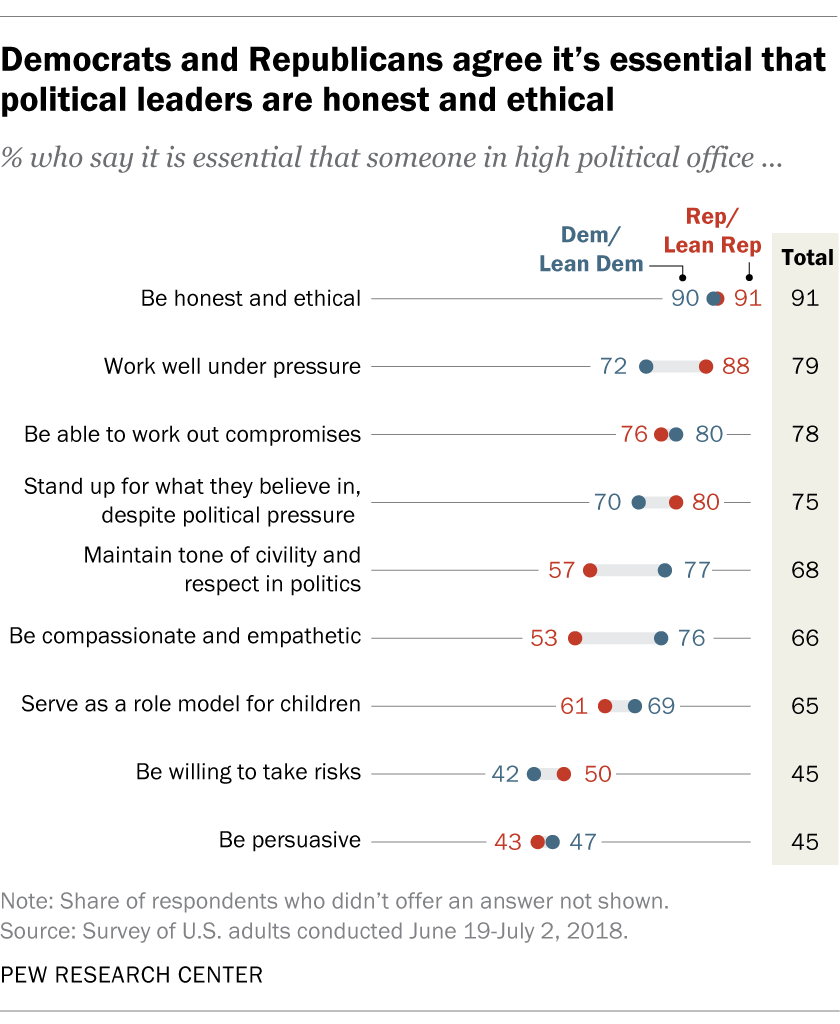 In a Pew Research Center survey conducted last summer, 91% of Americans said it is essential for someone in high political office to be honest and ethical – the top attribute out of nine asked about in the survey. There were no partisan differences in this assessment: Nearly identical shares of Democrats and Democratic-leaning independents (90%) and Republicans and Republican leaners (91%) said this. There were partisan differences over whether several other qualities – such as maintaining a tone of civility and respect and working well under pressure – are essential for political leadership.
While partisans agree about the importance of political leaders' honesty and ethical behavior in general, they disagree sharply when asked about honesty and ethical behavior in the context of Trump and his administration, as they have for other elected officials.
In a separate Pew Research Center survey conducted in January, 94% of Democrats say they trust what Trump says less than what prior presidents said, while 58% of Republicans say they trust what Trump says more than what prior presidents said. Similarly, nine-in-ten Democrats say the ethical standards of top Trump administration officials are poor or not good, while around three-quarters of Republicans (76%) say the administration's ethical standards are excellent or good.
Democrats and Republicans have long been divided in their views of Trump's personal traits, including honesty. In an August 2017 Pew Research Center survey, 71% of Republicans said the word "honest" describes Trump very well or fairly well, while 89% of Democrats said it describes him not too well or not at all well.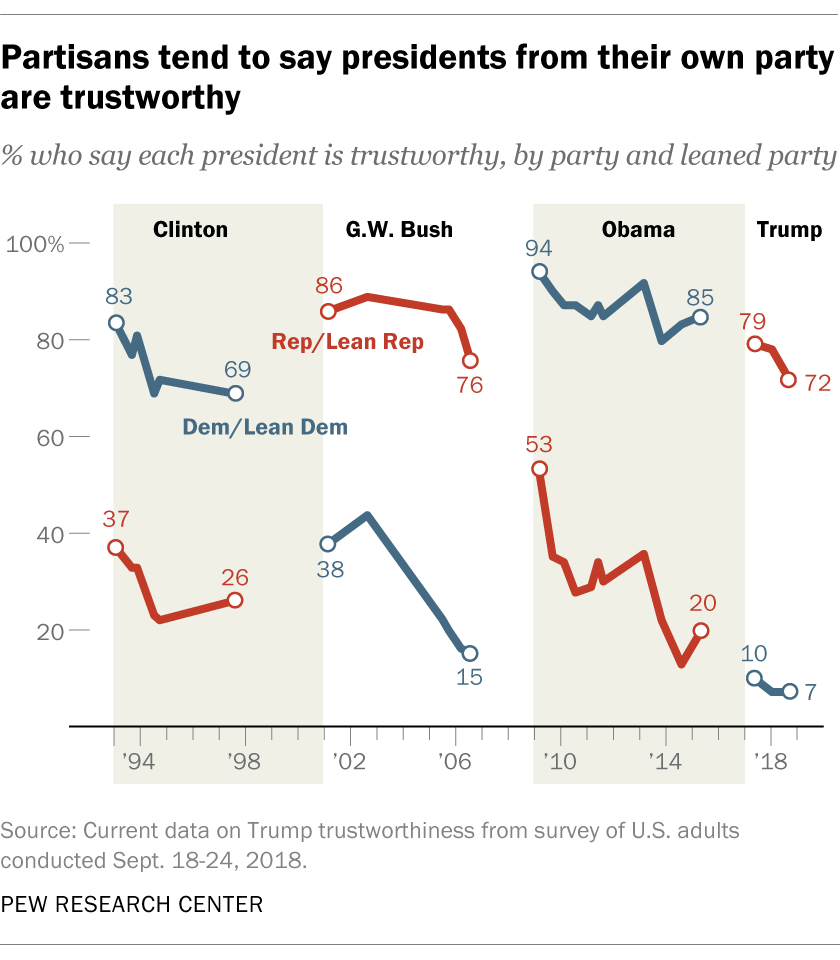 Trump is far from the only president to evoke wide partisan differences in public attitudes about trustworthiness. In surveys dating back to the Clinton administration, Pew Research Center has asked Americans whether they saw the current president as trustworthy or not. While some chief executives have fared better on this measure overall than others, a common theme emerges: People generally view presidents from their own party as trustworthy – and presidents from the other party as not trustworthy.
This largely parallels partisan differences in presidential approval: In the Center's survey this January, 96% of Democrats disapprove of the way Trump is handling his job as president, while 80% of Republicans approve.