U.S. employers planned to pay high-skilled foreign workers with H-1B visas a median salary of $80,000 a year in fiscal year 2016, up from about $69,000 a decade earlier, according to a Pew Research Center analysis of new U.S. Citizenship and Immigration Services data.
This is the first time the U.S. government has made salary information about H-1B applicants publicly available. Most H-1B applicants get approved for visas, so the data provide a window into the salaries of high-skilled foreign workers employed in the United States.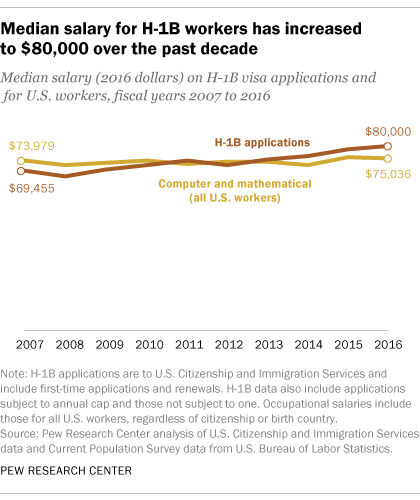 The 2016 median salary reported for H-1B visa applicants was higher than the median salary paid to some U.S. workers in similar high-skill occupations. For example, U.S. workers in computer and mathematical occupations had a median salary of $75,036 in fiscal 2016, a slight increase from 2007, when the median salary was $73,979 (adjusted to 2016 dollars), according to U.S. Bureau of Labor Statistics data on all U.S. workers. The majority (60%) of all H-1B applicants from fiscal 2007 to 2016 were seeking employment in computer and mathematical occupations.
The H-1B visa program is the primary way employers in the U.S. hire high-skilled foreign workers. The program allows employers to hire foreigners to work for up to six years in jobs that require highly specialized knowledge, and workers' employment may be extended if they have green card applications pending. To participate, employers first submit applications to the U.S. Department of Labor attesting that no U.S. citizen worker would be displaced by the prospective foreign worker. The application is then reviewed by USCIS before the State Department interviews the foreign worker and issues the visa.
Several bills have been proposed in Congress this year to change the H-1B program, and the Trump administration has said it backs a plan that would reverse decades of U.S. immigration policy by admitting more high-skilled immigrants and fewer low-skilled immigrants.
The new USCIS data, released as part of the administration's review of the nation's immigration policy, do not allow for precise estimates of the total number of H-1B visa holders in the U.S., in part because figures for first-time and renewal applicants are not separated. (The data also combine visas subject to an annual cap and those not subject to the cap.)
The USCIS data show that overall demand for H-1B visas has increased sharply over the past decade. The number of total H-1B visa applications filed by employers on behalf of foreign workers increased from 246,126 in fiscal 2009 to 399,349 in 2016, and is on pace to reach a new high in 2017. Overall, U.S. employers filed more than 3.4 million H-1B visa applications from fiscal 2007 through the end of June 2017 (the first nine months of fiscal 2017).
The U.S. government also released H-1B visa salaries that individual employers plan to pay foreign workers, as indicated on applications approved by USCIS (and still subject to State Department review).
The biggest names in technology planned to pay the highest average salary to H-1B visa holders in fiscal 2016. But they also expected to hire fewer workers than other companies, according to data on applications approved by USCIS. Facebook planned to pay an average salary of $140,758 on 1,107 H-1B visa applications (a total that includes both first-time and renewal applications), the highest average salary paid among the 30 companies with the most visa approvals. Apple planned to pay a $138,563 average salary on 1,992 applications, while Google paid a $131,882 average salary on 2,517 applications.
The top prospective employers of foreign workers on H-1B visas provide information technology and other business services. Cognizant Tech Solutions, an IT consulting company based in New Jersey, had 21,459 applications approved in fiscal 2016, the most of any company. The next two top H-1B employers are companies based in India with offices in the U.S.: Infosys (12,780 applications approved) and Tata Consultancy (11,295).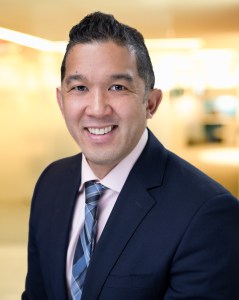 Neil G. Ruiz
is the head of new research initiatives at Pew Research Center.