This week's 37th annual convention of the Association of Alternative Newsmedia comes at a time of challenge and turmoil in the "alt weekly" world. In many respects, the   industry has been beset by the disruption affecting the broader newspaper business—including declining circulation, ownership changes and the closing of some notable publications. On a more positive note, some alternative outlets are using digital innovation to tap into new revenue streams.
Here are five things to know about the alternative press today: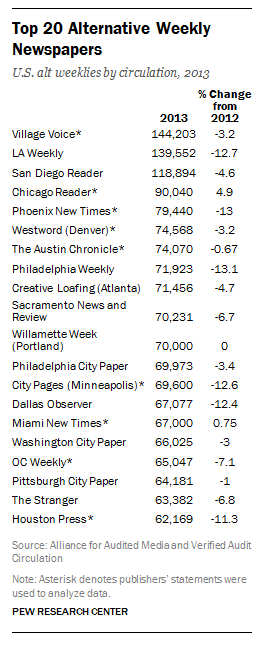 1The association's membership reached a high water mark of about 135 in 2009, a figure now down to 117 publications. (When the organization was created in 1978, it started with 30 members). One of the largest and best-known alternative weeklies, the Boston Phoenix, closed in 2013 after 47 years. The Honolulu Weekly and Urban Tulsa (OK)—both more than 20 years old—also went out of business in 2013. In addition, two rival weeklies, Detroit Metro Times and Real Detroit, merged into one publication in May 2014.
2The combined circulation for the top 20 alternative weeklies in the U.S. declined by 6% in 2013—dropping to 1,600,844 from 1,703,183, according to the latest available data. Only two outlets showed an increase in circulation in 2013: The Chicago Reader, which grew by 5%, and the Miami New Times, which grew 1% after it gained national exposure for an exposé linking baseball star Alex Rodriguez to a performance-enhancing drug ring. The Village Voice—the largest weekly with a circulation of 144, 203—had a modest  drop of 3%. The biggest losers were the LA Weekly, the Philadelphia Weekly and City Pages (Minneapolis), which all suffered 13% circulation drops in 2013.
3A recent trend is for alternative weeklies in major cities to be sold to legacy news organizations—traditionally considered alt weekly adversaries and competitors. In February 2014, the Baltimore Sun Media Group bought the city's alternative weekly, the City Paper, for an undisclosed price, causing its senior editor to worry about whether "we will lose our edge" under "corporate ownership." The parent company of the Chicago Sun Times bought the Chicago Reader in 2012—and now the Reader's content appears in the daily publication. The company that owns the San Francisco Examiner bought two local alternative weeklies in recent years, the Bay Guardian in 2012 and SF Weekly in 2013.
 4Alternative outlets have also been bought up by non-media owners or community paper chains. Former Green Bay Packer Mark Tauscher, along with two other partners, bought the Madison Wisconsin-based weekly, Isthmus. One of the largest alt-weekly chains, SouthComm Communications (with seven papers), sold the 24-year-old Leo Weekly (in Louisville, Kentucky) to a group of local investors in April. Wick Communications, owners of the 30-year old Tucson Weekly, also agreed in April to sell the weekly to 10/13 Communications, which owns over 40 community papers in the Southwest.
5Some alt weeklies are pursuing digital strategies as a way to ensure their survival. The Arkansas Times last July introduced a subscription-based service for its digital content, becoming one of the first alt weeklies to do so. Following in the footsteps of some legacy companies that have created new revenue streams by functioning as digital marketing consultants, The Reader in Omaha last year began building and managing websites for local clients. The corporate parent of The Memphis Flyer now provides "social marketing, photography and video services" to local small businesses.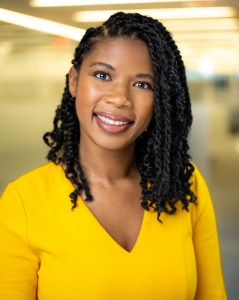 Monica Anderson
is an associate director of research at Pew Research Center.