Russia's minister of sport, Vitaly Mutko stirred international concerns Thursday when he announced that the country planned to enforce its new anti-gay laws when it hosts the 2014 Winter Olympics in Sochi.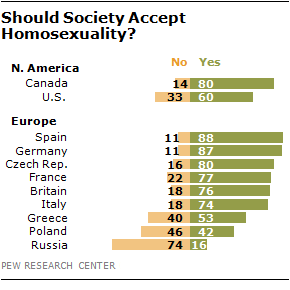 The announcement prompted fears that foreign Olympic athletes and spectators could be affected by the law, signed last month by President Vladimir Putin, which bans "homosexual propaganda." Since then, a top Russian lawmaker sought to allay such concerns by saying the winter games would not be subject to the laws.
Putin also recently signed another law that restricts the adoption of Russian children by people living in countries that recognize same-sex marriage.
The laws seem to align with Russia's rejection of homosexuality. About three-quarters (74%) of Russians said homosexuality should not be accepted by society, while just 16% said it should be accepted, according to a recent Pew Research Center survey.
The global survey assessed attitudes on homosexuality in 39 countries and found widespread rejection of homosexuality in Russia as well as in parts of Asia, Africa and predominantly Muslim nations.
Globally, homosexuality was most accepted in Spain (88%), Germany (87%), the Czech Republic (80%) and Canada (80%). A smaller majority of people in the United States (60%) also thought it should be accepted.
Russian acceptance of homosexuality varied slightly by age. A greater percentage of people ages 18 to 29 (21%) were accepting of homosexuality than people ages 50 and older (12%).