Spanish-language television reached a new milestone in America. Univision finished first among broadcast networks during July sweeps in two highly sought-after demographics: 18- to 49-year-olds and 18- to 34-year-olds. According to Nielsen, between June 27, 2013, and July 24, 2013, Univision averaged 1.8 million viewers ages 18 to 49 nightly, beating out English-language networks FOX, NBC, CBS and ABC, all of which have been struggling with declining audiences for decades.
This is the first time that Univision has won any sweeps period among this important demographic (though Univision has been tops in daily primetime ratings many times before). CBS is still No. 1 for overall viewership.
Much of Univision's success has been built on its entertainment offerings; programs such as the telenovela "Amores Verdaderos" outperform English-language competition regularly. But its success is also built on news. In big city markets that have sizable Hispanic populations—such as Los Angeles, New York and Houston—it has the most watched local news shows.
On the surface, Univision's growth may seem to not square with a new Pew Hispanic Center report that shows a growing share of Hispanics are getting their news in English. But because Hispanics are such a fast growing part of the U.S. population, the number who speak Spanish and who watch television in Spanish has risen even as the share who get their news in Spanish has declined. Univision's success (and Telemundo's too) speaks to the growth in the nation's Spanish-speaking market—today a record 35 million Hispanics speak Spanish at home, up from 10 million in 1980.
At the same time, the language usage patterns of the nation's Latino population are changing as immigration slows and the young Latinos born in the U.S. enter adulthood. A record 31 million Latinos now speak English proficiently, up from 8 million in 1980. Our studies show that among Latinos born in the U.S., significant majorities get their news in English, watch television shows in English, listen to music in English and even think in English.
However, our studies also show that Latinos value bilingualism. Fully 95% of U.S. Latinos think it's important for future generations to speak Spanish. And today's young Latinos are more likely than older Latinos to have heard their parents emphasize the importance of speaking Spanish and the importance of being proud of their heritage.
In response to all these trends, news organizations such as NBC Latino and FOX News Latino have launched English-language news outlets targeted to the Hispanic market. Univision is taking similar steps, with its Univision News Tumblr (in English) and a new English-language cable network that it plans to launch later this year with ABC News, called Fusion.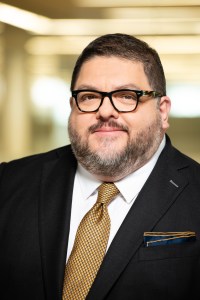 Mark Hugo Lopez
is director of race and ethnicity research at Pew Research Center.