National Press Club Washington, D.C.
Since the Supreme Court lifted its moratorium on the death penalty 30 years ago, 38 states and the federal government have reinstated capital punishment.
In recent years, there has been a nationwide debate over the proper application, morality and constitutionality of the death penalty. Some argue that there are systemic flaws in its application and that those on death row are disproportionately poor, mentally ill or African-American. Abolitionists claim that if the death penalty can not be applied justly in all cases, it should not exist at all. Some embrace a moral stance that "respects life" in all its stages and circumstances.
Those in the pro-death penalty camp claim that abolitionists ignore the individual circumstances of each case and that some crimes are so heinous that the only appropriate punishment is death. Furthermore, they argue that the existence of the death penalty deters violent crime.
The Pew Forum, together with the Federalist Society and the Constitution Project, held an event examining the application, morality and constitutionality of the death penalty in the United States, focusing on issues such as habeas corpus review, clemency, the Eighth Amendment and adequate defendant representation.
Speakers:
Samuel Millsap Jr., Former District Attorney, Bexar County, Texas
William Otis, Counselor to the Head of the Drug Enforcement Administration, U.S. Department of Justice, Washington, D.C.
Kenneth Starr, Dean, Pepperdine University School of Law, Malibu, Calif.
Bryan Stevenson, Executive Director, Equal Justice Initiative of Alabama, Montgomery, Ala.
Moderator:
Virginia Sloan, President, The Constitution Project , Washington, D.C.
---
VIRGINIA SLOAN: Good afternoon. I'm Virginia Sloan and I'm president of the Constitution Project. This is the fourth in a continuing series sponsored by the Constitution Project, the Federalist Society and the Pew Forum on Religion & Public Life, and I'd like to welcome you on behalf of all three organizations.
The Constitution Project is a bipartisan, nonprofit organization that conducts public education and research on controversial constitutional law and governance issues. These issues include our system of checks and balances, the balance between liberty and security after Sept. 11, judicial independence, war powers, criminal sentencing and the constitutional amendment process.
The Federalist Society is a group of conservatives and libertarians interested in law and public policy. It is founded on the principles that the state exists to preserve freedom and that it is the province and duty of the judiciary to say what the law is, not what it should be. The Society seeks to promote an awareness of these principles and to further them through its activities.
The Pew Forum is part of the Pew Research Center and its mission is to provide timely information on important issues at the intersection of religion and public affairs. The Forum is nonpartisan in nature and does not take positions on any topics.
Though neither the Pew Forum nor the Federalist Society takes positions on policy issues, the Constitution Project does through our bipartisan committees of distinguished and expert Americans. We have available for you out front our consensus recommendations for reforms issued by our Death Penalty Initiative, which consists of both supporters and opponents of capital punishment, all of whom believe that the system is badly broken and that the risk of convicting and even executing the wrong people is too great.
The death penalty is certainly a hotly contested issue, and in recent years Americans have witnessed a parade of exonerated individuals, including 123 who were sentenced to death. The number of death sentences is down, as is the number of actual executions. Support for the death penalty has decreased as Americans grow increasingly aware that the criminal justice system makes mistakes and that not only have innocent people been convicted of crimes, but in a continuing tragedy the true perpetrators have remained free to commit more crimes.
Our panelists today represent a fascinating array of views on this topic. They will each make opening statements for seven to eight minutes, and then we will invite questions from the audience. So I will briefly introduce all of them now and then they will speak in the order that was agreed to previously. First to speak will be Sam Millsap, the former Bexar County district attorney in Texas who prosecuted Ruben Cantu. Mr. Cantu was executed in 1992; recent events indicate that he was very likely innocent.
Our second speaker is Kenneth Starr, dean of the Pepperdine Law School and a former judge and solicitor general of the United States. Dean Starr has represented two clients of death row.
Third will be Bryan Stevenson, executive director of the Equal Justice Initiative in Alabama and a law professor at NYU and one of the country's leading capital defense lawyers.
And fourth will be William Otis, a longtime public servant who has served in the White House and as an assistant U.S. attorney. Mr. Otis is speaking today in his individual capacity. So after their brief opening statements we will invite questions from the moderator and the audience.

SAMUEL MILLSAP: Let me begin by saying that I'm Samuel Millsap and I am a recovering supporter of capital punishment. I would like to be able to say to you, as I often do when I speak, that it's an honor to be with you. As I talk about this issue in the specific context of the Cantu case, I think you'll understand that I'm not honored by being here and that it's understandable that I would prefer to be back in San Antonio having a root canal. But I do consider it a privilege and in fact a responsibility for me to address this issue and do so, I hope, in a responsible way.
I came to Washington with an approach to this topic that was going to be somewhat clinical, and that changed last night. I was lucky enough to see a wonderful exchange that was hosted by the Constitution Project on consensus-building and then to go from there to the Holocaust Remembrance Project dinner. The combination of those two events back to back was for me absolutely profound. I was reminded that we need to talk to each other and not hurl allegations, that we need to listen to each other and that we need to try to solve problems together.
I was further reminded that lawyers have obligations that other folks simply don't have. I believe that prosecutors have obligations that other lawyers don't have. I believe that prosecutors who do good things and who produce good results deserve credit for that, but I likewise believe that when bad things happen in connection with the prosecution of criminal cases any criminal case, but particularly a capital murder case it's incumbent upon the prosecutor to assume responsibility for the results. It's incumbent on the prosecutor to be positive and look forward and ask the question, how do we make sure that this never happens again?
And that's what I want to talk about today briefly. There are four basic principles that underpin everything that I have to say. The first and the most basic is this notion that we have in the criminal justice system that criminal defendants are presumed innocent until they're proven guilty.
The second principle that I think is crucial and that underpins everything that we do in criminal justice is the notion that the system is designed and has functioned for more than 200 years with one overriding goal, and that is to make sure that the innocent are protected. And in fact what our system should do, and I think fails to do today, is to actually guarantee the protection of the innocent.
Principle number three is an idea that I heard over and over again in law school and I have to confess that I haven't heard it very much recently that it's better that 100 guilty men go free than that one innocent man be convicted. And I think it's important that we remember that.
My final point is to remind everybody, particularly prosecutors, what the statutory duty of a prosecutor in Texas and I think in most jurisdictions is: it's the duty of the prosecutor not simply to convict, but to do everything in his or her power to see to it that justice is done. And that means not just during the investigation and the trial; it also means after the trial is over, whether or not there's been a conviction.
Do we have press people from Texas? I'm going to have some things to say at the end of my remarks that are directed to the state of Texas and I hope you'll listen very carefully. I've been a lifelong supporter of the death penalty. I've been a full-throated supporter of the death penalty and was until the year 2000 when I began to have reservations as a result of three or four things that happened in a very short period of time.

I left office in 1987 and went back to a comfortable private practice and closed the door on that part of my life, but I've come to the conclusion — and it's based not on the Cantu case specifically but rather on other things that I've seen happen in the criminal justice system — that the system as it relates to capital murder is simply broken. It's my view in fact that because it's driven by human beings and decisions that are made by human beings, it can't be fixed, and that as a result what has to happen is that the option to put people to death has to end.
I would say to Justice Scalia, who said in his concurring opinion in Kansas v. Marsh that he knew of no innocent man who had been executed, that he needs to look only to the state of Texas, to my state. Cameron Willingham was certainly innocent. In fact, in the Cameron Willingham case, there wasn't even a crime. Carlos De Luna, the most recent, was probably innocent. And the person I prosecuted in 1985, Ruben Cantu, was probably innocent. And it didn't matter as far as I'm concerned in my position today whether Ruben Cantu was in fact innocent or not: the system simply doesn't work. What we see over and over again are situations where witnesses who have no reason to lie recant testimony and for good reasons.
I'm running out of time and I'll have an opportunity to develop this more fully in response to your questions, but one of the things that I want to say today to the people of Texas is that it's time for this hand-wringing about the Cantu case to end. It's time for the people of Texas to be positive about how we move forward. It's time for us to think about how we make sure that there will never be another Cameron Willingham.
And I think — and this was really hammered home last night at the Holocaust Remembrance Project dinner — it's important and incumbent upon the prosecutors who drive this system to assume responsibility. And so today I want to assume personal responsibility for the execution of Ruben Cantu.
I want to say a word as well to the members of the jury in the Cantu case, at least those who have made statements. There's enormous confusion, as you can well imagine. There are people who believe that they're responsible for the fact that he was sentenced to die. They wonder whether in fact he was innocent, and the thing that I would say to the members of the jury in the Cantu case is the following: you did your job very well; you did only what we as prosecutors asked you to do. You made the only decision that you could've made based on the evidence that was available to you. You are not responsible for the execution of Ruben Cantu. I am responsible for the execution of Ruben Cantu as the prosecutor who made all of the decisions that resulted in the presentation of that case to the grand jury, all of the decisions as to how that case would be prosecuted, and all of the decisions as to how that case would be argued and what we would ask the jury to do.
Thank you. (Applause.)

KENNETH STARR: It is indeed a privilege to be here, and that was quite a dramatic beginning to these reflections. Let me begin with thanks to the Constitution Project, to the Federalist Society and to the Pew Forum for organizing this. And then let me say — somewhat ironically in light of Sam's very dramatic, beautifully put statement — that I'm not an abolitionist and I have never been. Two very quick examples illustrate the reason and then I hope to broaden the lens somewhat.
I love history and I especially love the history of the last two centuries. And I love the example of Robert Jackson heeding the call while serving at the court and going to Nuremberg. And at that trial there were 22 defendants in the dock. We sometimes forget, if we ever knew, that of those 22 members of the leadership of the National Socialist Party of the Third Reich, several were acquitted, several received sentences for a term of years, three received life sentences, and one half were sentenced to die and the sentence was promptly carried out. That was a profoundly just outcome, a careful calibration of moral judgment.
But much more recently, indeed now underway in federal court in California — and I would ask you to draw a distinction, if you would, between the federal system and pathologies that infect various and sundry state systems — there's a man on trial named Barry Mills. He's known as the Baron. He is one of two heads of the Aryan Brotherhood. He is on trial in federal court for waging deadly race wars in prison. He will be in prison for the rest of his life regardless of what happens, but the accusation is that he has directly ordered the murder of 17 persons on the grounds of race and these orders were issued from the most secure prison in the United States and perhaps in the world.
There are more such trials to come for the leadership of the Aryan Brotherhood. And thus the moral principle that I derive is the right of self-defense. We're familiar with the concept of just war to protect ourselves against naked aggression, whether by a nation or by a terrorist organization or by an individual within the state who chooses by his own action to take himself out of the norms of civil society.
With that said, I have the most profound respect not only for Samuel and the statement that Samuel has offered here today, but for all who march under the abolitionist banner, regardless of the grounds, whether moral or religious, and especially so many in my company who object to the death penalty under any and all circumstances on religious grounds based upon very elevated notions of the sanctity of human life. But even as to pure policy — call them instrumentalist grounds — I again just have the greatest respect for those who have come to the abolitionist view.
So with that I want to offer two points in this opening round of reflections. The first is a point about the Supreme Court of the United States. Very briefly, as far as we can discern from the justices' handiwork, there are no longer any abolitionists serving on the Supreme Court, so even though time marches on and one may think attitudes toward the death penalty are changing, it seems to me quite the contrary: that this court has been continuingly reaffirming, if only indirectly, the very existence of the death penalty in the United States. By narrowing its reach, it reaffirms the fundamental proposition that the death penalty is justified.
Mentally retarded persons are now categorically exempt, as are persons who had not reached the age of 18 at the time of the crime. In fact, just this term under the new chief justice the court has shown — and it was eight to nothing because Justice Alito was not on the court at the time of the decision itself — that it even can be unanimous in favor of a death penalty result. Consider the case of Oregon v. Guzek, having to do with alibi evidence.
My second point is that we naturally tend to focus our attention on the judicial process: prosecutors, juries, DNA evidence, the judiciary generally, the role in our federal system of habeas corpus, the need, and it is profound, for a truly capable counsel, and a trial with adequate resources to mount an effective defense, which is a huge problem in the system. There are other needs, too, some of which I believe are compelling in the administration of justice.
But there is in fact a very important actor on stage — the executive branch — that has the ancient power to do justice through pardon or clemency. That role is found not only in the federal constitutional text, but in literally each of the state constitutions where the death penalty obtains. And it has been duly noted by the Supreme Court of the United States as a very important part of our capital punishment system. In a Texas case, Herrera v. Collins, Chief Justice Rehnquist, in speaking for the court, rejected the proposition that does seem counterintuitive that a claim of actual innocence is not cognizable in federal court unless it is accompanied by the allegation or assertion of a constitutional violation.
But federal court, Chief Justice Rehnquist said, is not the only possible forum for such extreme circumstances such as a Ruben Cantu. And here are the late Chief Justice's words: "Clemency is the historic remedy for preventing miscarriages of justice in our system where the judicial process has been exhausted." This, the court said, is, in its words, "the failsafe of our criminal justice system."

In his inimitable way, Oliver Wendell Holmes Jr., in speaking about clemency, described it as "anything other than" — Holmes' words — "a private act of grace from an individual happening to possess power. It is rather part of our constitutional scheme." To be sure, the role of clemency was terribly important in a system not long past in which death sentences were mandatory, but it is important still today, especially in an era when the trend line is in favor of achieving values of finality in the system and in particular to that extent limiting the role of federal courts. Very briefly, my own experience in recent years — in the Robin Lovitt case in Virginia, working with Rob Lee of the Virginia Capital Punishment Project, and in the still-unfolding Michael Morales case in California — suggest to me that governors and their advisors are tending to neglect this historic role of clemency and pardon in the system.
I am very grateful that former Governor Mark Warner of Virginia granted clemency to Robin. I am very delighted that he did it in light of what we felt was a grievous misconduct in the destruction of DNA evidence, which we also believe was used questionably at the trial. That's a pathology in the system. We have, however, not been encouraged thus far by the process in California, where Michael Morales should not be on death row. He did commit a terrible offense; he deserves severe punishment and he acknowledges the justice of his punishment, but not on death row.
His partition for clemency has been supported by the sentencing judge, Charles McGrath, and you have a copy of that letter available to you. It is an extraordinary letter to the governor urging clemency because the only reason that Michael is on death row is because of what we now know to be a perjured testimony at the sentencing phase by a jailhouse informant.
The last governor of California to grant clemency was Ronald Wilson Reagan. There have been no clemency grants since Governor Reagan left office. My friends, that was a long time ago.
Michael Morales' case is illustrative of what I think is a terrible trend, abject deference to the judicial system with its inevitable flaws and a frank unwillingness on the part of virtually every governor in the country, and those who advise them, to fulfill their assigned role in our constitutional structure. This isn't just a Supreme Court admonition; it is taking note of a constitutional structural point.
It's appropriate at a Federalist Society gathering to take note of Madison and Hamilton's lifting up — Hamilton more so than Madison, but both did — the need for energy in the executive. And even Mr. Jefferson, the staunch adherent of the anti-federalist republican tradition, agreed by his actions in office that the executive should move with energy. And even in our bloodiest war, which pit brother against brother, Mr. Lincoln took time to review personally the files of those seeking clemency. It was part of his greatness. Perhaps we would do well to ask our governors to reread the last paragraph of Lincoln's Second Inaugural.
In closing, one of my favorite Lincoln stories is when one of the future reconstruction senators said, "When we put our hands on Jefferson Davis, we should hang him from the nearest tree." And that senator wrote in his memoirs that he made the point more than once in Mr. Lincoln's presence and Mr. Lincoln simply replied, quoting from Scripture, "Judge not that you be not judged." Let us give greater attention to structural devices to protect against the pathologies that Sam has so poignantly lifted up.
Thank you. (Applause.)

BRYAN STEVENSON: Thank you. It's also a great honor for me to be here as a defense attorney. When I realized that my three other fellow panelists were either prosecutors or former prosecutors, I thought that this may not be the forum for me to come and talk. But these are truly exceptional and extraordinary people, and the nature of this discussion would be very different if the Samuel Millsaps of this world were the people prosecuting death penalty cases all over this country.
And, Mr. Millsap, let me just say to you how deeply grateful I am for the words you've spoken here today. I hope they have resonance not just in this room and not just in Texas, but all around this country where many of us have simply been asking for a long time for people who have power over life and death to act responsibly. The great frustration is that there has been so little responsible conduct on this issue, and that's why I'm opposed to the death penalty. I think it has to be abolished. I think we've got to get it out of our heads and we've got to get it out of our hearts.
When you start working on this issue, one of the fascinating things is all of the paradox, all of the irony. In this country, we would never rape someone who has been convicted of rape. We think the act of actually making someone go into a cell and rape another human being to punish him for that crime is completely abhorrent. We would never say if someone has been convicted of child abuse or sexual abuse, go in there and abuse this offender, sexually abuse him, physically abuse him. It's abhorrent. Most of us disavow torture. We wouldn't say if this person has been convicted of torture, "Let's go in there and torture him," because we recognize it does something to who we are. It's not just the offender; it's who we are. Yet somehow we hold to this idea that we can kill the people who have killed. And I think we hold to that idea because there is this big disconnect. The act of killing can be sanitized, it can be cleansed, it can be made into a procedure, and it can be ritualized, so that somehow we're not really thinking that we're killing someone.
For the last 20 years I've actually been representing people on death row, and I've spent too many hours next to people who are about to be electrocuted, watching the hair shaved off their body before they're put in the electric chair or squirming on lethal injection tables and seeing the tears and the anguish. And I believe that the death penalty ought to be abolished because it is corruptive. It corrupts all of us. It is corrupting our courts. It is corrupting prosecutors. It is corrupting police. It is corrupting defense attorneys. It is corrupting jurors. It is corrupting our society. I think that because I see so much evidence of it, so much pain and trauma. And it's not just that we're unwilling to talk about it. We don't have the will in this country to recognize what we have to do for people who are disfavored.
The death penalty is supported in America because we have a lot of people who preach fear and anger, and they want us fearful and angry about crime, and they want us fearful and angry about so many things. And on that high we can tolerate a lot of error. Well, I think we have to stop there. We ultimately have to be a society that recognizes that we will be judged not by how we treat privileged people, not by how we treat powerful people, but by how we treat condemned people, how we treat the poor, how we treat the disadvantaged. That's how we measure our civility. And when you look at what's going on in the death penalty arena, we are doing horribly.
I'm grateful for the efforts of so many people who are struggling hard to institute reforms, and Judge Starr and so many other folks have played a role in that. But I don't think we're ever going to get there because there are these political dynamics that are corrupted.
We have a society that we all recognize is driven by wealth. Lawyers in this room know that the legal system is incredibly wealth-sensitive. Our system treats you much better if you're rich and guilty than if you're poor and innocent. Innocence is not the most useful thing you can take into court; it's wealth. If you've got wealth, you get a different outcome.
It's amazing to me: we've had over 1,000 executions in this country. If most of those folks had been represented by anyone on this panel, likely they would not have been executed, and that ought to say something to us not about the offenses involved in those crimes, but about the nature of our criminal justice system. I'm defending people on death row in my state of Alabama, 66 percent of whom were represented by lawyers who by law could not be paid more than $1,000 for the out-of-court time they spend preparing their case. And rather than confront that as inherently unjust, corrupt and unacceptable, our courts bend over backwards to find ways to rationalize these death sentences. We've run these cases through the rubric of ineffective assistance of counsel, and we have to see that there's prejudice before we do anything about it.
This corruption plagues and undermines what goes on in our courts. And I see that going on in the habeas context where the federal courts are being corrupted by the commitment to get people executed in these results-driven cases that create unthinkable results. And the Herrera case is just one example that Judge Starr talked about.
I'm also mindful of history. I think that history does have something to teach us. And the corruption isn't just seen in the way we deal with the poor; it's also seen in the way we deal with race in this society. I grew up in a community where the people I lived with were marginalized. It was a segregated area and we couldn't go to the public schools, and I saw how being disfavored changed your status in America. And I want very much for this country to get past that legacy, but instead what we do in the death penalty arena is we feed this history of racial apartheid.
In my region, the deep South, there are thousands of people — black men, black boys, black women — who have been lynched. And we followed that era of lynching in the early 1900s with racial apartheid laws that still exist on the books today. We can't get it out of the state constitution that you can't segregate people based on race; it's still in our law.
And that was followed by litigation in the death penalty context aimed at proving race bias in the death penalty in Georgia. And in the 1987 McCleskey case, the United States Supreme Court with that history in mind, with very dramatic evidence of bias, said it's inevitable; it's corruptive. And now we talk about this legacy and we create these challenges that go unmet. I've worked on two dozen cases where prosecutors have been found to illegally exclude people on the basis of race.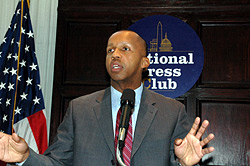 And our commitment to racial equality ought to make us vow not to have a death penalty like we have in Alabama where 80 percent of the people on death row are there for crimes for victims who are white, while 65 percent of all murder victims are black. And yet we fail to deal with that. I see it going on with the mentally ill. And so many of the people who end up on death row are not people who commit terrorist acts. They're not the Timothy McVeighs.
The death penalty is largely employed in this country against the poor, the mentally ill, the vulnerable, and so I say we do have to end it. And to me the question isn't whether people deserve to die for the crimes they commit. The death penalty debate has been terribly misaligned. It's not a choice between the death sentence and no punishment; it's a choice really between two kinds of death sentences. Most jurisdictions have life in prison without parole. It's just another kind of death sentence. Are we going to let this person die in prison on a certain day at a scheduled execution, or will they die in prison after decades of imprisonment? And we're saying we have to make them die at this particular time, and the question becomes how and why? How did we get there, and how much of this corruption do we tolerate?
And so in my mind this issue should not be just a question of whether people deserve to die, but whether we deserve to kill. We have tolerated so much error, so much injustice, so much unfairness; we have a system that is driven by poverty, that is undermined by race. And Mr. Millsap talked about the presumption of innocence, and for poor people and people of color and marginalized people, when you get charged with a capital crime you have got to recognize that you are presumed guilty. And if your lawyer is not prepared to overcome that presumption of guilt, you will be convicted and you will be sentenced to die.
I'll end with this. Two days ago I was on Alabama's death row and was spending three hours with a man named Anthony Ray Hinton. And Mr. Hinton has been on death row for 20 years and he is innocent. And when people talk about innocence in these cases you have to know who they are and what their relationship is with the case. You can't make judgments about innocence in Washington, D.C., without records and hours of investigation. We spent hundreds of hours working on this case, and I know the man is innocent. And when I left I was talking to somebody about it and they said, "Well, that's good for you because another innocence case will help the issue." And it broke my heart when they said that, because this man is suffering. And the corrupt thing is that our capacity to tolerate that seems to expand.
This discussion is sponsored in part by the Pew Forum on Religion & Public Life, and it does cause me to challenge people to integrate what we understand about justice, what we understand about fairness, what we understand about faith when it comes to this issue. Jesus was asked his position on the death penalty, and he said, "Let him who is without sin cast the first stone." That wasn't an argument about the morality of the death penalty in the abstract; it was a challenge that no one should pick up the stone. No one should execute until they've committed themselves and purified themselves in a way that our criminal justice system can never lay claim to, that no state government can lay claim to.
And with that history and with that awareness and with that consciousness, I think it's time for the death penalty to end. It's time that we put this behind us so we can begin to deal with these vexing problems of poverty and race and dysfunction and injustice.
Thanks very much. (Applause.)

WILLIAM OTIS: I want to start off by telling you a story about something that happened in a nearby suburb, Silver Spring, Maryland. A family lived there by the name of Horn. They had a little boy by the name of Trevor. Trevor had a difficult birth. There was a botched delivery. The umbilical cord became wrapped around his neck and he was deprived of oxygen for a significant period of time during the delivery. He was born a quadriplegic with significant mental retardation. As a result of this, he got a $1.7 million settlement from the hospital.
Raising a quadriplegic son is difficult enterprise, and it's expensive even when you have a big settlement. When Trevor was eight years old, his father Lawrence Horn had had enough of these difficulties and decided that this big pile of money that had been put aside for his son could be put to a better use; namely, his use. So he arranged to have Trevor killed. This is not something he did by himself; he hired a hit man.
You might think I'm making up that someone would hire a hit man to kill an eight-year-old, but it's true. The hit man's name was James Perry. There was a considerable amount of price haggling about how much Lawrence Horn would pay to have his kid killed. Some of that price haggling was done over the phone; some of it was done with an intermediary who testified at the trial. The parts that were done over the phone amazingly enough were left on phone answering machine messages. And those were introduced along with other telephone records at the trial.
Eventually, a price was agreed upon – $5,000 – but included in this, Lawrence Horn wanted not merely his son to be killed; he also wanted his wife to be killed because, you see, his wife would've shared in the $1.7 million, and he wanted it all for himself. So the deal was $5,000 to kill the eight-year-old and kill the eight-year-old's mother.
James Perry went out to the house and he made good on the contract. Killing an eight-year-old, particularly a paralyzed one, is not very difficult for an adult male who just put his hand over the tube that fed oxygen into Trevor's trachea. But killing the mother involved a little more than that and indeed there was a complication. The complication was that Trevor's nurse was also there. Her name was Janice Saunders. So James Perry was confronted with an unexpected and unwanted witness to this. He shot the mother and he also shot Janice Saunders, the nurse. He shot them through the eyes. Now you might think that this just shows what a gruesome, horrible, sadistic person this guy was, but that's not so. The reason a hit man shoots his victims through the eyes is so that in the unlikely event the victim survives, he or she will not be able to do an in-court identification. It wasn't sadism, it wasn't a mental defect, it was just business.
The burden of proof in this debate about the death penalty is on the abolitionist side, and it is not merely to show that there are questionable or sympathetic or problematic cases, as there are in every aspect of litigation. What they must show is that every execution is wrong. Abolition means abolition, the end of it — period.
There are two central problems, I think, with a strict abolitionist argument. One is that it is a one-size-fits-all, don't-pester-me-with-the-facts sort of position. It simply does not matter, under that position, what the killer did, how utterly incontestable the evidence is of his guilt, how gruesome or cold blooded or calculated it was, how many people he killed, or how many people he killed in the past. None of that matters. A position like that significantly oversteps the justifications typically offered on behalf of the abolitionist position: bad lawyering, possible racism in any given case, that the police are hiding or manufacturing evidence. All of those things can be gone over and are gone over in great detail and over a long period of review in case-by-case analysis under the most exacting standards that the law knows. But that is a far cry from justifying complete abolition in every case no matter what.
Indeed, an argument that the death penalty should be abolished, period, no matter what the circumstances, deliberately ignoring the circumstances, is an argument that in most neutral settings — including, for example, court and sensible law school debates — would not be taken seriously. The public does not take it seriously. Support for the death penalty in this country is at 65 percent; it has been at about that same level for a number of years now. A Gallup poll six weeks ago pointed out that a majority of the country believes that the death penalty is not imposed frequently enough. There is probably not one single abolitionist on the current court. In the history of the court, there have been 112 justices; three of them — Brennan, Marshall, and Blackmun — have been against the death penalty per se. The other 109 have not.

The second basic, overriding problem with outright abolitionism is that it simply shoves off to one side what in any other context is the accepted and indeed the uncontroversial maxim that governs criminal punishment, and that is that the punishment should fit the crime. What punishment do you think fits the crime that James Perry and Lawrence Horn committed? A sentence of imprisonment no matter what the length? It's fine to give a long sentence to a carjacker, to a child molester, to someone who poisons kids — teenagers by selling them dangerous drugs, for instance — but that is a different kind of thing. It's frequently said in these debates that death is different. It is different and so are the crimes like Lawrence Horn's and James Perry's and Timothy McVeigh's that bring about the death penalty. Let the punishment fit the crime.
I would be hard pressed to tell you that there is anything in the law that could not benefit from reformation, but I think what we need to watch out for is abolition being impersonated by a call for reformation. And in particular I want to mention the call for a death penalty moratorium, which in my opinion is abolition in disguise. Death penalty opponents know that they cannot sell outright abolition because the public is against it. The public has seen enough of Timothy McVeigh and John Wayne Gacy and some of these other gruesome killers and is simply unwilling to put aside for all time and in any circumstances its right to allow the jury to decide on a death penalty. So we hear the call for a moratorium.
And the last thought I want to leave you with in my opening statement is this: we have had a moratorium before in this country. It lasted for ten years, from 1967 to 1977. In the preceding ten years when we had executions — 289 of them — there were 95,000 murders in this country. Immediately after that, during the 10-year moratorium from 1967 to 1977, we of course had zero executions and 180,000 murders — almost double the number. The truth of the matter is that the death penalty has a significant deterrent effect as these numbers prove beyond serious argument. Therefore it is the death penalty and not abolition of the death penalty that in the end will save innocent life. (Applause.)
MS. SLOAN: Thank you very much to all of our panelists. Let me lead off with one question and then I will turn it over to the audience for questions. This question is directed primarily at Mr. Otis and Dean Starr, but I hope all of the panelists will answer.
Mr. Otis, you talk about the advocacy for reforms to the death penalty system as being perhaps a cover for people who are truly seeking abolition. I just want to point out that our Death Penalty Committee that advocates for a significant number of reforms includes supporters of the death penalty such as Beth Wilkinson, who prosecuted the Oklahoma City bombing case, and Sam Millsap when he used to support the death penalty, and many others who do support the death penalty but believe that the system is badly broken.
And so my question is, do you believe that the system is in fact fallible, that there are systemic problems that need to be addressed through reforms? Do you believe there are reforms that would help to make both the trial process and the appellate review process more reliable so that the system is able to identify the truly innocent and the people who are truly worthy of capital punishment, and so the system can remedy errors in a timely fashion?
MR. OTIS: Anyone who would sit up here and tell you that the judicial system is infallible is lying. It's not infallible. What also needs to be recognized, but seldom is recognized, is that the penal system is also fallible. Frequently we hear that if we end the death penalty and simply live with life in prison without parole, then you'll see that this will take care of the problem. This overlooks the fact that prison security is at least as fallible as the judicial process and dozens and dozens — indeed, more than a hundred people — have been killed in prison and 37 people have been killed after prisoners escaped.
You might say that what should be done is to make prisons more secure. And just as we all want to make adjudication more accurate, we all want to make prisons secure. But we all have to recognize that fallibility runs throughout the system — not just in court, but also in prison — and therefore we must understand that there are going to be innocent people killed regardless of which reforms we undertake.
MS. SLOAN: Are there reforms to the system that you would support to try to cure some of those problems?
MR. OTIS: There are some reforms that I support. It will not surprise you to hear that I support giving more money to lawyers, and if they want to start yesterday that's okay. Some of the rates that death penalty defense counsel are paid are extremely low and it seems to me they ought to be raised if for no other reason, from a prosecutor's point of view, than that if you have an underpaid, overworked and overtaxed defense lawyer what you have is a walking potential 2255 or a habeas corpus going on, so simply from that point of view you would want more money to be funneled for defense lawyers so that they will be better enabled to present a full defense that would stand up on appeal.
MR. STARR: Bill's answer certainly foreshadowed and well expressed my principal proposed reform. I want to come back to the structural point with respect to the federal system and the state system. I believe that the vast majority of the complaints and the very serious charges that the wrong individuals have been convicted are in state systems.
It is my further sense that the federal system has been very judicious in the exercise for prosecutorial discretion, including review by the attorney general of the United States himself or herself, before a criminal or a capital sentence is sought. Those kinds of protective mechanisms are not in place with respect to our state systems, but far be it from me to suggest to Texas or any other state how it should restructure its system. But it certainly seems odd that there is such gross decentralization, that there is no, shall I say, quality control of the kinds of prosecutions that are brought. So I think one should be rather attentive to state-by-state concerns with respect to the exercise of prosecutorial discretion in how to control that in light of this decentralization.
But the single largest reform truly is trial counsel adequacy. Many of the concerns are due to the inexperienced or the otherwise inadequate levels of performance, and Bryan noted the severe restrictions on the ability to investigate. I have seen that not simply in Alabama; I have seen that in California. So my point would be that if we are in fact going to seek to impose society's ultimate sanction, we should be willing to follow the Bill Otis example and provide the appropriate resources at the trial level.

MR. MILLSAP: One quick point that I would make in response to this question. My simple answer to the question is that I don't think the system can be reformed. But both Judge Starr and William Otis have focused on the issue of the adequacy of legal counsel, and part of the reason why the Ruben Cantu case is the perfect case to use as a centerpiece in this debate is that it was not all of the other cases that you've heard about in which the lawyer went to sleep or the lawyer had been disciplined so many times or the lawyer was not competent. Ruben Cantu had a fine defense lawyer, someone who, by the way, Ken, was raised in our old neighborhood with us. He had a great lawyer. He had a fair judge. The prosecutor who prosecuted Ruben Cantu and who worked for me was one of the most honorable and ethical people that I've ever worked with.
Now, what does that mean? He received the only thing that the system in fact can possibly guarantee, and that is a fair trial. It can be argued that Ruben Cantu received the perfect trial, and yet at the same time today, 21 years later, the thing that is abundantly clear is that he may well have been innocent. We'll never know with certainty whether he was innocent or not, but he may well have been innocent. When the system works the way it's supposed to and it still produces unfortunate results, abolition is the only appropriate response from civilized people.
MR. STEVENSON: I'd just like to echo that. I think part of what pushes reform is the notion that we don't actually have to have a death penalty. And I think if you accept that that is, that the quality of life in America is not going to change tomorrow if all of a sudden there is no death penalty; we've got 11 states in this country that don't have death penalties, and, actually, some of their murder rates have dropped more dramatically than neighboring states that have executed lots of people then you have to think much more critically about why we do something that is going to create the kinds of results that we're talking about here today, particularly if the system is perfect. And that's the point of reform that I want to emphasize.
There is obviously a tremendous need for counsel. Counsel is the core of it. It's not just trial counsel, however. We've got 3,500 people on death row in this country, most of whom did not get adequate representation, and we cannot create justice in those cases without making sure that those people also have adequate counsel. In many states across this country, people are literally dying for lawyers while on death row. There is no right to counsel if you're under a sentence of death in most states. In my state, we have dozens of people who can't find lawyers. And so a reform has to embrace that, but it also has to embrace the depoliticization of the death penalty.
The reason we're afraid to just cease having capital trials until we deal with these problems is because the politics of the death penalty make that unacceptable. And when you have a political system that does not tolerate confessing error, acknowledging mistakes, you will not get to reform. And that dynamic is, again, undermining and corrupting at both the state level and the federal level. We just had a justice on the Alabama Supreme Court who announced he would not comply with the U.S. Supreme Court's decision in Roper v. Simmons banning the execution of juveniles. He took to task the rest of the court for going along with that case, and he conducted a political campaign for chief justice on that theme. And you will see that happen, because in an era when fear and anger play politically, the death penalty will become a central tool. And that, in my judgment, doesn't leave room for the kind of honest reflection about reform that I think a lot of us would like to see.
QUESTIONER: I have a question for Judge Starr. You suggested one mechanism for remedying injustice in state capital trials. I wanted to ask you about another mechanism, which is federal review of state convictions through habeas corpus. After your experience with the death penalty as a lawyer in recent years, what do you think of the 1996 federal law that severely limited federal review both in terms of scope and with strict time limits? And I'm also curious whether you have a view of the current proposal in Congress to limit habeas corpus even further.

MR. STARR: My own view is that simplicity is a very desirable goal to try to achieve in the criminal justice system, and the 1996 statute did embody what I think are understandable concerns about some courts in the federal system being seen as riding roughshod over state systems. And finality is a very important value. But my own view as a lawyer, quite apart from policy considerations, is that that statute has overly complicated the question of federal habeas review.
I'm in favor of getting to the merits, of less threshold kinds of litigation over the standard of review, which has itself given rise to a real cottage industry of litigation. And I think it's not only very vexing to the lawyers, but frankly it's confusing to judges because they know what the right answer is, but then they have to go through this very strange exercise of whether this could've been a reasonable interpretation under the circumstances, and the ADEPA standard, I think, is overly convoluted.
MR. STEVENSON: I echo that concern. And what bothers me even more is that you don't have policymakers who actually have a good understanding of what it's like to do this sort of litigation. I think if we actually did, we would simplify it for all lawyers and for judges, and it would actually get closer to having a sense of what really happened in this case. Increasingly at the 11th Circuit, where I practice, the last 22 out of 24 cases coming out of Alabama were adjudicated purely on procedural issues, so the court never got to the constitutional questions about the quality of the lawyering or whether the Sixth Amendment was honored. And I think that does a real disservice to a review system that promises to assure the people of America that these sentences are valid and reliable. We're not really doing that in habeas anymore.
MR. STARR: May I add a very friendly footnote to that? That certainly does contribute to this sense on the part of those who advise governors — I'll say this from my two experiences — that the courts, including the deferral courts, have exhaustively analyzed these issues. And then when you try to engage a counsel to the governor, but it looks like it's a standard of review that the federal court was faithfully following, we now see that the actual merits were not being addressed and suddenly eyes are glazing over. These are able lawyers, and I don't mean to suggest that they're not taking a very close look at it, but it is odd. If you're going to have a close look at the issue of whether the Constitution was violated, I think simplicity is the better way to go. So I'm not a fan of these kinds of suggestions to really complicate the standard of review, because I see it also adding to the sense that while there has been an exhaustion of judicial remedies, there is no role for the governor.
I'm involved in litigation on same-sex marriage and on a side that's probably unpopular here in this very enlightened office, and recently the General Assembly of California actually voted to change the definition through the representative process, which frankly is part of my argument in a case: let's allow the representative process to work. Well, the representative process isn't working, and the governor in exercising his veto said, "The definition of marriage is an issue entrusted to the judiciary." That's the kind of mindset that I think is just most unhealthy, and governors need to be much more attentive to their role in this process.
EUGENE MEYER, FEDERALIST SOCIETY: I'm Eugene Meyer of the Federalist Society. I wanted to ask two speakers to respond to something. I was interested if Mr. Stevenson would respond to Mr. Otis' point about a number of people killed by those who are supposed to be in prison without parole, whether killed in prison or killed in escape situations. And I wondered if Mr. Otis or Mr. Starr could respond to Mr. Stevenson's point that maybe somebody deserves to die, but what is the effect on those who are killing — and if I might add to Mr. Stevenson's point — who are essentially killing in cold blood rather than in the immediate type of self defense we often think of?

MR. STEVENSON: With regard of the first question, there isn't a warden or a prison commissioner that I know of in America that will tell you that they cannot run a secure facility, that they have to have the death penalty because they're just incapable of providing security. These murders that were referenced where not committed by people on death row. These are very frequently people who become dispirited and desperate, and since we don't really rehabilitate or respond to people in prison in a healthy way, that manifests itself, sadly, with more violence. But you're not going to prevent that problem by having death sentences. A lot of these guys were convicted of drug crimes before they escaped and committed another murder.
And the sad part is that if we're really committed to creating environments within prisons that reduce homicide and all that other kind of stuff, we have to think very differently about the role of the institution. We can't just warehouse people and let them rape each other and abuse each other and form gangs that create the kind of violence that then leads to this. So I see that as a correction issue, but I don't think we should have a death penalty in the country out of a position of weakness that says we're so weak and incapable of providing security among people who have no power, no weapons, and who are locked down 24 hours a day that we execute them.
The other part of that is the deterrence point that I think is worth emphasizing; and I'll just speak from my perspective representing people. My clients are people who at 13 and 14 years of age don't believe they're going to live past the age of 18 or 20. They're in poor, marginalized communities where they see no hope. They not only expect to die, they expect to die violently from gangs, from police, from war, from all of the problems that dominate the street. The idea that a death penalty on a statute is going to change their behavior is just disconnected from these communities. We have got communities in Washington, D.C., where there are kids who don't think they're going to live past the age of 21. They think they're either going to be dead or be in prison for the rest of their lives, and that kind of hopelessness does not lend itself to the notion that we have to have a death penalty to deter violent behavior. It's just not realistic.
MR. STARR: I want to comment very briefly in light of Bryan's wonderful presentation. One of my early experiences when I was at the Justice Department serving as chief of staff to the attorney general in the Reagan administration was making the tour, as I did, either with the attorney general or separately, of a number of federal institutions and even some state institutions. And I must say, one of the chilling moments I had was when I was face to face — not without companionship, I'm glad to say — with someone who had taken three lives. And the psychiatric assessment said this guy is a pathological killer and he would just as happily kill you right now. It had nothing to do with race or with marginalization. This person was for whatever reason taking himself out of the bounds of civil society. Could such a person be rehabilitated?
Again, as I said at the outset, I have the greatest respect for those who, especially on religious grounds, say we cannot willfully take a life. And therefore to come to your specific question directed to me, I think it's a broad question that really goes to governors.
Take a governor such as Governor Kaine who does not support the death penalty, I believe, on religious grounds, but certainly there are moral as opposed to instrumentalist grounds that undergird his opposition to the death penalty as I understand it. I'm sure if I'm in error, someone will quickly correct me, but that's my understanding of his position. And yet I understand he is signing death warrants. Now, why is that? I think the same rationale obtains with respect to those who are otherwise involved in the process, including the actual death chamber itself. And I've been to San Quentin, but I have not seen the chamber itself, so Bryan and others will speak to that. But I think these individuals, whether we agree with them or not, view themselves as the instruments of the state in carrying out a judgment of the state not their judgment, but a judgment of the state that has been duly affirmed and their role is that of a soldier in a time of war carrying out their duty. It's my theory of just war as applied to civil society.
But of course you would have to address that question to those who are involved in it. I would want no part of the grisly business. And I will say that a fair amount of very intriguing evidence is being uncovered during the course of discovery in the lethal injection litigation that's underway in California. There will be a trial before Judge Vogel, a United States district court judge in San Jose who is a very thoughtful, enormously intelligent, experienced and deeply respected judge. And so let's see what happens in this trial in two months. I think some of the facts that are going to be uncovered or will come up in open court will be very arresting to a lot of people of good will who may be convinced that we really need to rethink this so-called humane way of carrying out the sentence.

MR. OTIS: If I might respond just briefly to Bryan's point. I respectfully disagree with the notion that people commit murder out of hopelessness and a sense that they haven't been given a chance. This seems to me to be the blame-America-first theory as applied to criminal justice. The basic reason that people commit murders that wind up getting a death sentence is that they want to clean out the cash register at the 7-11 at 3:00 a.m. with little resistance and leaving no witnesses. And there was an article that you may want to look at in The Washington Post — it's not a recent article, it was back in 2002 –about one of the gangs that operates in D.C. and that this very week has caused the mayor and the police chief to declare a crime emergency on account of 15 murders that have happened in this city so far this month.
What happens in these murders is that gang members want to eliminate witnesses, and as this Post article discloses, in one month — not this month, but an earlier month — they killed seven witnesses. In a no-death-penalty jurisdiction, that is the smart move to make. If the most you can get is life without parole, why be convicted at all? You make the state's case impossible because the state has no witnesses, and even if you get convicted for it you're not facing anything more than you were facing to begin with.
ALAN BERLOW: I'm a freelance journalist. You cited the tens of thousands of murders that happen in this country that do not get the punishment that you suggest they deserve, and I'm wondering if you could quantify on the one hand how many executions you would like to see per year — 1,000, 2,000, whatever — that would make this a more effective deterrent, and on the other hand how many executions of innocent people would be tolerable?
MR. OTIS: I do not deal in gross numbers. I would like to see cases adjudicated on their individual facts. If on an individual-fact adjudication a properly instructed jury — which of course the defense and the defense lawyer have a significant hand in selecting both through peremptory strikes and strikes for cause — if that jury concludes that the death penalty is not warranted, so be it. I do not believe that juries in this country consist of monsters who for no reason or for no very good reason are willing to impose the death penalty. I want cases adjudicated case by case.
As to the execution of the innocent, as Justice Scalia pointed out in his concurring opinion in Kansas v. Marsh, although we hear a great deal about the supposed execution of the innocent, in fact there has been no adjudication that a single innocent person has been executed for at least 50 years, nor am I aware of any neutral body — which is to say, a body that has not taken a preexisting position on the death penalty, either a court or even a committee of the ABA, which isn't all that neutral — that is willing to say that an innocent person has been convicted.
We heard about this, if you will remember, just six months ago. Six months ago, the innocent person who had been executed was a fellow by the name of Roger Keith Coleman. We've heard the same things that we frequently hear in debates of this kind: that the police rushed to judgment, that they did not adequately investigate other potential suspects, that the evidence pointed persuasively to someone else as the, quote, "real murderer," as O. J. Simpson would say; that there were political pressures to get the trial done, to find someone to blame and execute, and Roger Keith Coleman was an innocent man. This was said with great conviction and great indignation, and it was completely false.
Governor Mark Warner authorized DNA testing of the kind that the abolitionists had sought and proved not that there had been a rush to judgment, but that the judgment by the prosecutor and by the jury was correct. So the next time you hear that we've executed the innocent, think of the man who has now disappeared down the memory hall, Roger Keith Coleman: the man who wasn't innocent.
MR. MILLSAP: Let me just make one quick point in response to Mr. Otis. Of course there haven't been any adjudications of innocence in connection with cases in which executions have occurred. By definition that simply doesn't happen in our society. What we do is we wring our hands, we hurl allegations back and forth, we try to place blame somewhere else. And that's the way we sort these things out after the fact.
What I would suggest to Justice Scalia is that if he wants proof that we have in fact executed innocent people in this country, he needs to look only at the Willingham case in the state of Texas. In the Cameron Willingham case, there was not even a crime committed. It's now clear.
MS. SLOAN: Can you describe the facts of the Willingham case?
MR. MILLSAP: It was an arson case. Cameron Willingham was executed. He was convicted on arson and was executed because his three children were killed in the fire that burned his house to the ground. The determination was made that there was arson and that he was responsible for the arson, and it's been established conclusively in the last year that the conviction was based on what we refer to as junk science and that in fact there was no arson, so in that case there was no crime.
To someone who would make what I consider to be the ludicrous argument that the death penalty somehow deters, I would respond that in effect what you're saying is that the reason why we execute is to make a point. What I would suggest to anybody who believes that the reason why we execute is to make a point is that they should be just as concerned about making sure that we get it right when we do it as they are about the point that is being made.
And if the system is flawed, if, as I suggest, just based on the Texas experience, innocent people are being executed — and I don't make this argument on moral grounds, but on what Ken refers to as instrumentalist grounds — then don't we need a system that works before we go forward in continuing to try to make the point that I believe Mr. Otis thinks we are making?
PAUL KAMENAR, WASHINGTON LEGAL FOUNDATION: I'm Paul Kamenar with the Washington Legal Foundation. Our foundation supports the death penalty, and I don't think the panelists have really addressed Bill Otis' primary issue here, which is that you're talking about anecdotal and isolated examples of innocence, and when you look at the system that supposedly is totally flawed you have basically a system that is 98 percent accurate in terms of getting it right.
It would seem to me that those who oppose the death penalty should admit that the system gets it right 98 percent of the time. And in the Herrera case, Justice O'Connor said there was no credible evidence of innocence there. Not even the dissent suggested there was. And, Ken, I'm surprised about the Morales case because here you have a case that you mentioned you were involved with where the guy strangled a 17-year-old girl with a belt so strongly the belt broke, and when that didn't kill her, he took a hammer and hit her over the head 23 times until her head was pulverized. That didn't do it. Then he raped her and then he stabbed her in the heart four times. And he admits that. He says he's sorry for it, yes, but he did it. There's no innocence there, so I would think that you've got to acknowledge for the other side that there are a good number of cases where society gets it right.
MS. SLOAN: Can I ask you, Mr. Kamenar, where you get that figure of 98 percent?
MR. KAMENAR: Basically from your figures. You've got an innocence project which says that there are over 100 that were exonerated, and you've got 6,000 on death row. The New York Times said that of this 100, maybe at best 30 or 40 may have been innocent. But, all right, 98 percent or 96.5 percent. There are those who actually admit, "Yes, I did it," and some are even man enough to say, "Yes, I deserve the death penalty; please impose it." But society is so great that there are automatic appeals even in those cases. So that's a point that's got to be recognized.
MR. STARR: Yes, on Michael Morales, Paul, I really do refer you to Charles McGrath's letter. I think you have a quarrel with the law of California. But the law of California, even with that egregious circumstance, would not sentence him to die. The reason he was sentenced to die was because the jury found he was "lying in wait," and he was found "lying in wait" overwhelmingly because of the perjured testimony of a jailhouse informant. That was the reason he is on death row. He acknowledged, prior to trial, that he had done this. He was extraordinarily remorseful.
I will also say that we should not overlook the fact — and this is what Michael says on death row — that they're putting to death the old Michael and not the new. I would not be too dismissive of that observation, because it is absolutely undisputed that the old Michael was operating on both alcohol and drugs and was plied by his cousin who planned the crime. You see, the victim of the crime was the object of Rick Ortega. Rick Ortega, Paul, is not on death row: he who planned the offense and accompanied and participated is suffering a life in prison.
MR. KAMENAR: The triggerman is on death row, and the one who didn't pull the trigger is not. I don't see your point.
MR. STARR: Well, if you don't accept my legal point, we will agree to disagree.
MR. MILLSAP: Let me talk to you about math for a second. Your suggestion that we get it right 98 percent of the time based on the data that you have is incorrect. What in fact the numbers established, to the extent that numbers matter in a debate like this, is that for every eight executions that have occurred in the last 30 years, one person — at least one of those eight — was innocent. That's based on hard —
MR. KAMENAR: Actually innocent?
MR. MILLSAP: Actually innocent. What I'm referring to is the document that you've cited that supports your position. There are 123 people, according to the Death Penalty Information Center, the DPIC, that were not simply exonerated of the capital offense, but who were never subsequently convicted of anything. Now, let me make one other point. You're obviously a person who agrees with Justice Scalia and who would suggest that it's good enough if we get it right most of the time. Well, if you actually believe that we have to get it right and in fact that the legal system is designed to and should guarantee the protection of the innocent, then I would suggest to you that if we get it wrong at all, that's simply not good enough when the sanction is so final.
DONALD EALEY: I'm Donald Ealey, and I'm a retired teacher of political science. With regard to whether or not the death penalty serves as a deterrent, I'd like to ask Samuel Millsap or anyone else on the panel if he knows of anyone who was executed who has ever come back to commit murder again. (Laughter.)
MR. MILLSAP: That's a wonderful rhetorical question and my simple, quick answer is no. (Laughter.)
MR. STEVENSON: I guess the only other point I would make is that we really need to understand this question of "right." Of course people commit horrible crimes in this society; they should be punished. This is not a question about whether we punish people who commit horrible crimes. But let me also make the point that we do not get it right in a case where there's overwhelming evidence of guilt if the prosecution withheld evidence that would've been favorable, if we select a jury in a discriminatory manner, if we don't provide the person with adequate representation. Then we are undermining the commitment that we claim to hold to make our rule of law meaningful. And so with all these reversals, not just the innocence cases, no one, I think, can credibly assert in the death penalty arena that we get it right 98 or 99 percent of the time. Most states have actually reversed more cases by a huge margin on legal errors and other factual errors than have gotten to execution.
MR. OTIS: Actually, I think your question makes more of a point than it has been given credit for. We do know of a case. The defendant's name was Kenneth McDuff. McDuff was convicted and sentenced to death in Texas for essentially a spree killing of three teenagers that happened in the late 1960s. While he was still on death row, the Supreme Court decided Furman v. Georgia, effectively nullifying the death penalty in this country. McDuff's sentence was then commuted down to life in prison.
Later on, with the help of those who must've been very shrewd and clever defense lawyers, he convinced the parole board that he should be released and he was released. After his release, Brenda Thompson, Gina Moore, Colleen Reed, Melissa Northrup and Valencia Joshua — all innocent people — were killed by Kenneth McDuff. Had he been executed when he should've been, they would be alive today. If we want to save innocent life, we can start with him.
BONNITA SPIKES: I was waiting for this to come up and it never did, but they really do execute more African-Americans than any other race, and I think I'm going to ask Mr. Stevenson for some of those statistics. I am an abolitionist in Maryland and there's only one white gentleman sitting on the row. And I visit them all, but I would beg to ask you — it's too flawed to fix, yes — but do you agree that most of the people getting executed are people of color? That's my question.
MR. STEVENSON: Let me respond to that. Let me also just, Ms. Spikes, thank you for being here. Ms. Spikes' husband was murdered in Maryland in a robbery and she has spent all of her time working with condemned prisoners in Maryland after losing the most precious person in her life, and so I appreciate you even thinking about these issues in that broad context. But, yes, I do think that we have not dealt with the issue of race.
The Supreme Court struck down the death penalty in 1972 after observing for the crime of rape that 87 percent of the people executed in America between 1930 and 1972 were black men convicted of raping white women. Everyone executed for that offense had been executed for offences involving victims who were white. In the modern era, we still see the same kind of race effects. Lawyers went to the United States Supreme Court in 1987 saying that in Georgia you're 4.3 times more likely to get the death penalty if the victim is white than if the victim is black, and the court didn't deal with it. And I think that became sort of the Plessy v. Ferguson of our generation.
In my jurisdiction we see race manifesting itself in a variety of ways. As I mentioned, 65 percent of all homicide victims are black, 80 percent of the people on death row have been sentenced for crimes involving victims who are white. And I think we are blocking the effort to confront honestly the history of apartheid, the history of discrimination in this country, when we tolerate this kind of bias. We've had 25 cases where courts have found prosecutors illegally excluded people of color from jury service. I'm working on two cases right now from majority black counties where minority defendants are tried by all-white juries because we don't have a limit on the number of preemptory strikes, so the prosecutor uses 22 out of 23 preemptors to exclude every African-American.
And because we're not reacting to that as a race issue first and foremost, but hiding behind our desire to get the death penalty, I think we do compromise our efforts to deal with race and the history of racial apartheid in this country. And we block much-needed progress to confront and create a system of justice that is equal and fair.
And even the appearance of racism in this country with our history in the region where all of these executions are taking place — let's face it, it's in the states of the old Confederacy; that's where 90 percent of these executions are taking place — even the appearance of race ought to be enough for us to say this is not worth it. Is society really committed to confronting our history of discrimination? Our commitment to confronting race-bias injustice ought to trump our desire to be vengeful and have people die in prison on a certain day rather than die after a life of imprisonment. And so I do think race remains a critical issue on this topic.
MR. OTIS: Let me make a few observations. First, support for the death penalty, as you probably know, in both the Gallup and Washington Post polls, is at 65 percent. It has stabilized at about that over the last four or five years. As I think I said —
MS. SLOAN: Excuse me, doesn't that depend on whether life without possibility of parole is given as an option?
MR. OTIS: No, it doesn't. They have another question that the Teeter poll asked. The question that the Gallup poll asked is, do you believe in the death penalty as a punishment for persons convicted of murder? Sixty-five percent say yes; I think 31 percent say no. Last night when I was doing my homework for this I saw a 2003 Hart/Teeter poll that asked the question you're referring to, which is a different question, which is, If the alternatives were the death penalty or life without parole, which would you prefer? And by a small margin, people still preferred the death penalty according to that poll 50 to 46 percent.
But there is an elaboration to this. As Bryan was saying, what we confront here is actually a choice of penalties. Bryan, like some other abolitionists, has taken the position that life without parole is just a slow-motion death penalty and has said as much today. So the question actually being posed in these polls about which penalty would you choose is misleading, because I would be willing to wager a pretty considerable sum of money that as soon as the ink is dry on any state bill that abolishes the death penalty in favor of life without parole, there will be challenges the next day to life without parole as also being cruel and unusual punishment because it does not allow for the prospect of rehabilitation, because it does not allow for the prospect that someone — as Karla Faye Tucker claimed to do — found God in prison, because older inmates become infirm and it is cruel and unusual to keep such a person in prison.
And if I hear today from abolitionists that they will never support such a challenge and will resist such a challenge should the death penalty be overthrown in favor of life in prison without parole, I'd love to hear it. But I haven't heard it yet.
MR. MILLSAP: I've supported life without parole for 23 years. I supported it while I was district attorney in San Antonio, and I would be willing to pledge that I would not try to undermine it if it became the law throughout the land, as it is in Texas today.
MR. STEVENSON: The idea that we would keep the death penalty because we're afraid what other reforms and efforts might be made after that underlines the notion that we don't have a principled commitment to this sentence. Our commitment is a political commitment. We're afraid of what might happen next.
My view is that punishment should be appropriate. I think the death penalty is always inappropriate. There are lots of clients whom I've represented who I know will never be prepared to reenter society. I don't hide that fact. A lot of them are very damaged, very dysfunctional people and reintegration into society is very unlikely. But there are some other clients who I think can, and I think that question should be based on information in a particular case. If we think the death penalty is illegitimate we should get rid of it. And if there are people who are concerned about what happens after, we should deal with that. It's just the promise of what more fairness might people be seeking, and we're going to seek all the fairness that can be sought. But I don't see how that issue undermines or impacts the death penalty.
MS. SLOAN: We are already a little bit past our time. I want to thank everybody on the panel so much for a really wonderful discussion, and I thank the audience as well for coming.