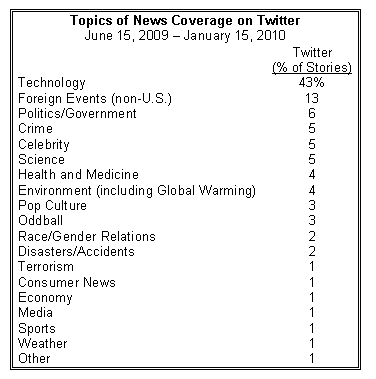 The social networking site Twitter, which allows its users to share messages of up to 140 characters, has a very different feel and function than blogs, the study found. First, the subject matter was different. Consumers using Twitter focused far more on technology and Web issues than anything else. There were some instances of using the medium to promote activism and involvement, but they tended to be episodic and to some extent, special circumstances. Two cases involved the protests in Iran and the earthquake in Haiti, both instances where Web infrastructure was blocked or damaged. Far more often, tweets served a more immediate need: sharing breaking information. The traffic about news on Twitter also tended to stray more from traditional media for its content, relying more than blogs on online-only specialty sites.
The environment on Twitter was less overtly political than blogs. Instead, it tended to espouse a more inclusive tone of community, a sense of its users being advocates for one another other and for the Twitter platform itself. Twitters came down hard, for example, on a Scottish psychologist who suggested that the use of Twitter actually made people dumber, and they celebrated the posting of the five billionth tweet.
"Woo hoo! I account for 4.0 × 10-7 percent of all tweets in the world!" exclaimed user Giorgianni.
Topics
More so than any other subject area, Twitter users were consumed with stories about technology. Fully 43% of the stories that made the list of top five in a given week were technology-based, more than three times as many as the next largest topic.
Most of the tech stories focused on web-related topics, with a heavy emphasis on Twitter, Apple and Facebook. On 13 occasions (making up 9% of the stories and 21% of the technology stories), Twitter made the list of top stories, more than any other specific subject matter.

Whether it was a new tool for tracking recent posts or the problems associated with Twitter's new "retweet" feature offered in November, Twitter users clearly saw a shared mission in advancing this social media platform.
Other technological developments to spark interest and sharing on Twitter were Apple products like the iPhone and the iPad, which made up 7% of all top stories. Stories about Facebook, such as the addition of new functions, accounted for another 7%; Developments involving Microsoft, such as the release of Windows 7, constituted another 4%; news about Google, including an outage of their email service, gmail, filled 4%.
Some areas earned less attention on Twitter than on blogs, such as politics (6% on Twitter versus 17% on blogs) and science (5% versus 10%). The two platforms devoted about the same degree of interest to environment (4% for both Twitter and blogs).
Whatever the topic, the vast majority of tweets that linked to news stories were not using Twitter to report or opine as much as to alert people to other content. Most tweets simply repeated the headline of the story (perhaps with a few words describing its contents) and provided a link. For example, following a two-hour outage of the site in August due to a denial-of-service attack, many Twitterers repeated the tweet first provided by actress Alyssa Milano, who linked to a CNN story explaining the cause. The message used by hundreds was simply, "CNN full story of DDoS attack and what DDoS means: http://bit.ly/StWZB."
In short, most of the time, Twitter was about sharing information rather than providing opinion or advocacy.
There was one major storyline, though, where the role of Twitter went much farther.
The Election and Protest in Iran

The role Twitter played in the post-election political protests in Iran in June amounted to something of a milestone in new technology in 2009 – so much so that some dubbed the event the "Twitter Revolution."
While Twitter was used widely within Iran to get out information about unfolding events, it also was used heavily by people outside the country to build support for the protestors and to highlight events. Much of what was captured in this index came from this second category and alone accounted for nearly half of all foreign event storylines. Overall, foreign events were the second-biggest topic on Twitter, with 13% of the links.
Iran proved to be the top story seven weeks in a row, raising the profile and reputation of Twitter. As the Iranian government tried to crack down on the popular uprising, Twitter posts served as a critical information source for people directly involved, enabling participation and activism in much the way satellite dishes and video tapes once did in the former satellite countries of the Soviet Union.
Among the most popular links in Iranian-related posts was a page entitled "cyberwar guide for beginners." It explained how users could help, or accidentally harm, the protest efforts online by spreading the word about those tweeting from within the country without revealing too much information about their identities. Others posted links to a Flickr page that scrolled through images of the protests and encouraged people to change their avatars to the color green as a show of solidarity with the protestors.
Twitter's own research also spoke to the dominance of Iran on the social networking site in 2009. According to Twitter's own blog, a review of all keywords, hashtags and phrases that proliferated on the site (not just those associated with news stories) showed that Iran was the "most engaging topic of the year." Three related terms, "#iranelection," "Iran" and "Tehran" were all in the top 21 trending topics.
In early 2010, Twitter emerged as a vehicle for online activism in another major foreign event – the earthquake in Haiti. Thousands of Twitterers used their 140 characters to promote the option to text the word "Haiti" to 90999 in order to donate $10 to the Red Cross relief effort. With the added endorsements of the White House blog and Secretary of State Hillary Clinton, the Red Cross reported that the phone messaging campaign raised $8 million within three days.
Sources
Contrary to blogs, Twitter users linked much less to traditional news sources and were more likely to use web-only news sources. Half (50%) of stories linked to from Twitter were to legacy outlets (30% to American legacy media), while 40% went to web-only sites such as Mashable and CNET. Part of this had to do with the subject matter, as these web-only sites are often leading sources for news about social media and other Internet topics.[1]
Non-U.S. sites accounted for a similar degree of the content here as on blogs (22%), though less dominated by the BBC, which received only 12% of the overall links.
Instead, the news outlet that received the most links from Twitter (19%) was CNET, an online portal that focuses on technology news and product reviews. The majority of CNET stories (61%) were technology-focused, while 23% were about business issues.
The second most linked to site was CNN.com at 17%. That site was the source of a diverse range of issues, as 18% of CNN's articles were about foreign events, 12% were about crime, and 10% each were about health issues and U.S. foreign relations.
The next two most linked to sites were also legacy media sites. BBC News received 12% of the links from Tweets, and Fox News received 7%. Wired, a technology-focused magazine was fifth with 6%.
Tweets primarily linked to straight news accounts instead of opinion pieces, although to a slightly lesser extent than on blogs. On Twitter, 82% of the links went to news reporting, while 18% went to opinionated columns or stories.
The higher tech orientation of Twitter users also came through in the stories they linked to, with a greater tendency toward multimedia stories (almost one-fifth of the links). For example, on June 23, more than 500 tweets linked to a page that was primarily a photo collection produced by Boston.com of vivid images from the Iranian protests.
---
Footnote:
1. The data discussed in this section refers to all of the stories and links collected from Twitter as part of the weekly NMI sample, regardless of whether that subject made the list of top stories in the given week.