56% of American adults are now smartphone owners
For the first time since the Pew Research Center's Internet & American Life Project began systematically tracking smartphone adoption, a majority of Americans now own a smartphone of some kind. Our definition of a smartphone owner includes anyone who says "yes" to one—or both—of the following questions:
55% of cell phone owners say that their phone is a smartphone.
58% of cell phone owners say that their phone operates on a smartphone platform common to the U.S. market.1
Taken together, 61% of cell owners said yes to at least one of these questions and are classified as smartphone owners. Because 91% of the adult population now owns some kind of cell phone, that means that 56% of all American adults are now smartphone adopters.  One third (35%) have some other kind of cell phone that is not a smartphone, and the remaining 9% of Americans do not own a cell phone at all.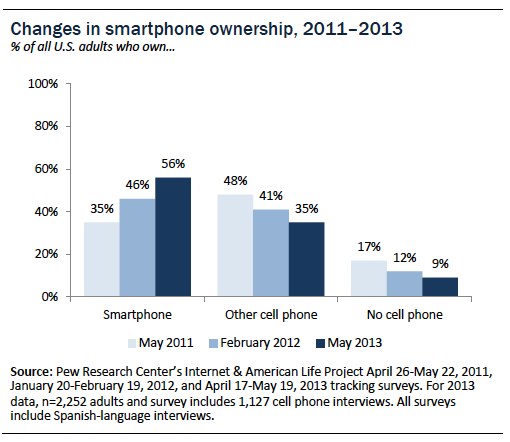 Demographic trends in smartphone ownership
As has consistently been the case since we began measuring smartphone adoption two years ago, ownership is particularly high among younger adults, especially those in their twenties and thirties (although a majority of Americans in their mid-forties through mid-fifties are now smartphone adopters) and those with relatively high levels of household income and educational attainment.
Every major demographic group experienced significant year-to-year growth in smartphone ownership between 2012 and 2013, although seniors—defined as those 65 and older—continue to exhibit relatively low adoption levels compared with other demographic groups. Some 18% of Americans age 65 and older now own a smartphone, compared with 13% in February 2012.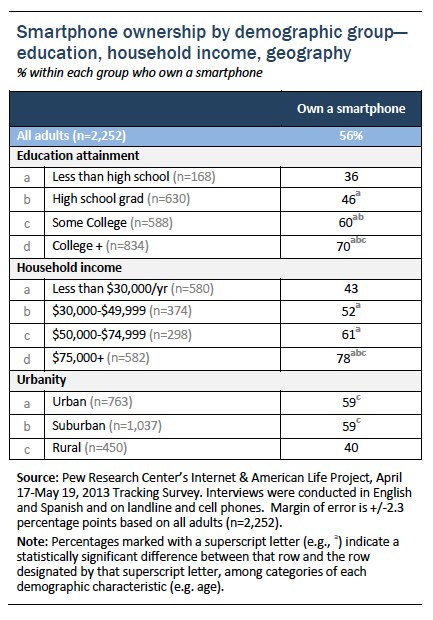 Though growth in smartphone ownership has occurred up and down the economic spectrum, adoption still varies significantly by household income. However, that variation is unevenly distributed across different age groups. Younger adults—regardless of income level—are very likely to be smartphone owners. Conversely, for older adults smartphone ownership is more of an "elite" phenomenon: smartphones tend to be quite prevalent at the upper end of the income distribution but much less common among those with lower income levels.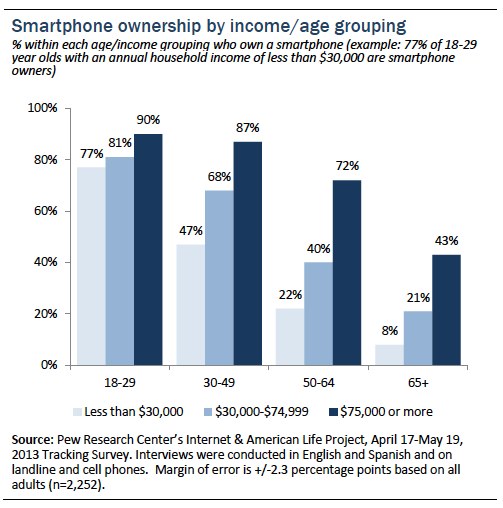 Trends in platform adoption
Since 2011, the proportion of cell owners who say they own either an iPhone or an Android device have each grown dramatically. Android owners now represent 28% of all cell owners (up from 15% in May 2011), while iPhone owners now represent 25% of the cell owner population (up from 10% in May 2011). Meanwhile, the proportion of cell owners who say they own a Blackberry device has fallen from 10% in May 2011 to just 4% in our most recent survey.
Android and iPhone owners are equally common within the cell owner population as a whole, although this ratio differs across various demographic groups. Cell phone owners from a wide range of educational and household income groupings have similar levels of Android adoption, but those from the upper end of the income and education spectrum are much more likely than those with lower income and educational levels to say they own an iPhone. Indeed, fully half—49%—of cell owners with a household income of $150,000 or more say their phone is an iPhone. And African-American cell owners are more likely than whites or Latinos to say that their phone is an Android device as opposed to an iPhone.