Two-thirds in Poland want increased sanctions on Russia; fewer than one-in-ten Hungarians agree
This Pew Research Center analysis focuses on public opinion of Russia and the aftereffects of the war in Ukraine in Hungary and Poland. It explores views in these two countries of bilateral relationships with the U.S. and Russia, attitudes toward sanctions and refugees.
In Hungary, we surveyed 1,007 people from March 8 to April 21, 2023. The survey was conducted face-to-face and is weighted to be representative of the Hungarian adult population by gender, age, education, region and urbanicity. In Poland, we surveyed 1,022 people from March 13 to April 27, 2023. The surveyed was conducted face-to-face and is weighted to be representative of the Polish adult populist by gender, age, education, region and urbanicity.
Here are the questions used for the report, along with responses, and the survey methodology.
While both Hungary and Poland voted in favor of United Nations condemnation of Russia's invasion of Ukraine in 2022, the two central European countries have since often diverged on dealing with Russia on the world stage. Poland pushed for the delivery of tanks to Ukraine and proposed additional sanctions on Russia, while Hungary's government blocked military aid to Ukraine and continues to maintain an economic relationship with Russia.
Public opinion in the two countries reflects these differences, according to a Pew Research Center survey conducted in the spring of 2023 – prior to the September trade dispute between Poland and Ukraine.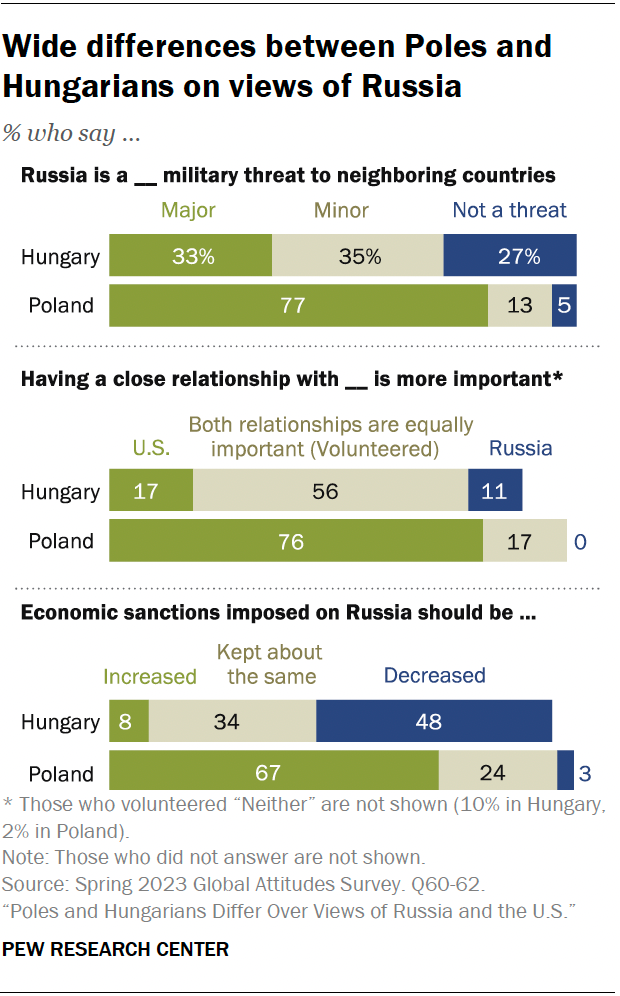 A much larger share in Poland than in Hungary believe Russia is a major military threat to its neighbors (77% vs 33%, respectively). Roughly a quarter in Hungary believe Russia is not a threat, compared with just 5% in Poland who say the same.
When asked whether a close relationship with the United States or Russia is more important for their country, 76% of Poles say it is more important to have a close relationship with the U.S. This is up 47 percentage points from when this question was first asked in 2019.
Just 17% of Hungarians say the same of their relationship with the U.S. About one-in-ten Hungarians say a close relationship with Russia is more important, while a majority volunteers that relationships with both the U.S. and Russia are equally important.
People in Hungary and Poland have different views on the future of the economic sanctions that the European Union and U.S. have imposed on Russia. Roughly half of Hungarians believe these sanctions should be decreased, while just 3% of Poles say the same. Most Polish people (67%) prefer instead to increase sanctions against Russia, while only 8% of Hungarians think sanctions should increase. The share in Poland who says sanctions should increase has risen 18 points since the question was initially asked in 2015, after Russia's annexation of Crimea, which is not recognized by other countries.
Publics in both countries are more aligned on support for taking refugees: About half in both countries support their country taking in refugees from countries where people are fleeing violence and war. Support for this policy has also dropped by double digits in both Hungary and Poland since this question was last asked in 2022.
These findings come from a Pew Research Center survey conducted from March 8 to April 27, 2023, among 1,007 adults in Hungary and 1,022 adults in Poland.
Views of Russia, Putin and access to Russian energy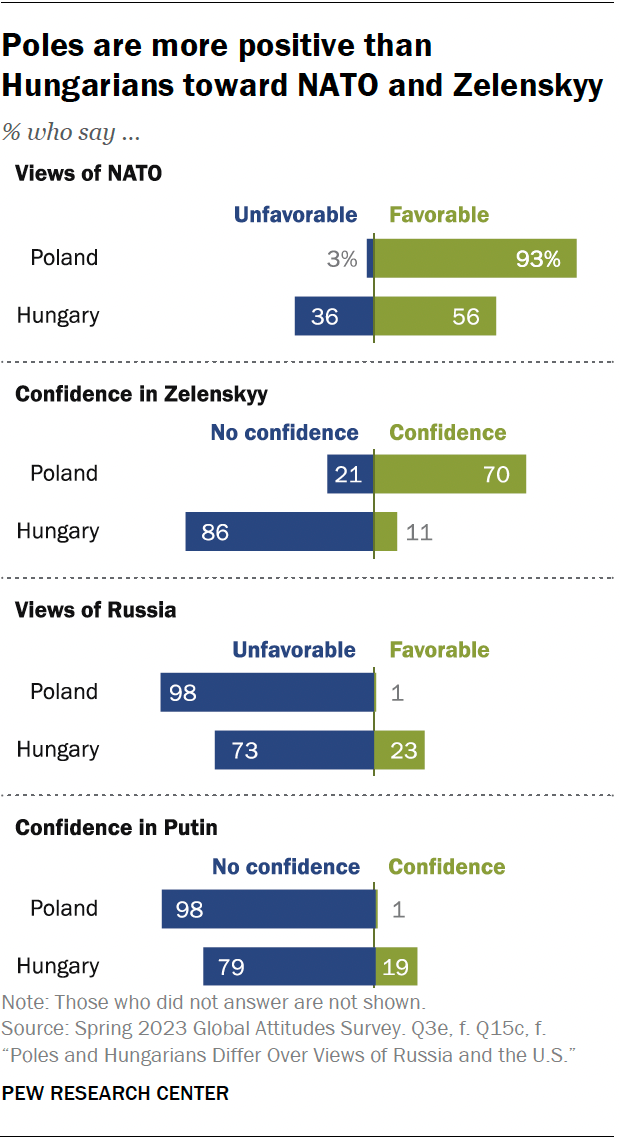 Among the European countries surveyed in 2023, Hungarians and Poles have some of the greatest differences when it comes to Russia. People in Poland express very negative views about both Russia and its president, while Hungarians tend to be more positive than most other European counterparts – even though large majorities are also unfavorable on Russia and Vladimir Putin.
Views of NATO differ across both countries: 93% of Poles are favorable toward the alliance, compared with 56% of Hungarians.
Seven-in-ten in Poland express confidence in Ukrainian President Volodymyr Zelenskyy, while just 11% in Hungary say the same. Hungarians express the least confidence in Zelenskyy compared with every other country included in the survey.
They also take different approaches to prioritizing Russian energy: 84% in Poland prefer being tough with Russia on Ukraine, while 76% in Hungary prefer maintaining access to Russian energy. For more on these attitudes concerning Russia, Putin, NATO and more, read "Large Shares See Russia and Putin in Negative Light, While Views of Zelenskyy More Mixed."
Views of the U.S., Biden and the United States' role in world affairs
People in Poland and Hungary do not align on views of the U.S., its president or its role in world affairs. Poles stand out, in Europe and across all countries surveyed, as particularly positive on both the U.S. and President Joe Biden: 93% have a favorable view of the U.S. and 83% are confident in Biden's ability to do the right thing regarding world affairs.
On the other hand, Hungarians are the most negative on the U.S. and Biden across all countries polled. About half in Hungary have an unfavorable view of the U.S., and 75% are not confident in Biden.
People in both countries also have different views of U.S. behavior on the world stage. Large majorities in Poland say the U.S. does contribute to peace and stability around the world and takes the interests of other countries into account. However, majorities of Hungarians say the opposite: The U.S. does not contribute to peace in the world or consider other countries' interests.
Poles and Hungarians are more aligned on if the U.S. interferes in other countries' affairs: 79% say this in Poland and 82% say the same in Hungary. For more information on perception of the U.S. on the world stage, read "International Views of Biden and U.S. Largely Positive."