Indian Prime Minister Narendra Modi, who has been in power since 2014 and is a member of the right-wing Bharatiya Janata Party (BJP), is seen favorably among Indian adults. About eight-in-ten in India have a favorable view of the prime minister, including 55% who have a very favorable view. A fifth of Indians have an unfavorable opinion of Modi.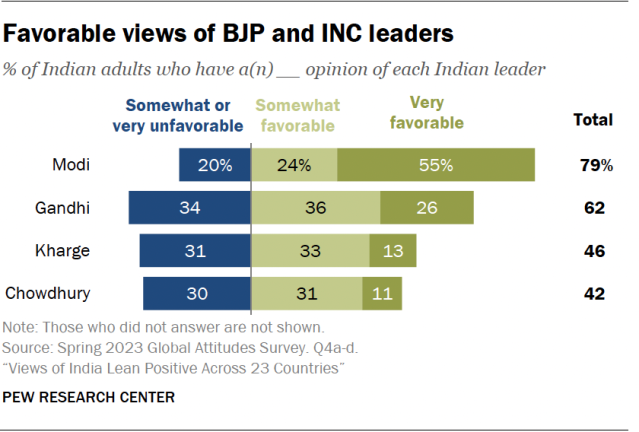 About six-in-ten Indians also see opposition leader Rahul Gandhi of the Indian National Congress (INC) in a positive light. In contrast, 34% have an unfavorable view of the INC politician. The survey was conducted March 25 to May 11, starting just before Gandhi was removed from office on March 27 of this year after being conviction of defamation. He was recently reinstated.
Two other INC leaders, Mallikarjun Kharge and Adhir Ranjan Chowdhury, are seen more favorably than not, though roughly a quarter of Indian adults did not offer opinions of each leader. Kharge is the current president of the INC and leader of the opposition in the Rajya Sabha, the upper house of India's Parliament. Chowdhury leads the party in the Lok Sabha, the lower house. Kharge is seem somewhat more favorably than Chowdhury: 46% have a positive opinion of him, compared with 42% who say the same of Chowdhury. Three-in-ten or more have an unfavorable view of each politician.
Younger adults (those ages 18 to 29) in India are more likely to express an unfavorable opinion of Kharge than adults 50 and older (34% vs. 25%, respectively). On the other hand, younger Indians are more likely to have a favorable view of Chowdhury than older Indians (47% vs. 37%, respectively). Younger adults were more likely to provide a response to both questions.