Seven-in-ten Indians are satisfied with the way things are going in their country today, the highest such share Pew Research Center has recorded since 2013. This contentment is widespread between men and women and across political affiliations, age groups, income distributions and education levels.
The country has come a long way in the past half-century. In 1966, India's per capita gross domestic product was $89. As of 2016, GDP per capita was $1,709, a nearly twentyfold increase. Over the same time period, life expectancy in India went up from 45 years to 68 years. Today about seven-in-ten (69%) say that life in India for people like them is better than it was 50 years ago. Only 17% say life is worse. Again, this positive view is widespread across a variety of demographic groups.
Despite a recent economic slowdown, Indians are upbeat about both current economic conditions and the future of their economy. More than eight-in-ten Indians (83%) say the nation's economy is good, and 30% say it is very good.
Supporters of the ruling BJP are even more satisfied with India's economy – 87% see the current economic situation as good. However, Congress party supporters are only slightly less positive, with 76% seeing India's economy as good.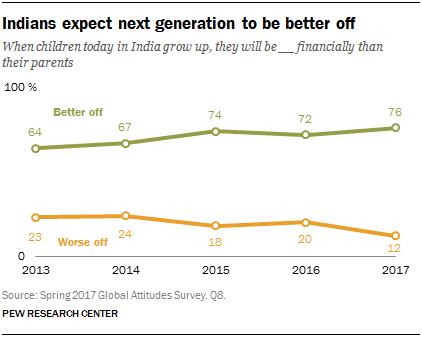 Indians are also optimistic about their future economic situation: Roughly three-quarters (76%) believe that their children will be better off financially than their parents. Only 12% believe the next generation will be worse off, and such pessimism has fallen by 11 percentage points since 2013.
Indian views of the economy vary between regions. About nine-in-ten adults (91%) in the south are satisfied with the economy, compared with 79% in eastern states.
Despite their upbeat views on the current economy and rising optimism for the next generation, Indians are still concerned about several problems facing their nation. Crime takes the top spot on the list, with 84% of Indians seeing it as a very big problem.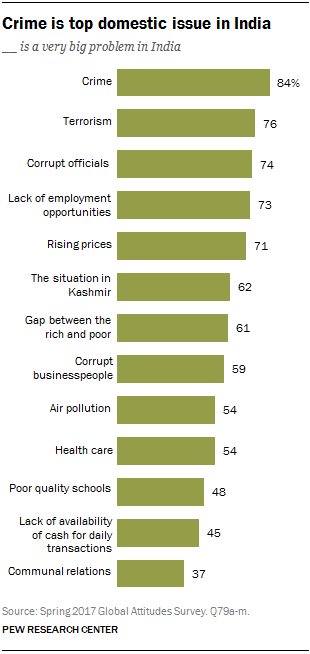 Crime and terrorism have been perennial contenders for the top of the domestic problem list in Pew Research Center surveys of India. At least three-in-four Indians have cited crime and terrorism as very big problems in each year these issues were tested.
Despite periodic outbreaks of religious violence, relatively few Indians see communal relations as a very big problem. Similarly, despite Prime Minister Modi's decision last November to abolish high-value bank notes, less than half of the Indian population sees the lack of availability of cash to be a major problem.
Women and men view many issues similarly, but men are more worried about health care, a lack of employment opportunities and corrupt officials.
BJP supporters are more likely than Congress party supporters to see both corrupt officials (76% to 62%) and corrupt businesspeople (62% to 43%) as very big problems. BJP supporters also tend to worry more about poor quality schools, air pollution, health care and communal relations.
Indians living in cities are particularly sensitive to inequality: 72% see the gap between rich and poor as a major problem, compared with just 55% of rural Indians. Those living in urban areas are also more likely than those in rural areas to see corrupt businesspeople as a very big issue (72% vs. 52% respectively).
Those with more education are more likely to be concerned about corruption and inequality. For example, nine-in-ten Indians with at least some college education see corrupt officials as a very big problem, compared with 70% of those with a primary school education or less. The same applies for corrupt businesspeople (73% to 56%) and inequality (71% to 59%).
Again, regional differences play a role in perceptions of problems. More than nine-in-ten (93%) in the east say crime is a major problem, compared with 85% in the north, 78% in the west and 76% in the south. Indians from western states are less concerned about terrorism than other Indians (only 60% there see terrorism as a major problem).
For some problems, Indians are less concerned than they were last year. On communal relations, air pollution and health care, concern is down more than 10 percentage points. There have been smaller declines in concern about unemployment and corrupt officials.