Two decades after the collapse of the Soviet Union, publics in Lithuania, Russia and Ukraine share generally positive views of the United States and the European Union. Of the three nations, Lithuanians might be described as the most Westward leaning, with solid majorities looking favorably on the U.S., the EU and NATO. Ukrainians and Russians, while positive toward America and the EU, remain skeptical of NATO, perhaps reflecting discomfort with an institution whose military mission was initially defined during the Cold War.
On balance, publics in both Ukraine and Lithuania are favorably inclined toward Russia. However, the Ukrainian public's embrace of its neighbor is much more enthusiastic than that found in Lithuania, where attitudes toward Russia are more mixed.
Opinions of U.S. and Russia
Majorities in all three post-Soviet nations surveyed rate the U.S. favorably. Favorable views of America are most widespread in Lithuania, where more than seven-in-ten (73%) give the U.S. positive marks. Among Ukrainians, six-in-ten view the U.S. favorably, while slightly fewer Russians (56%) are of the same opinion.
In both Ukraine and Lithuania, positive assessments of the U.S. co-exist with favorable opinions of Russia. In Ukraine, more than eight-in-ten (84%) say they have a favorable opinion of their neighbor, while a slim majority in Lithuania (53%) shares this view.
With respect to views of the U.S., younger people in all three countries tend to give the U.S. a more favorable rating than do older generations. The difference is most pronounced when comparing 18-29 year olds with those 65 years and older. In Lithuania, for example, 82% of those under age 30 hold a favorable view of the U.S., compared with 61% of those 65 years and above. Similarly, about two-thirds of younger Ukrainians (68%) and Russians (67%) give the U.S. positive marks, compared with smaller numbers of those 65 and older in each country (55% and 41%, respectively).
In Ukraine, views of Russia are consistent across age groups. Among Lithuanians, however, older age groups tend to have a more favorable opinion of Russia than do younger people. For instance, among those 65 years or older, about six-in-ten (59%) express a favorable opinion of Russia as compared with less than half (46%) among those between the ages of 18 and 29.
EU and NATO
The EU receives positive marks in all three nations surveyed. Lithuanians, in particular, hold the EU in esteem, with nearly eight-in-ten (78%) saying they have a favorable opinion of this major European institution. In Ukraine, roughly seven-in-ten (72%) also express a positive view, as do more than six-in-ten (64%) in Russia.
In Lithuania, strongly favorable views of the EU contrast with more mixed assessments of the country's own involvement in the organization. Although nearly half (49%) say Lithuania's membership in the EU is a good thing, about three-in-ten (31%) say it is neither good nor bad, while 8% say it is both and another 8% say it is only bad. This assessment is little changed from fall 2009, when the Pew Global Attitudes Project first asked Lithuanians about belonging to the EU.
Unlike attitudes toward the EU, assessments of NATO diverge among the three post-Soviet publics. In Lithuania, which is a NATO member, a clear majority (65%) views the trans-Atlantic organization favorably. The fall 2009 survey also found favorable views in most of the other Eastern European countries surveyed. However, as was the case two years ago, opinion leans in the opposite direction in both Russia (37% favorable vs. 43% unfavorable) and Ukraine (34% favorable vs. 41% unfavorable).
The fall 2009 survey also asked about Ukraine's possible membership in NATO. About half of Ukrainians (51%) opposed their country joining NATO, as did roughly seven-in-ten Russians (72%). By contrast, a majority of Lithuanians (58%) were in favor of Ukraine becoming a NATO member. The prevailing view among other Eastern European publics was that Ukraine should join NATO; however only in Poland did a majority (64%) voice support for such a move.
In the case of both NATO and the EU, younger people in the three countries surveyed in 2011 tend to view these organizations more favorably. For example, more than four-in-ten (45%) Ukrainians younger than age 30 say they have a positive view of NATO, as compared with only 28% among those 65 years or older. Similarly, in Russia, opinion of NATO is more favorable among 18-29 year olds than among those 65 and older (44% vs. 34%).
Meanwhile, seven-in-ten Russians under age 30 see the EU in a favorable light as compared with 57% among those ages 65 or older. Similarly, 83% of younger Lithuanians give a positive evaluation to the EU as compared with 69% among those 65 years of age or older.
In Ukraine, attitudes toward NATO also vary by region. About six-in-ten (59%) have a positive view of NATO in the Western region of the country. However, those in the Central region (38%) as well as those in the South (21%) and East (18%) are much less likely to express a favorable opinion of the security alliance. In the Western and Central regions, at least three-in-ten do not offer an opinion.
Influence of U.S., EU and Russia
On the question of whether the U.S., EU and Russia are having a positive influence on the way things are going in their country, opinion among Lithuanians, Russians and Ukrainians varies. In the fall 2009 survey, for example, a majority in Lithuania (62%) described the EU's influence on their country as good, compared with only 40% of Ukrainians and 37% of Russians who said the same.
In the same survey, fewer in each country thought the U.S. was exerting a positive influence, although substantially more Lithuanians (39%) felt this way than either Ukrainians (24%) or Russians (15%). As for Russia, twice as many Ukrainians (46%) as Lithuanians (22%) said the largest of the post-Soviet states was having a good influence on how things were going in their respective countries.
Regionally, the fall 2009 survey found that Ukrainians' and Russians' tepid assessment of the EU's influence was matched only in Hungary, where just 36% said the EU was favorably affecting how things were going in their country. In the other former communist countries polled in 2009, majorities saw the EU having a good influence. With regard to the U.S., only in Poland did as many as half (52%) say America was having a positive influence. Meanwhile, the prevailing view in these nations, with the exception of Bulgaria and Slovakia, was that Russia's influence was more negative than positive.
Allies and Threats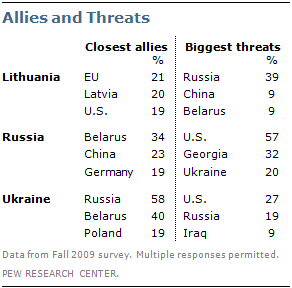 Contrasts in opinion also surface with regard to which countries or international organizations Lithuanians, Russians and Ukrainians view as allies or threats to their country. In the fall 2009 survey, roughly two-in-ten Lithuanians named the EU (21%), Latvia (20%) and the U.S. (19%) as their closest allies, while 39% named Russia as their greatest threat.
Ukrainians had a very different view. Nearly six-in-ten (58%) named Russia as their most dependable ally, while roughly one-quarter (27%) saw the U.S. as the greatest threat to their country. Meanwhile, among Russians, fully 57% said the U.S. posed the largest threat, while roughly one-third (34%) named Belarus as their closest ally, followed by about a quarter (23%) who named China.
Across Eastern Europe, the U.S. was among the closest allies named by Czechs (22%), Poles (18%), and Hungarians (15%). The U.S. was also seen as an ally by 16% of Bulgarians, although more than twice as many (38%) named Russia as a close ally.