Spaniards head to the polls on Sunday for Spain's fourth election in as many years. The election comes as the Spanish public is especially pessimistic, harbors strong doubts about democracy, and is concerned about inequality, their children's financial future and the availability of well-paying jobs. That said, overall sentiment about the economy has rebounded in recent years and is the most positive it has been in over a decade.
Below are five facts about public opinion in Spain based on a survey conducted from June 4 to July 22, 2019, among 1,069 adults.
1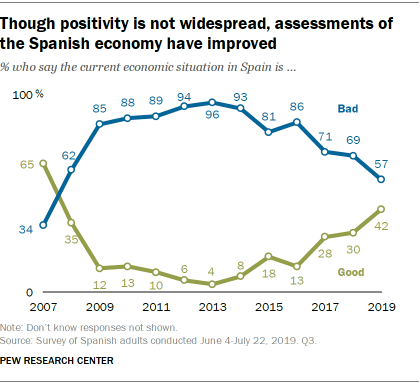 Most Spaniards are discontent with the state of their country's economy, but less so than in the past. Roughly four-in-ten (42%) say they think the economic situation in Spain is at least somewhat good, while a majority (57%) says it is bad. This is an improvement from last year, and it also represents substantial improvement since 2013, when the share who thought the Spanish economy was good was only 4%. It also shows Spaniards' optimism about the economy rebounding toward pre-recession levels.
Despite the uptick in the share saying the Spanish economy is currently faring well, few express hope for their children's financial future. Only 25% say that children today will be better off financially than their parents, while 72% say that they will be worse off. Older Spaniards are particularly cynical. Those 60 and older are more likely than those ages 18 to 34 to think today's youth will be worse off than their parents (75% vs. 62%).
2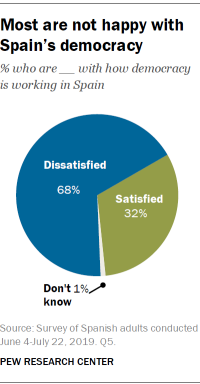 Spaniards are not happy with the state of democracy in their country. Only about a third (32%) of Spaniards say they are satisfied with how Spain's democracy is working. However, satisfaction with democracy has increased by 12% since just last year, when the nation was in the midst of a corruption scandal that implicated and led to the ouster of the People's Party (PP), which was the governing party at the time.
3Most Spaniards are pessimistic about income inequality, job opportunities and the political system. Significantly, a large majority are skeptical that the gap between the rich and poor will narrow. More than eight-in-ten (84%) say they are pessimistic about the future of equality in Spain, while fewer than one-in-five (16%) say they are optimistic.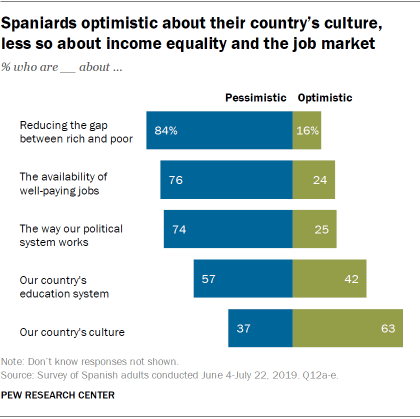 Large shares of Spaniards are also skeptical about the future of the labor market and political system. Only about a quarter (24%) of Spaniards say they are hopeful that well-paying jobs will be available in the future, while 76% are doubtful. Similarly, a small share is confident in the future of the Spanish political system.
Spaniards are slightly more positive when it comes to their country's education system, though a majority are pessimistic about it. Women are generally more hopeful about the future of the education system than their male counterparts; 46% of Spanish women say that they are optimistic, while only 38% of men agree.
By contrast, roughly six-in-ten (63%) say they are optimistic when they look to the future of their country's culture, compared with about four-in-ten (37%) who are pessimistic.
4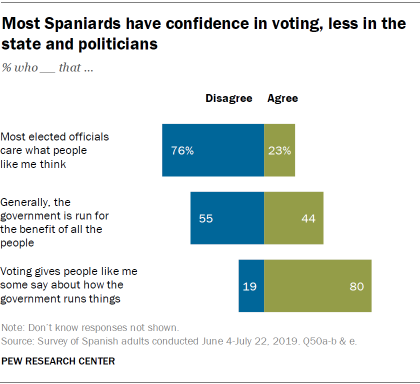 Most Spaniards have little faith in elected officials, or the government more broadly, to act in their best interest. Only 23% of Spaniards agree that elected officials care what people like them think. Roughly three-quarters (76%) disagree.
A majority (55%) of Spaniards disagree with the statement that the government is run for the benefit of all the people, compared with 44% who agree. Younger Spaniards are more skeptical. Only 38% of those ages 18 to 34 think the state is run in the best interest of its people, compared with a majority (55%) of Spaniards 60 and older.
Despite a generally cynical outlook on their nation's government and politicians, Spaniards maintain confidence in the power of voting. Four out of five say that voting gives them at least some say in how the government runs things.
However, there is variation between supporters of different parties in how they view voting. Supporters of the far-right Vox tend to have less confidence that voting to gives them a say; only 71% of Spaniards with a favorable opinion of the party believe in the power of the vote. By contrast, those who favor the governing PSOE tend to have more faith in voting; roughly nine-in-ten (88%) believe voting gives them a say.
5
Catalans are far more pessimistic than those living outside of Catalonia when it comes to many key issues. Recently, protests erupted across the northeastern region after Spain's Supreme Court sentenced key Catalan separatists to prison terms for sedition related to their roles in a referendum on Catalonia's secession from Spain held in 2017.
Two-thirds of Catalans view Spain's current economic situation negatively, compared with a narrower majority (55%) of other Spaniards. Additionally, nine-in-ten Catalans say they are at least somewhat dissatisfied with how Spain's democracy is working, while 63% of Spaniards outside the region are not happy with their country's democracy.
Roughly two-thirds (64%) of Catalans doubt that the state works to the benefit of all its people, compared with about half (53%) of Spaniards elsewhere. Catalans are also less optimistic when they look to the future. Roughly four-in-five (82%) in the region say they are pessimistic about the future of Spain's political system, compared with about seven-in-ten (72%) outside of it.
Note: See full topline results and methodology.
Mara Mordecai
is a former research assistant focusing on global attitudes research at Pew Research Center.