National Hispanic Heritage Month, which runs from Sept. 15 to Oct. 15 each year, celebrates U.S. Latinos, their culture and their history. Started in 1968 by Congress as Hispanic Heritage Week, it was expanded to a month in 1988. The celebration begins in the middle rather than the start of September because it coincides with national independence days in several Latin American countries: Guatemala, Honduras, El Salvador, Nicaragua and Costa Rica celebrate theirs on Sept. 15, followed by Mexico on Sept. 16, Chile on Sept. 18 and Belize on Sept 21.
Here are some key facts about the nation's Latino population by age, geography and origin groups.
1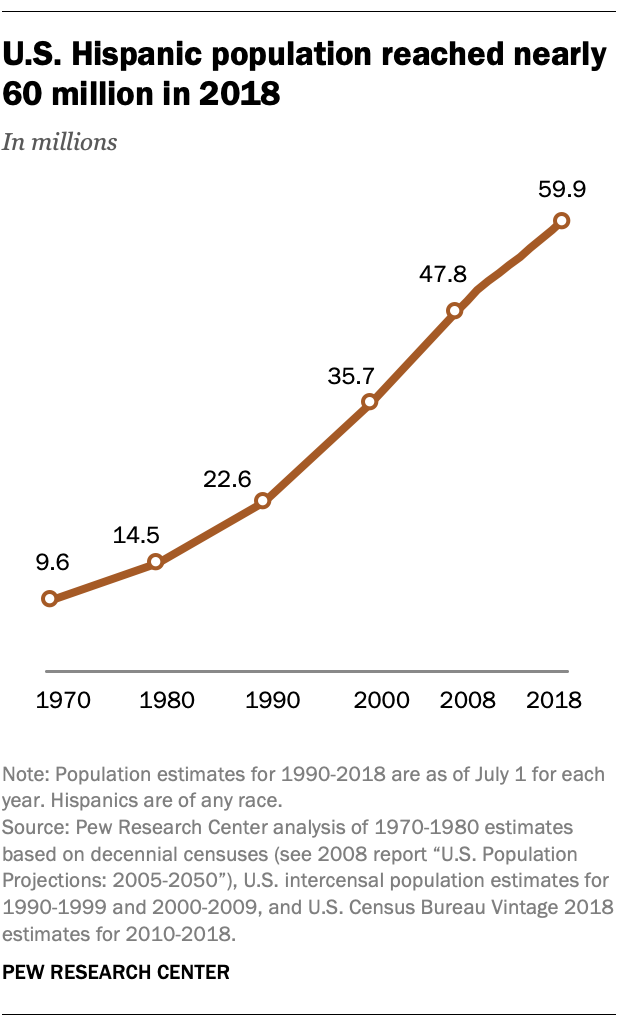 The U.S. Hispanic population reached 59.9 million in 2018, up from 47.8 in 2008. This makes Hispanics the nation's second-fastest-growing racial or ethnic group after Asian Americans. Hispanics made up 18% of the U.S. population in 2018, up from 5% in 1970.
2
People of Mexican origin account for slightly over 60% (36.6 million) of the nation's Hispanics. Those of Puerto Rican origin are the next largest group, at 5.6 million (another 3.2 million live on the island). Their numbers have been growing due to an increase in net migration from Puerto Rico to the 50 states and the District of Columbia. Five other Hispanic origin groups have more than 1 million people each: Salvadorans, Cubans, Dominicans, Guatemalans and Colombians.
3A record 32 million Latinos are projected to be eligible to vote in 2020, up from 27.3 million in 2016. The 2020 election will mark the first time that Hispanics will be the largest racial and ethnic minority group in the electorate, accounting for just over 13% of eligible voters.
4The share of Latinos who are immigrants is on the decline. From 2007 to 2017, the number of Latino immigrants increased slightly, from 18 million to 19.7 million. But they made up a smaller overall share of the Latino population – decreasing from 40% to 33% during this time, as the population of U.S.-born Latinos increased and the arrival of new immigrants slowed.
5The foreign-born share among Latinos varies by origin group. Fewer than one-third (31%) of Mexican-origin Latinos are foreign born. That's far lower than among the other major groups – Colombian (61%), Guatemalan (60%), Salvadoran (57%), Cuban (56% foreign born) and Dominican (54%). (People born in Puerto Rico are U.S. citizens at birth.)
6
The share of Latinos in the U.S. who speak English proficiently is growing. In 2017, 70% of Latinos ages 5 and older spoke English proficiently, up from 59% in 2000. U.S.-born Latinos are driving this growth, as their share on this measure has grown from 81% to 90% during this time. By comparison, 36% of Latino immigrants spoke English proficiently in 2017, a percentage that increased only slightly since 1980.
7More than half of Latinos in the U.S. live in just three states. About 26% live in California, followed by Texas (19%) and Florida (9%).
Meanwhile, New Mexico is where Latinos are the highest share of a state's population (49%). It is followed by Texas and California, where 39% of their respective populations are Latino.
Note: This is an update of a post originally published on Sept. 16, 2014.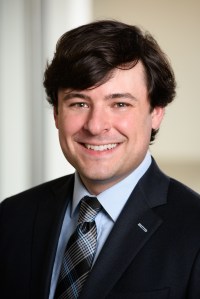 Jens Manuel Krogstad
is a senior writer/editor focusing on Hispanics, immigration and demographics at Pew Research Center.
Luis Noe-Bustamante
is a research analyst focusing on global migration and Hispanic trends at Pew Research Center.