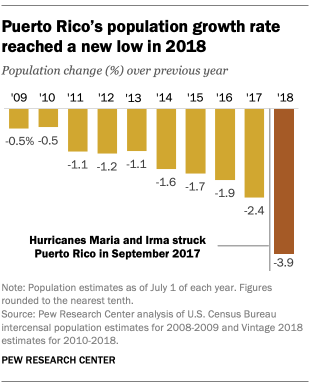 The population of Puerto Rico stood at 3.2 million in 2018, its lowest point since 1979 and down sharply from 2017, when hurricanes Maria and Irma hit the island, according to a Pew Research Center analysis of U.S. Census Bureau data. The 3.9% decline in 2018 represents the largest year-to-year drop since 1950, the first year for which annual data is available.
The number of people in Puerto Rico has dropped by 632,000 since its peak in 2004. Even before the hurricanes hit, Puerto Rico's population was expected to drop to less than 3 million by 2025, according to projections published in 2017. The mid-2000s marked a turning point for the island's economy, when it entered a recession from which it has not recovered. Since then, many Puerto Ricans have left the island for the U.S. mainland, in particular for Florida, often citing job- and family-related reasons.
Here are key facts on how Puerto Rico's population has changed:
1Puerto Rico saw a historic net migration loss in 2018, a year after hurricanes Maria and Irma. From 2017 to 2018, 123,000 more people left than moved to Puerto Rico, compared with 78,000 the previous year. Between 2000 and 2009, the net migration loss was no more than 6,000 each year. These losses significantly increased in 2011 and have grown since.
2Puerto Rico's population last saw modest increases in the 1990s, and in recent years has experienced accelerating declines. Losses started around the beginning of the island's economic recession in 2006 and have continued since then. From 2015 to 2018, Puerto Rico's population decreased by 2.7% per year on average, compared with 1.4% from 2010 to 2015.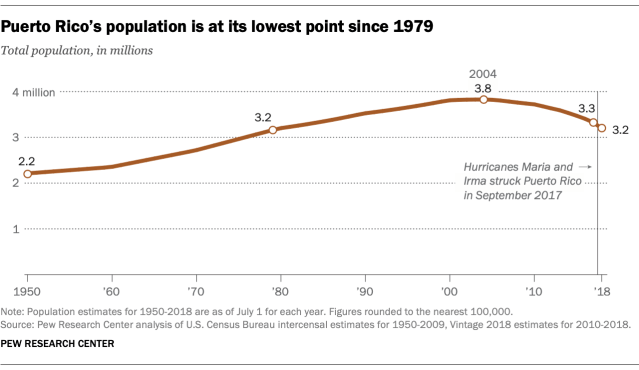 3Every county, or municipio, in Puerto Rico lost population in 2018, with each seeing at least a 2% decrease. The municipios with the largest populations also experienced some of the fastest rates of decline. San Juan (population 321,000), Bayamón (170,000), Carolina (148,000) and Ponce (133,000) all had decreases of 4% or more. Las Marías had the island's largest decrease, with a decline of more than 5%.
4Over the past decade, only one municipio on the island did not suffer population loss. Gurabo saw its population increase by 4%, from 44,000 in 2008 to 46,000 in 2018. From 2008 to 2018, the municipios of Ceiba (-24%), Lares (-22%), Guánica (-22%), Ponce (-22%) and Peñuelas (-22%) experienced the largest percentage drops in population. Declines were widespread – 33 of the island's 78 municipios had a population decrease of at least 15% during this time.
5Puerto Rico's median age has increased over the past decade, rising from 36 in 2008 to 43 in 2018. By comparison, Hispanics on the mainland (the 50 U.S. states and the District of Columbia) had a median age of 30 in 2018, up from 27 in 2008. Overall, 81% of the island's population was ages 18 and older in 2018, up from 75% in 2008. The share who were 65 and older increased from 14% in 2008 to 21% in 2018.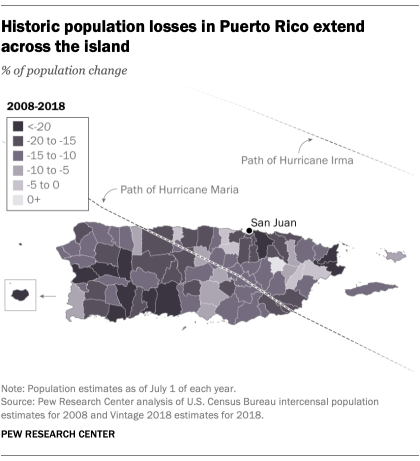 6The number of births in Puerto Rico has decreased in the past decade. In 2018, 24,000 births took place on the island, down 47% from 2008 (46,000 births). This is a much larger rate of decrease than among Hispanics on the U.S. mainland. Hispanic births on the mainland had a modest decrease (3%) over this period, dropping from 1.04 million to 1.01 million.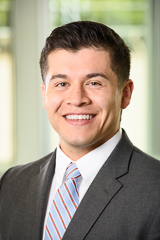 Antonio Flores
is a former research analyst who focused on Hispanic trends research at Pew Research Center.