Restrictions on religion don't just affect those who are religious; people who are religiously unaffiliated also are harassed because of what they believe. And the number of countries where religiously unaffiliated people experienced harassment rose sharply in 2017, according to a recent Pew Research Center report.
The religiously unaffiliated (including atheists, agnostics and people who don't identify with any religion) were harassed by governments, private groups or both in 23 countries in 2017, up from 14 the previous year. The unaffiliated and Buddhists were the only two groups in the study to see an increase in harassment in 2017.
The number of countries where the unaffiliated have faced harassment was much higher in 2017 than in 2012, when Pew Research Center began tracking this type of harassment. In 2012, we found only three countries where nonreligious people faced harassment.
As defined in the study, harassment can include a wide range of activities, from verbal abuse to physical violence and killings. It can be perpetrated by governments as well as private individuals and groups.
In 2017, religiously unaffiliated people experienced harassment by governments in 14 countries (up from 11 the previous year), according to an analysis of a set of widely available sources used consistently to measure this phenomenon. In Malaysia, for instance, the government investigated a meeting of atheists in Kuala Lumpur and later declared atheism to be unconstitutional. Other countries where the government harassed this group include Iran, Russia and Saudi Arabia.
The religiously unaffiliated faced social harassment in 13 countries in 2017, up from five the previous year. For instance, in Bangladesh, Islamist groups expressed hostility toward those holding secular views and a group of Islamic scholars succeeded in getting the country's education ministry to remove content from school textbooks that they claimed was "atheistic." Other countries where societal harassment of the religiously unaffiliated took place include Turkey and Yemen.
In four of the 23 countries where the unaffiliated faced harassment – Egypt, Kenya, Malaysia and the Maldives – both government restrictions and social harassment occurred. This includes the Maldives, where a secular blogger was murdered after criticizing religious fundamentalism and violent extremism. Following the killing, President Abdulla Yameen said the government would not allow anyone to publish content that "mocks" Islam, either on social media or in the mainstream media.
While the religiously unaffiliated make up 16% of the global population – behind only Christians (31%) and Muslims (23%) – they tended to face harassment in 2017 in countries where other groups are in the majority. Most of these countries were either majority Muslim (15) or majority Christian (7). The remaining nation, India, is a Hindu majority state.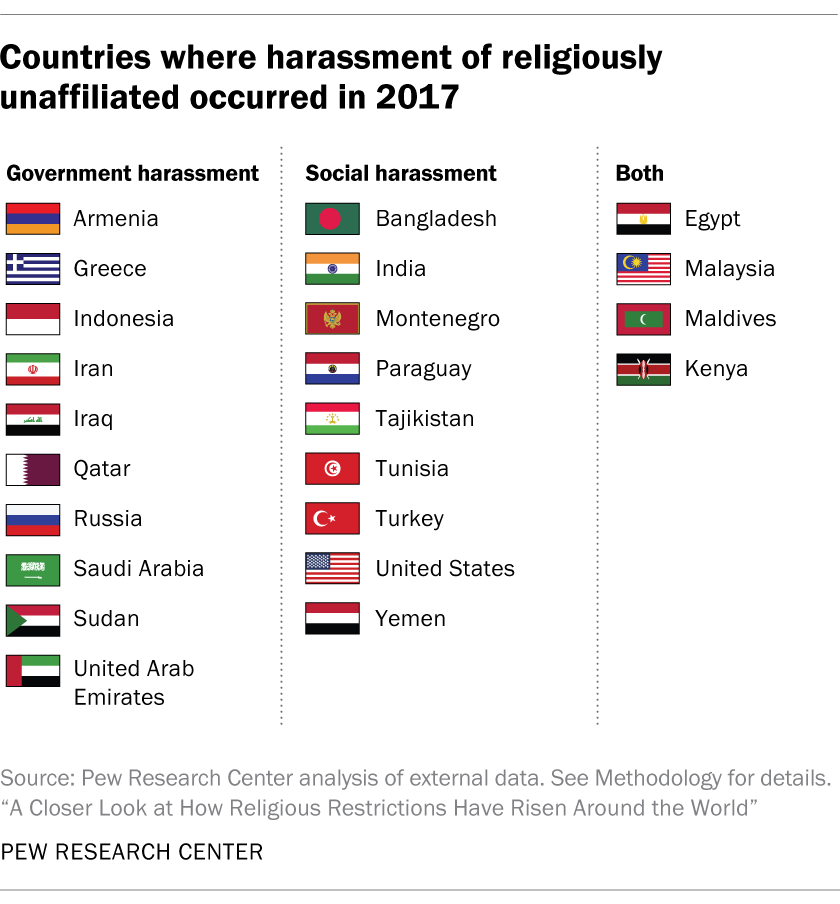 Nine of the 23 countries where nonreligious people were harassed in 2017 are in the Asia-Pacific region, where more than three-quarters of the world's unaffiliated population is concentrated. Harassment also occurred in eight countries in the Middle East and North Africa, as well as six countries in Europe, sub-Saharan Africa and the Americas, including the United States. In the U.S., where a growing share of the adult population is unaffiliated (23% as of 2014), the FBI reported more incidents of hate crimes targeting atheists and agnostics in 2017 than in the previous two years.
Although religiously unaffiliated people have faced increased harassment in recent years, the number of countries involved is still relatively small when compared with the number of nations where Christians and Muslims were harassed. In 2017, Christians were harassed in 143 countries, down from 144 the previous year, while Muslims were harassed in 140 countries, down from 142.
Despite these small decreases, all religious groups have experienced more widespread harassment over the longer term. In 2017, the total number of countries and territories where religious groups were harassed was the highest we've seen, taking place in 187 of the 198 jurisdictions analyzed in the report.
Virginia Villa
is a former research analyst focusing on religion research at Pew Research Center.