The Soviet Union came to a formal end in December 1991, leaving 25 million ethnic Russians living outside the borders of their nominal homeland.
Today, ethnic Russians are a sizable minority in several former Soviet republics, and many are more favorably inclined toward Russia than are their fellow citizens, according to a recent Pew Research Center survey of countries in Central and Eastern Europe.
In Estonia, Latvia and Ukraine – the three former republics in the survey that are home, proportionately, to the largest ethnic Russian populations outside of Russia – ethnic Russians are more likely than the rest of the population to agree with the statement, "A strong Russia is necessary to balance the influence of the West." At the same time, ethnic Russians in these countries are less likely to view Russia as a major military threat or to place most of the blame for violence in eastern Ukraine on Russia or pro-Russian separatists.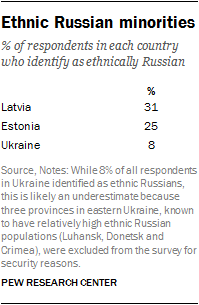 The violence in Ukraine has raised concerns about potential Russian incursions in other former Soviet republics. The Center's recent survey found that ethnic Russians are more likely than non-Russians in their countries to say that Russia has an obligation to protect ethnic Russians living outside its borders. In Estonia, for example, more than three times as many ethnic Russians as non-Russians hold this view (76% vs. 23%).
Topics: Eastern Europe, Europe, Political Attitudes and Values, International Governments and Institutions, National and Cultural Identity, Russia
Some 14% of U.S. adults say they have been targeted for online harassment or abuse because of their political views, according to a new report from Pew Research Center. And while Republicans and Democrats are about equally likely to have been harassed online because of their political views (15% vs. 13%), there are some notable partisan differences in their views of the issue.
Democrats are more likely than Republicans to say they have heard a great deal about the topic of online harassment (38% vs. 25%). In addition, a larger share of Democrats than Republicans (69% vs. 54%) consider online harassment to be a major problem. (Democrats and Republicans in this analysis include independents and nonpartisans who "lean" toward these parties.)
Americans' attitudes toward offensive content online also tend to differ by political affiliation. The survey asked respondents to choose which statement came closer to their view: "Many people take offensive content they see online too seriously" or "offensive content online is too often excused as not a big deal." By a 63%-36% margin, Republicans say people take offensive online content too seriously. By contrast, Democrats are more divided: 50% say offensive content is often taken too seriously, while 48% feel it is too often excused as not a big deal.
Topics: U.S. Political Parties, Online Privacy and Safety, Online Communities
Republicans have grown increasingly negative about the impact of colleges and universities on the United States. But last year, most Republicans said that colleges do well in preparing people for good jobs in today's economy.
In addition, most Republican college graduates – like their Democratic counterparts – said their own college experience was valuable for developing skills for the workplace.
The change in Republicans' views of the effect colleges and universities have on the country is striking. Currently, 58% of Republicans and Republican-leaning independents say colleges and universities have a negative effect on the way things are going in the country, while just 36% say their effect is positive, according to a survey conducted last month by Pew Research Center. Just two years ago, attitudes were the reverse: a 54% majority of Republicans and Republican leaners said colleges were having a positive effect, while 37% said their effect was negative.
Topics: Education, U.S. Political Parties, Political Attitudes and Values, Educational Attainment, Political Polarization
A decade after the housing bust upended the lives of millions of Americans, more U.S. households are headed by renters than at any point since at least 1965, according to a Pew Research Center analysis of Census Bureau housing data.
The total number of households in the United States grew by 7.6 million between 2006 and 2016. But over the same period, the number of households headed by owners remained relatively flat, in part because of the lingering effects of the housing crisis.
Meanwhile, the number of households renting their home increased significantly during that span, as did the share, which rose from 31.2% of households in 2006 to 36.6% in 2016. The current renting level exceeds the recent high of 36.2% set in 1986 and 1988 and approaches the rate of 37.0% in 1965.
Certain demographic groups ­– such as young adults, nonwhites and the lesser educated – have historically been more likely to rent than others, and rental rates have increased among these groups over the past decade. However, rental rates have also increased among some groups that have traditionally been less likely to rent, including whites and middle-aged adults.
Topics: Education, Lifestyle, Race and Ethnicity, Generations and Age, Household and Family Structure
Since Pew Research Center conducted its first Global Attitudes survey in 2002, we have explored how the world sees the United States. This year's survey finds negative reactions around much of the world to Donald Trump's presidency, and major changes in ratings for the U.S. Here are nine charts that highlight international perceptions of Trump.
1Globally, Trump is much less popular than his predecessor. Across 37 countries we surveyed in spring 2017, a median of just 22% said they have confidence in Trump to do the right thing in world affairs. In contrast, 64% expressed confidence in President Barack Obama in these same 37 nations during the final years of his presidency.
And this shift in American leadership has clearly had an impact on how the world sees the U.S.: A median of 49% now give the U.S. a favorable rating, down from 64% in the Obama era.
Topics: U.S. Global Image and Anti-Americanism, U.S. Political Figures, Non-U.S. Political Leaders, Global Balance of Power
Several recent high-profile incidents have illustrated some of the more severe experiences many women face online, from insults hurled at female journalists to the release of private nude photos of female celebrities. A new Pew Research Center survey reveals that while men are somewhat more likely to experience any form of online harassment, women report higher levels of emotional stress from their experiences and differ in their attitudes toward the underlying causes of such incidents.
Overall, 41% of Americans have experienced online harassment, defined in the survey as offensive name-calling, purposeful embarrassment, physical threats, stalking, sexual harassment, or harassment over a sustained period of time. But the emotional impact of online harassment tends to be felt more acutely among women. For example, 35% of women who have experienced any form of online harassment say they found their most recent incident to be "extremely" or "very" upsetting, more than twice the share among men who have been targeted online (16%). (A similar split occurred in Pew Research Center's 2014 survey on the topic. At that time, 38% of women and 17% of men who had been targeted online felt this level of distress because of their harassment.)
There are also gender differences in views of online harassment as a public issue. Seven-in-ten women (70%) say they see online harassment as a major problem, compared with 54% of men. Younger women – those ages 18 to 29 – are especially likely to say this: More than eight-in-ten (83%) say it is a major problem, compared with 55% of men in the same age group.
Topics: Gender, Online Privacy and Safety, Online Communities
North Korea's successful test of an intercontinental ballistic missile has prompted strong criticism from the United States and from governments across the Asia-Pacific region. But even before the test – which Washington and Seoul labeled "destabilizing and unlawful" – Americans and many people in the Asia-Pacific region held negative views of North Korea and its nuclear weapons program.
Here are four new key findings from Pew Research Center about views of North Korea and its nuclear program, based on a survey conducted in the U.S. and six Asia-Pacific countries between February and May.
1
Many people in Asia-Pacific countries have negative views of North Korea. Among the countries surveyed, the Japanese are most negative on North Korea: 94% say they have an unfavorable view, including 78% who say they have a very unfavorable opinion. In Australia, the U.S. and South Korea, roughly three-quarters or more say they have unfavorable views. Across the region, only Filipinos have a generally positive view of North Korea, with more than half (53%) holding a favorable view.
Topics: Asia and the Pacific, Wars and International Conflicts, Nuclear Threats, Foreign Affairs and Policy
Earlier this year, Democrats had hopes that a spate of special elections to the U.S. House of Representatives would flip at least a couple of Republican-held seats their way. But the GOP held onto all four of the seats that opened up when their former occupants took jobs in the Trump administration. The only Democratic special election win came in a California district the party already held, meaning there was no net change in the House's partisan balance, which favors Republicans by 240 to 194. (A vacant Utah seat, represented until last month by Republican Jason Chaffetz, will be filled in yet another special election this fall.)
That lack of dramatic change is very much in line with recent history, according to a Pew Research Center analysis of special election data. Of the 130 House special elections since 1987, only 21 (16%) resulted in a seat changing from Republican to Democratic or vice versa – the last one nearly five years ago.
(In general, House seats rarely flip from one party to the other: Last year, for instance, only 10 House seats flipped parties. Along with Democratic wins in two of three newly redrawn districts, the party had a net gain of six seats.)
When House seats do flip in a special election, there's often some unusual factor at play, such as a scandal or a split in the dominant party. That was emphatically the case in 2012 in Michigan's 11th District, when incumbent Republican Rep. Thad McCotter was denied a spot on the primary ballot because nearly all the signatures on his nominating petitions were fake. McCotter resigned in the ensuing scandal, and there were two elections that November: a regular one for the incoming 113th Congress, and a special election for what was left of McCotter's term in the 112th Congress. A Democrat won the special election, but a different Democrat lost the general, meaning the seat flipped from Republican to Democratic and back again in the space of two months.
Topics: Congress, Elections and Campaigns
More Christian than Muslim refugees have been admitted to the United States in the first months of the Trump administration, reversing a trend that had seen Muslims outnumber Christians in the final fiscal year under President Barack Obama, a Pew Research Center analysis of U.S. State Department refugee data has found.
From Donald Trump's first full day in office on Jan. 21 through June 30, 9,598 Christian refugees arrived in the U.S., compared with 7,250 Muslim refugees. Christians made up 50% of all refugee arrivals in this period, compared with 38% who are Muslim. Some 11% of these arrivals belong to other religions, while about 1% claim no religious affiliation.
The religious composition of refugees to the U.S. has been shifting on a monthly basis as well. In February, Trump's first full month in office, Muslims accounted for 50% of the 4,580 refugees who entered the U.S., and Christians made up 41% of arrivals. By June, Christians (57%) made up a larger share of arrivals than Muslims (31%).
This stands in contrast to fiscal 2016, when a record number of Muslim refugees entered the U.S. and Muslims made up a higher share of admitted refugees than Christians (46% vs. 44%, respectively). However, the shift in the religious composition of refugees since January falls in line with longer-term trends: Between fiscal years 2002 and 2016, Christians outnumbered Muslim refugees in all but three years – 2005, 2006 and 2016.
The religious affiliation of refugees has come under scrutiny since Trump first issued an executive order on Jan. 27 announcing restrictions on people traveling into the U.S. from seven majority-Muslim countries (Iran, Iraq, Libya, Somalia, Sudan, Syria and Yemen), a temporary halt of the U.S. Refugee Resettlement Program, and a new, lower cap on refugee admissions (set to 50,000 people annually). Legal challenges held up this executive order, but the U.S. Supreme Court recently allowed parts of the administration's second version of the order, dated March 6, to take effect until the court hears the case sometime this fall.
Topics: Wars and International Conflicts, Immigration Trends, Christians and Christianity, Foreign Affairs and Policy, Muslims and Islam, Migration
Pew Research Center today released a new survey of more than 4,000 U.S. adults that examines online harassment in the United States, as well as Americans' attitudes toward its underlying issues. In this Q&A, the study's author, Maeve Duggan, explains how and why the survey was conducted.
What motivated you to study online harassment in America?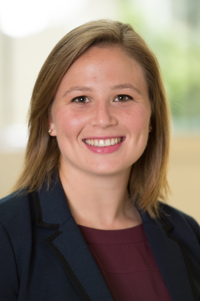 There's been an incredible amount of activity around online harassment since we last looked at this subject in 2014. Not only have tech companies made major efforts to address harassment on their platforms (with varying degrees of success), but we've also seen increased attention from policymakers and thought leaders, along with other studies that have documented online harassment in different ways. Of course, all of this attention doesn't mean the problem has been solved. There have been a number of high-profile incidents over the years and everyday users still struggle at times to keep harassment at bay. Given the evolving nature of the topic, we thought it was a good time to check back in on Americans' experiences and attitudes.
How did you go about measuring online harassment?
Our definition of online harassment includes six broad behaviors: offensive name-calling, purposeful embarrassment, stalking, physical threats, harassment over a sustained period of time, and sexual harassment. We used the same definition in our 2014 survey, which means that we can track changes over time. For example, some 41% of Americans today say they have experienced at least one of these behaviors at some point, up modestly from 35% of Americans in 2014.
We felt it was important that our definition of harassment include a range of behaviors, from the relatively mild to the severe. A portion of adults have only faced name-calling or purposeful embarrassment, while others have been targeted with any of the other four more severe behaviors. These classifications help provide an important window into the nature of online harassment. They show that people's responses and reactions to harassment depend in many ways on the severity of their experiences. For instance, those who have had severe online harassment experiences are more likely to say it caused them stress, and they're also more likely to say they took protective steps like adjusting their online privacy settings in response.
Topics: Internet Activities, Online Privacy and Safety, Online Communities