When asked about the ideal age for a U.S. president, Americans are most likely to say it's best for the president to be in their 50s, according to a recent Pew Research Center survey. And historically, most presidents have been in their 50s at inauguration.
The median age for all U.S. presidents on the day of their first inauguration is 55 years old. The youngest was Theodore Roosevelt, who was 42 when he first took office in 1901. The oldest, Joe Biden, was 78 upon taking office in 2021.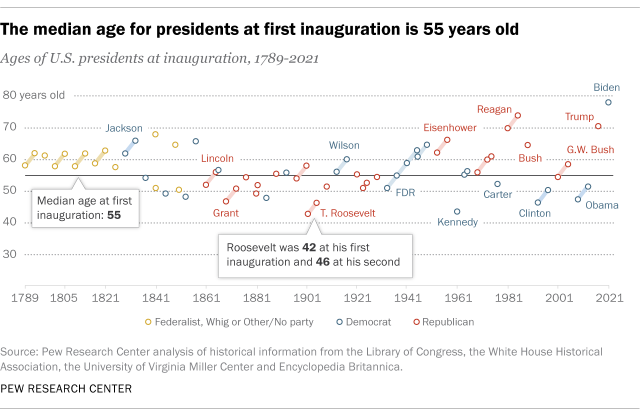 As might be expected, the median age for reelected presidents is higher than for first-time chief executives. The median age at second inauguration – for all 21 presidents who have served more than one term – is 58. Biden, who turns 81 in November, is running for a second term in 2024, as is his predecessor, 77-year-old Donald Trump.
Looked at another way, 35 of the 68 total presidential inaugurations that have taken place – just over half – have involved presidents in their 50s. Fewer have involved presidents in their 60s (19) or 40s (10). Just four have involved presidents in their 70s. (When considering presidents' ages, it's important to note that life expectancy in the United States has increased considerably over time.)
The median age for U.S. vice presidents at their first swearing in is identical to that for presidents at their first inauguration: 55 years old. The youngest vice president was John C. Breckinridge, who served under James Buchanan and was 36 when inaugurated in 1857. The oldest was Alben W. Barkley, who served under Harry Truman and was 71 when he was inaugurated in 1949.