Money sent by immigrants to their home countries in sub-Saharan Africa reached a record $41 billion in 2017. This represents a 10% jump in remittances from the previous year, the largest annual growth for any world region, according to a Pew Research Center analysis of World Bank data.
The increase follows a decline in remittances to sub-Saharan Africa in 2016, when the region saw a 9% decrease over the previous year, by far the largest regional drop in the world.
Worldwide, immigrants sent a record $625 billion (in 2018 U.S. dollars) back to their home countries in 2017, a 7% increase from the previous year. Strong economic growth in many major destination regions, stabilizing oil prices and the appreciation of currencies against the U.S. dollar helped fuel the first worldwide increase in remittances since 2014, according to the World Bank. Remittances had declined in 2015 and 2016, the first back-to-back decline in remittances in over three decades.
Remittances are funds transferred by immigrants to people in their home country. The total amount of money sent is likely much larger than current estimates because only funds sent through formal channels such as banks are included. This is especially true for regions like sub-Saharan Africa, where just 40% use formal financial services and two-thirds of non-agriculture workers are part of the informal economy.
[callout align="alignright"]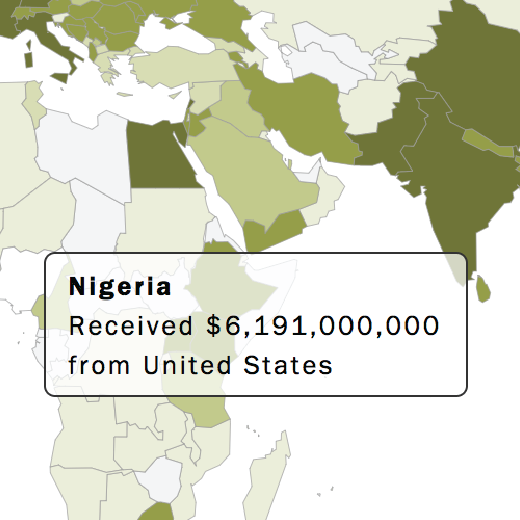 View our updated interactive to see the estimated inflows and outflows of money sent by migrants around the world in 2017.
[/callout]
One-in-four (23%) migrants from sub-Saharan Africa live in Europe and the U.S., places where recent economic growth has helped sub-Saharan African immigrants send home more remittances. Nigeria, Ghana, Senegal and Kenya received the most remittances among sub-Saharan nations in 2017. These four countries are also among the top origin countries for sub-Saharan migrants living in Europe and the U.S.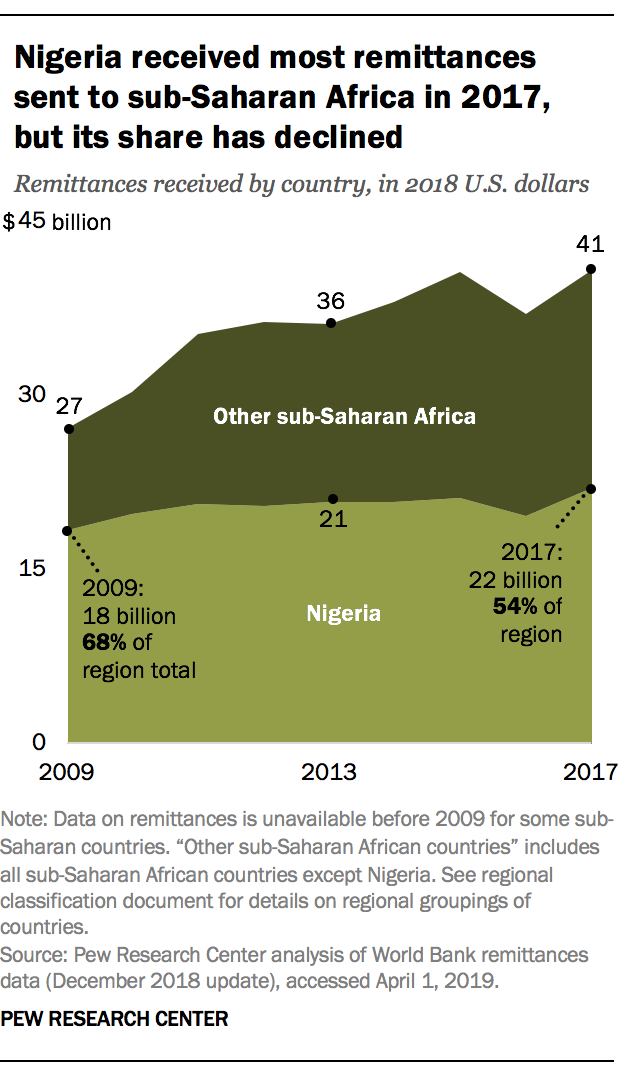 Since 2009, Nigeria has received more than half of all remittances sent each year to sub-Saharan African countries, by far the largest share of any country in the region. Its regional dominance is comparable to Mexico's in Latin America and the Caribbean. In 2017, a record $22 billion in remittances flowed to Nigeria, which has the region's largest population and economy. Ghana received less than $4 billion in remittances, the second most in the region.
Remittances sent to Nigeria have increased since 2009, when the country received $18 billion from immigrants. Nevertheless, Nigeria accounted for a smaller share of remittances sent to sub-Saharan Africa in 2017 (54%) than in 2009 (68%). The declining share is due to faster growth in remittances received by other sub-Saharan nations.
Nigeria receives the largest share of remittances to the region despite an emigrant population of 1.3 million that is smaller than that of Somalia (2 million) and South Sudan (1.8 million), which have the largest sub-Saharan emigrant populations, among others. One reason for this is that many of Nigeria's emigrants live in countries with strong economies like the U.S. and the UK.
Remittances to sub-Saharan Africa are projected to increase in coming years, according to the World Bank. The region's population growth is expected to continue, which has the potential to boost migration and remittances sent to the region. Pew Research Center surveys have also found that a substantial share of Nigerians and Kenyans plan to leave their countries to seek opportunities elsewhere.
Note: See details on our regional grouping of countries here.
Abby Budiman
is a temporary research associate focusing on race and ethnicity research at Pew Research Center.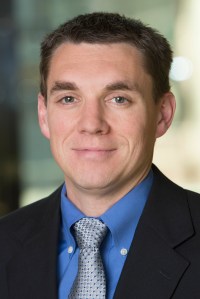 Phillip Connor
is a former senior researcher focusing on demography and migration studies at Pew Research Center.