Public support for the death penalty, which reached a four-decade low in 2016, has increased somewhat since then. Today, 54% of Americans favor the death penalty for people convicted of murder, while 39% are opposed, according to a Pew Research Center survey conducted in April and May.
Two years ago, 49% favored the death penalty for people convicted of murder, the lowest level of support for capital punishment in surveys dating back to the early 1970s.
While the share of Americans supporting the death penalty has risen since 2016, it remains much lower than in the 1990s or throughout much of the 2000s. As recently as 2007, about twice as many Americans favored (64%) as opposed (29%) the death penalty for people convicted of murder.
Since the mid-1990s, support for the death penalty has fallen among Democrats and independents but remained strong among Republicans.
About three-quarters of Republicans (77%) currently favor the death penalty, compared with 52% of independents and 35% of Democrats.
Since 1996, support for the death penalty has fallen 27 percentage points among independents (from 79% to 52%) and 36 points among Democrats (71% to 35%). By contrast, the share of Republicans favoring the death penalty declined 10 points during that span (from 87% to 77%).
The trends look somewhat different when considering a more recent time frame. Since 2016, opinions among Republicans and Democrats have changed little, but the share of independents favoring the death penalty has increased 8 percentage points (from 44% to 52%).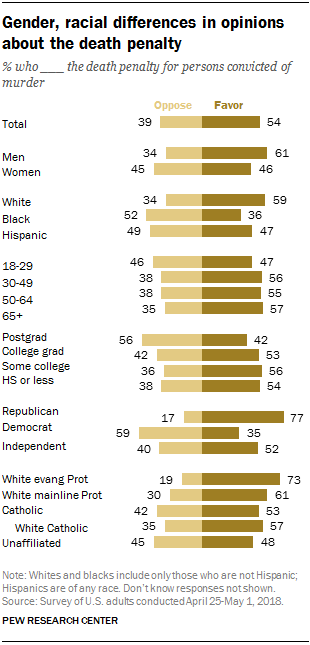 Support for the death penalty has long been divided by gender and race. In the new survey, about six-in-ten men (61%) say they are in favor of the death penalty and 34% are opposed. Women's views are more divided: 46% favor the death penalty, while 45% oppose it.
A 59% majority of whites favor the death penalty for those convicted of murder, compared with 47% of Hispanics and 36% of blacks.
Young people are somewhat less likely than older adults to favor capital punishment. Those younger than 30 are divided – 47% favor and 46% oppose it – but majorities in older age groups support the death penalty.
There are educational differences in views of the death penalty. Adults who have a postgraduate degree are more likely to oppose the use of the death penalty in cases of murder (56%) than those whose education ended with a college degree (42%) and those who never received a postsecondary degree (36% some college experience; 38% high school degree or less).
White evangelical Protestants continue to back the use of the death penalty by a wide margin (73% favor, 19% oppose). White mainline Protestants also are substantially more likely to support (61%) than oppose (30%) the death penalty. But among Catholics and the religiously unaffiliated, opinion is more divided: 53% of Catholics favor capital punishment, while 42% oppose it. And while 45% of those who are religiously unaffiliated oppose the death penalty, 48% support it.
In 2015, a more detailed study of attitudes toward capital punishment found that 63% of the public thought the death penalty was morally justified, but majorities said there was some risk of an innocent person being put to death (71%) and that the death penalty does not deter serious crime (61%).
Note: The full methodology and topline for the April 25-May 1 survey are available here (PDF).