The White House Office of Faith-Based and Neighborhood Partnerships, established by President Barack Obama, plans to expand partnerships between the government and faith-based and community organizations for the delivery of social services. What lessons can be learned from the preceding eight years of the White House Office of Faith-Based and Community Initiatives under President George W. Bush? What challenges and opportunities lie ahead?
To discuss these issues, the Pew Research Center's Forum on Religion & Public Life invited Joshua DuBois, the executive director of the White House Office of Faith-Based and Neighborhood Partnerships; Stephen Goldsmith, an adviser on faith-based partnerships in the Bush White House and the former mayor of Indianapolis; and Richard Nathan, co-director of the Nelson A. Rockefeller Institute of Government and the former director of the Roundtable on Religion & Social Welfare Policy, which on June 11 released its final report, "Taking Stock: The Bush Faith-Based Initiative and What Lies Ahead."
---
Event Transcript
LUIS LUGO, PEW FORUM ON RELIGION & PUBLIC LIFE: Good afternoon and thank you for joining us today, including those of you who are listening in via conference call. It's always great to see a full house. And a special welcome, of course, to our panelists: Richard Nathan, Stephen Goldsmith and Joshua DuBois. I'm Luis Lugo, director of the Pew Forum on Religion & Public Life, which is a project of the Pew Research Center. The center, as many of you know, is a nonpartisan organization, and we do not take positions on policy debates, including this one.
This event represents the formal passing of the baton, as it were, from the Roundtable on Religion and Social Welfare Policy to the Pew Forum. Since 2002, the Roundtable has produced an impressive body of work on the scope and effectiveness of faith-based social services, as well as related legal and policy developments at both the federal and the state level. The report that is being released today gives you a glimpse of the range and richness of the Roundtable's work.
That work has been generously supported by our parent organization, The Pew Charitable Trusts, and it's good to have with us from Philadelphia Don Kimelman, who is the managing director of the information initiatives program at Pew, as well as Julie Sulc, the program officer at Pew who has been working with the Roundtable from the very beginning. There's a very nice tribute to her in this report, where Dick Nathan and David Wright call her "the very model of a foundation officer."
The Pew Forum is taking over where the Roundtable is leaving off and hopefully, Dick, not dropping the baton in the process. Our plan is to provide timely, nonpartisan research and analysis on how religion intersects with some of the most pressing social issues in the United States, from prisoner reentry and economic maintenance to health care and immigrant services. Many of you have probably already met Stephanie Boddie, our senior fellow here at the Forum, who will be leading our work in this area.
The purpose of this forum is to take stock. We want to look back at the eight years of the White House Office of Faith-Based and Community Initiatives under the Bush administration and see what lessons we might glean from that effort. But we also want to look forward and discuss the plans of the Obama administration for its Office of Faith-Based and Neighborhood Partnerships and the challenges and opportunities that might lie ahead.
We're delighted to have with us three very distinguished guests to lead us in this discussion. There were copies of their bios on your seats, so I'm going to be very brief with my introductions. Richard Nathan is the co-director of the Rockefeller Institute of Government and the former director of the Roundtable on Religion and Social Welfare Policy. Dick will present the findings of the Roundtable's summative report, "Taking Stock: The Bush Faith-Based Initiative and What Lies Ahead." A copy of that report is available in the Roundtable's electronic archives, which you can now access through the Forum's website. That report was authored by David Wright, who served as project director at the Roundtable.
Next up after Dick will be Stephen Goldsmith. Steve is the former mayor of Indianapolis, Ind., and is presently a professor at the John F. Kennedy School of Government at Harvard University. He was a key advisor to President Bush on issues related to government partnerships with faith-based organizations. Steve will offer his insights on the lessons learned from the Bush initiative.
And last, but certainly not least – well, maybe with respect to age – we're pleased to have Joshua DuBois, who serves as a special assistant to President Obama and as executive director of the White House Office of Faith-Based and Neighborhood Partnerships. Joshua will share the administration's vision and plans for this policy initiative.
Our format for this event is simple. After each of the guests speaks for about 10 minutes or so, we will open it up for your questions. I should mention that this meeting is on the record and is being recorded. That's because we want to post the written transcript on our website so many other people have a chance to benefit from this discussion.
Dick, your mission – should you choose to accept it – is to summarize this thick report in 10 minutes or less. So go for it.
RICHARD NATHAN, NELSON A. ROCKEFELLER INSTITUTE OF GOVERNMENT: I'm pleased to be here with Professor Steve Goldsmith and to meet Joshua DuBois, whom we are all anxious to hear from. I envy him, in part, because he's 26 years old. I've heard a lot of things about Joshua. He's clearly a person of deep and abiding faith. He was politically baptized in the 2008 campaign, and now he is to undergo a conversion – a conversion to being a bureaucrat – to running a system that he is inheriting and that, from everything I know, is continuing. And I wish him well.
I am excited and pleased to be here to talk about our work. The Roundtable was formed – as Luis said, he and Julie went to Philadelphia – I'll never forget the day – and we talked about, why don't you do this, Dick, and why doesn't the Rockefeller Institute do this? I'm proud that we have. With Chip Lupu and Bob Tuttle and lots of other people participating in the work, we've issued as many as 50 reports. Our goal at the Roundtable was not to take a position but to provide a knowledge base and an information network for informed public debate and understanding in this policy area.
David's report – I'll hold up a copy. Some of you are pictured here. You are, Joshua; Steve, you are, on the cover. It's 91 pages and what we aspire to is to have this report be a lasting, helpful document as a basic source that distills the most important parts of what the Bush administration did, the lessons of that experience, and the lessons for the future.
Now, as people here know, there's been a long history of faith-based social services in America. This wasn't, and isn't, something new. In the last two decades, however, the laws have eased the way for an increase in contracting with faith-based groups to receive public funds for social services, and particularly to reach out to smaller, grassroots faith-based organizations, encouraging and helping them compete for social service grants.
The most significant legislative change affecting government partnerships for faith-based organizations, to give you a little history, came in 1996. The welfare reform law, called The Personal Responsibility and Work Opportunity Reconciliation Act, which those of us who know and love it call PRWORA, fundamentally reformed welfare programs in the country. And it contained a provision called the Charitable Choice provision.
Under that provision:
Faith-based groups may not be excluded as providers.
They need not abandon their religious identity to receive government funds: They may retain religious criteria for selecting officers and board members, as well as religious art or symbols that they have on their walls.
Hiring decisions may be based on the faith of applicants, as long as that practice does not conflict with local and state laws.
Now that last sentence I just read is a very important sentence because, while it was in the Charitable Choice provision, it is in some laws and not others. It is the central issue that Joshua and his satellite offices will wrestle with and are wrestling with.
The Charitable Choice provision also said that providers may not discriminate on the basis of religion and that recipients must not be forced to receive services through a faith-based provider but must have the choice of a secular provider. The law said that no funds provided to institutions shall be expended for sectarian worship, instruction or proselytizing. A lot of that is in this report.
That Charitable Choice provision applied to Temporary Assistance for Needy Families – TANF – the law that replaced AFDC [Aid to Families with Dependent Children]. It applied to Medicaid, which is the 800-pound gorilla in state and local finance – particularly state – and to Food Stamps and Supplemental Security Income programs, which aid the aged and are very important for the disabled. Congress added Charitable Choice provisions to other laws – to the Welfare-to-Work law in 1997, to the Community Services Block Grant in 1998, and to the substance abuse law in 2000.
Building on his efforts in Texas, President George W. Bush came to office with this as something he talked about and cared about. He had high hopes to build on the foundation of what he had done in Texas – to expand opportunities for social action by faith-based groups. At first, they tried legislatively: a comprehensive bill that would have changed the laws, provided incentives and accomplished a multitude of purposes. But they were stymied on the legislation. Many of you were there and saw that happen.
So the strategy changed, and this is one of the most interesting things we observed and wrote about. We called it "the administrative presidency strategy," where they set up a high-profile White House office with 11 satellite offices to penetrate the bureaucracy in 11 government agencies, to train and work with people, and to learn about and disseminate information about faith-based groups and social services. That was something special. Very interesting. We studied it.
The new administration is picking up on that apparatus but doing different things, and they've appointed quite a few people – more than half already – working with Joshua DuBois to head up those offices. So this is something in government, to use administrative powers to penetrate the bureaucracy and to reach out in the country. We studied the legislative side of the initiative. Bob [Tuttle] and Chip [Lupu] issued annual reports, which we usually presented down here at the National Press Club, on the state of the law, which changed, as I said at the beginning of my remarks. I also said that hiring was the key to a lot of what's been debated most.
The administration set up a so-called Compassion Capital Fund. Maybe Steve will speak about that. The legacy of the Bush initiative is federal rules, training and assistance. Thirty-six states and 100 cities have copycat faith-based agencies – bureaucracies, Joshua. $300 million was expended to help small groups – and at a time when budgets were tight. There are plenty of things you could say about whether the money followed the enthusiasm – there was controversy. As this became more prominent in Washington and in the country, groups that wanted to go to court became stronger and bigger and had more people and more financing. So there was action administratively – not so much legislatively – and certainly judicially.
Now the new president has outlined his plan, which sounds like a continuation in many ways, but not all ways, of what came before. There are lessons and shared values that, as in many ways in government, carry over. The new office is called the Office of Faith-Based and Neighborhood Partnerships, and it has purposes that are similar to what I mentioned. There's a 25-member advisory council. Several members are here today – distinguished people working in this new structure. And that is different.
President Obama has emphasized more of a policy role. Right away, he got legislation enacted for community services – voluntary programs – to reauthorize the provisions that apply. In the $787 billion – that is a very big number – American Recovery and Reinvestment Act that is now playing out in the country, there are many ways in which faith-based groups can be, and I'm sure are, involved in programs and activities, particularly, as we study all the time, at the state and local level.
Several laws come up for reauthorization soon. The Charitable Choice provisions will be debated, including the hiring rights issue on TANF and other legislation that is soon to expire and is going to be discussed on the Hill. One of the other things I want to mention is that there's a lot of hard thinking to do and important research to do, I think, to answer the question, does it make a difference if a faith organization provides services to meet social needs? We're talking about families and people who have a lot of things they need to deal with as challenges in their community.
In our research – and this is ongoing – we are finding that there are some people who definitely respond to and have a special need, where religious organizations can really resonate with them. Now that's a research question, and it's a hard question to answer, and we are working on that currently. So I think that I have covered most of what I should say. We did issue one report recently that shows that many small churches have offered faith-based services but not so many of them receive or even know about federal grants. It's mentioned in David Wright's report.
The announcement of the new office means that the faith-based challenge will live on. We hope that the work of the Roundtable and the report we are presenting today and the material that, as Luis said, is now on the Forum's website will make a contribution and help people understand the hard challenges and benefit from lessons of experience. All through the country – not just in Washington – but all through the country. Thank you very much, Luis.
LUGO: Thank you, Dick. Steve?
STEPHEN GOLDSMITH, HARVARD UNIVERSITY: I'm less than flattered by the fact that I'm here as the "past" and the director is here as the "future." (Laughter.) I haven't been invited in such a capacity before. I'll keep my remarks brief since I think the future may be more important than the past. I'm going to try to do in five minutes the 20 years I've been involved in this issue because I don't want to start just with the Bush administration. I'd like to go back to Indianapolis because it has some relevance to how the initiative got started.
So a brief anecdote. The first week I got elected mayor, I went to an inner-city African-American church on Sunday. I'm so old that I'd worked in the Model Cities Program and had developed a relationship with a great guy, and he invited me to his church. He was 6'7''; he looked like he played basketball for some important group, and he said, at about the middle of the service, I want everybody to stand up and we're going to hold hands and we're going to pray until the mayor agrees to fix the sidewalks in front of the church. So I saw the power of faith and agreed, and that was the beginning of the initiative right there.
Then, step two. We did a number of things to revitalize urban communities in Indianapolis, Ind., and modeled some of them on what a friend of mine, Kirk Schmoke, had done in Baltimore. After a couple of years, we'd spent enormous amounts of public dollars on a lot of interesting community empowerment issues. Some were working and most weren't, and we said, what's missing here? Then we did this asset inventory of what were the most important assets in those urban communities. We did door-to-door in a rigorous way, and as you would assume, the more frequent asset in those communities was the faith-based institution. In our city, mostly the church – and these are not mega-churches. These are churches with an average congregation of less than 400. A part-time pastor pulled them together – a very tough neighborhood with a lot of work on the part of the pastor.
We began then to figure out what the city government could do to relate to those faith organizations in order for them to extend their reach. The goal here, for those of you who follow my colleague at Harvard, Bob Putnam, was not just how to do a public service but how to do a public service in a way that leveraged social capital.
We disregarded both of the extremes that were popular at the time. One, on the part of some in my party, was if government would just go away, the urban neighborhoods would get better. The view of some on the other side was, government can do everything. Neither one of those was accurate. It was the relationship of the two that we thought would lead to resurgence or revitalization in those communities. We ended up with something called the Front Porch Alliance, which has been written about, and many of you have read about.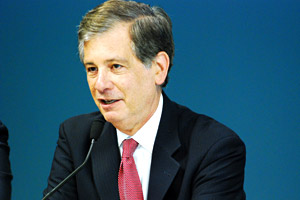 Next issue. So then the president announces his campaign in Indianapolis at a church in 2000 and gives, what I think, is the excellent "Armies of Compassion" speech and talks a little bit about the faith-based initiative. So what happened was that the Indianapolis effort, the asset inventory and the Front Porch Alliance then became essentially the precursor for the White House Office of Faith-Based and Community Initiatives. Not exactly, obviously, because this is a big country and I'm a little city, but nevertheless the concept was the same. So, to me, all along the issue was how to provide higher-quality services to individuals who needed them. It wasn't a choice between government and faith. It wasn't obviously an issue about how they would relate.
When we began the effort, a couple things – and Dick actually referenced these – stuck in my mind. One was that it was a really big deal when President Clinton did the Charitable Choice law as part of the TANF legislation – a really big deal. But it was not universal across government.
I got cited by the Department of Labor IG [Inspector General] for allowing summer job-training kids to say a voluntary prayer at lunch because they were doing job programs in church organizations but that violated the Department of Labor laws that weren't included in the Charitable Choice language. When I was trying to do homeless work with the Salvation Army with CDBG [Community Development Block Grant] dollars from HUD [Department of Housing and Urban Development], we got cited because crosses were still up on the sides of the Salvation Army. All of these things led to an expansion of the Charitable Choice language across several other departments.
I would say, as we look at it today, the goal was to create an even playing field that leveraged good results in urban communities. Picking up on what Dick said is that there is a culture of respect for the part that faith-based organizations play in community and personal renewal. And it's no longer all that controversial. There are aspects of it on the extreme that you could make controversial if you want to create a fight. But generally, if you are a mayor or a governor – maybe not a congressman, but a mayor or a governor – it's an issue of how to give the quality services that you need.
As I look at this when we started, the reason I recommended to the president that we have the Cabinet offices was because I actually thought it probably didn't make any difference what the laws said if the bureaucrats didn't care. If we didn't have an official in a Cabinet office who reported to Joshua or John DiIulio, who would every day look at those grant RFPs and every day watch the peer-review process, I was totally sure that nothing would change. In fact, the Cabinet offices that had the most powerful faith-based assistance are the ones that did the most good.
So we did see very substantial changes, and I think the culture change then, starting with President Clinton going through President Bush, that built up is a very significant one. The level playing field report that my friend John DiIulio was responsible for is terrific. The goal was to level the playing field, and I think a lot of that's been accomplished. If you look at those two together –
I see faces in the audience. David Caprara is back there about four rows. I was chairman of the Corporation for National and Community Service, the parent of AmeriCorps and VISTA. So I'm a chairman of an organization, I helped start the faith-based office, and the faith-based efforts in my organization were de minimis. It wasn't until David came over and helped straighten out the VISTA program by saying, here's what level playing field means, that we were able to actually leverage the efforts for faith across the programs in the Corporation for National and Community Service . So I think the culture is there.
Also, as Dick mentioned, I never thought it was very difficult to create faith-based alliances with really big faith-based organizations. Catholic Social Services, Jewish Family Services and Lutheran Family Services really did not need the White House Office of Faith-Based and Community Initiatives. They had their own bureaucracies, not necessarily in a pejorative way. They can deal with government.
It's the little guy who found government either bewildering – certainly not helpful – and often quite harmful. I think as we've moved out here to create a little bit of space for small guys to participate, that's important. I think also remarkably important is the fact, as Dick mentioned, that a large number of cities in 36 states have their own offices. Some of them have creatively said, okay, we're going to set aside 1 percent of our TANF money, and we're going to use that to stimulate the faith-based side and the like.
I guess the last point in terms of accomplishments that might serve as a foundation for President Obama is that when the president went to start or support really big important programs like Pastor Goode's Amachi program, the faith-based initiative was the path to supporting a big program, or the AIDS program or Access to Recovery and the like.
If we think about the faith world as a world of wonderful volunteers who want to help other folks and when they're connected to important government missions can create transformative change quickly, I think that's a lesson we learned. I think looking at Mayor Goode over here, Pastor Goode, and what he's done with children of prisoners in Amachi is probably the best example of that.
Last couple points in terms of things to think about as we go forward because we're about through with the past here in about 30 seconds. One is – I don't want this to come out wrong like I'm criticizing what we did – but I don't think that measuring how much money we spent on faith-based groups is really the standard that we want. It became the scorekeeping device and I understand why – because you can count it. But isn't a better issue here how many lives and neighborhoods have been transformed or revitalized, how many kids who would not have had opportunity otherwise have opportunity, how many women who would otherwise have been beat up have support through domestic shelters, etc.?
We need to find a better way than money. I'm encouraged and hopeful that what the director will be able to do with the Promise Communities and the Social Enterprise Fund and the other initiatives of the president is to think about the roles that the faith community can play that create transformative changes in the lives of the people they touch, and not just do government work the same way but diverting government money.
It always felt to me even when I was in Indianapolis that what my contract managers were trying to do to save the faith-based groups was: You won't get in trouble if you follow all these rules, and if you follow all these rules, you'll act just like we did when we were delivering the services.
The goal is to create an accountability regime that makes those organizations responsible to the government for the dollars they spend but provides flexibility in how they do it. So how effective the director is in getting the faith organizations incorporated in the Promise Communities and the Race to the Top and the Social Enterprise Fund in ways that can change lives and neighborhoods I think is particularly important.
So as we look forward, I think some very substantial steps have been made, not the least of which is incorporation of the culture of fairness and even playing field, lots of offices in cities and states, and pretty good (inaudible) for President Obama and the director.
LUGO: Thank you, Steve. We are staying on time, and we'll continue to stay on time if Joshua remembers that we invited him to be a speaker as a government official rather than a Pentecostal preacher.
JOSHUA DUBOIS, WHITE HOUSE OFFICE OF FAITH-BASED AND NEIGHBOORHOOD PARTNERSHIPS: I will be brief, and I know we want to get to the Q&A as well. Thank you, Luis, for having me and, Stephen and Richard, it's great to be up here with you. Again, my name is Joshua Dubois, and I'm the director of President Obama's Office of Faith-Based and Neighborhood Partnerships. I just want to spend a little bit of time talking about why the president even has this office, and then we'll talk about how we function on a day-to-day basis and what some of our long-term goals are.
The reason President Obama retained this office and changed it's name and mission just a bit is because he knows something that many of the organizations – I see Catholic Charities and others – represented in this room know well, which is that we've got some big challenges as a country. We've got too many kids who aren't getting the education they need; we have a health care system that's broken; we have challenges with housing, with our economic recovery, and so on and so forth. If we're going to address those things, we can't do it here in Washington alone – either at the White House or on Capitol Hill.
Instead, what we have to do is to connect with individuals and families in communities all across the country, where ideas are bubbling up and where real change is made. That includes faith-based and community-based organizations. That's really at the core of the role of my office, to serve as that connection point, that link, between the federal government and local community groups. To serve individuals and families and communities – that's our core mission.
That's a bit tweaked from the mission of the previous office, which I think was a critically important mission. I sat down with the president; we were talking about how this office would move forward. We were thinking through the concept of a level and an even playing field, which is critically important and which I think was necessary. Because of the work that they were able to do to level the playing field, now we're at a place where we can think about what the specific goals are that we want to achieve through this office.
What are we doing on the playing field? What do we want to get out of our partnerships with faith-based and with neighborhood-based organizations? That's a shift just a bit from the previous lens. I don't think it's a matter of being better or worse, but I think it enables us to take the next step in the progression of this office.
The way that we function, the way that we address our core goals, which I'll get to in a moment, is through 11, or basically 11-and-a-half with our quasi-center at the Corporation for National and Community Service, centers for Faith-Based and Neighborhood Partnerships. Some of them are actually still centers for Faith-Based and Community Initiatives; we're working to change the name on a center-by-center basis.
What those little, mini-offices do is connect their agency with local faith-based and neighborhood-based organizations to fulfill the mission of that agency and to serve people in need. So our center at the Department of Labor, for example, will form connections between that agency and local community-based groups to provide job-training services.
The center at the Department of Justice – and I see our VA acting director in the back – will work to connect their agencies with local organizations to fulfill their particular mission. So that's really how we function on a day-to-day basis. And, quite frankly, we wouldn't have been able to do that if it wasn't for Stephen's idea to create this network in the first place.
A few other things are a bit different though. Based on this idea that we're able to talk about what we're doing on the playing field instead of still having to do the work to level the playing field, we have four overall goals, four things that we'd like to achieve at the end of the day through this office. I'd like to talk a bit about them, and then we'll talk about a few other small differences as well.
The four goals are as follows: The first one is connecting community-based and faith-based groups to the economic recovery. As we're getting our economy back on track, as we're trying to create new jobs, how are we incorporating faith-based organizations and local neighborhood organizations? Often they're the ones that are providing job-training services or financial literacy counseling. The job of my office is to be a watchdog and to make sure that the federal agencies are working with them and learning from them as we try to get our economy back on track.
The second goal is responsible fatherhood and healthy families, and this is something that the president cares a lot about, both based on his own personal story and also his perception of a crisis of father absence in many communities. He wants my office to serve as a convening point to pull together federal agencies and intermediaries and local organizations to think about how we can support models that work to address these challenges, and, quite frankly, how he can use the bully pulpit of the presidency to talk about what it means to have a healthy family and to strengthen healthy families that are out there. That's a critical topic of our office, especially as we lead into Father's Day coming up in just a few days.
The third priority – and this is done in conjunction with the interagency Council on Women and Girls – probably the most politically contentious priority, but one that's important nonetheless, is how can we find common ground on the issue of reducing unintended pregnancies, supporting maternal and child health, strengthening adoption, and reducing the need for abortion? Now obviously on this difficult issue there are clear perspectives on both sides, and our goal is not to navigate those polar ends, to re-litigate Roe v. Wade, but instead, what are the areas in the middle? How can we identify policies that will support adoption, that will come alongside pregnant women who choose to carry their pregnancy to term and support them? So we're working and meeting with groups on both sides of this important issue to formulate policies in this area.
Then the last goal is how can we serve as a convening point, as a catalyst, to promote interfaith dialogue and cooperation? And that cooperation word is key. The president thinks we can do a better job of bringing people from different religious backgrounds together through both our foreign policy but also here at home. But it's not enough just to bring them together; we want to talk about what we're doing together across religious lines, whether it's combating malaria abroad or interfaith service projects here at home through the Corporation for National Service. How are we bringing people from different religious backgrounds together to serve particular needs?
So, taking a step back – we're still working on the metrics and identifying how we measure success in these areas, but we're going to measure our success based not just narrowly on how many groups have received federal funds and the total dollar value of those funds, as Stephen mentioned, but instead how we are achieving these specific goals.
A few other things that are a little different – again, this is just an evolution of this office, not better or worse – is that we have a renewed focus on engagement broadly. We've had hundreds of meetings with both religious organizations and also non-sectarian organizations about the work that they're doing, and we have a steady flow of groups into the office so that we can learn from them.
Another key point of engagement is the president's Advisory Council on Faith-Based and Neighborhood Partnerships. This is a 25-member council, individuals serving one-year terms who are going to provide advice about how this office is going and how we're working to achieve these goals. These are both religious and secular community leaders, and I think a very important feedback mechanism for us. So that focus on engagement is certainly renewed.
Two additional ways that I think we're changing course just a bit is one, a focus on what we're calling civic partnerships, nonfinancial partnerships. What are the ways that we can support organizations outside of just the federal grant-making process? The bare facts are that there are far more faith-based and neighborhood organizations than there are federal grants. So we've got to find some other ways to come alongside these groups and share best practices with them and connect them with one another so that they can learn from each other. This focus on civic partnerships is, I think, something that will be at the forefront in the years ahead.
Then the last way is, how can we strengthen the legal and constitutional footing of this office? The president definitely believes based on his personal history and his work with faith-based groups that there is a role for responsible partnership between the federal government and these organizations.
But that word "responsible" is key – how are we making sure that federal funds aren't being used for sectarian purposes? How are we encouraging organizations to form 501(c)(3)s so that it helps them come into clearer legal lines and parameters. We are sort of doing an agency-by-agency review of that process, working with our council and others to think about how we strengthen the legal footing of this office.
I think if we do all of that, if we focus on our goals, if we can engage and learn from folks who have been doing this for a lot longer than I have, quite frankly, through our outreach and through our council and others, and if we can strengthen the legal and constitutional footing of this office, then we can bring the federal government into robust and wonderful partnerships with local organizations that, at the end of the day, will help serve individuals and families and communities who are in need.
So I look forward to working with many of you all in the process, and I think it's time for Q&A.
LUGO: Thank you, Joshua. Thank you to all three of you. Just as an explanation, we have regular luncheons here for journalists, invite 24 or so around a table and bring in speakers. We thought for this one we would expand and invite a few other folks – and, again, thank you for coming. In keeping with the spirit of these luncheons, I'm going to give journalists the first shot at asking questions here. That series, incidentally, we co-host with E.J. Dionne of the Brookings Institution and Mike Cromartie of the Ethics and Public Policy Center, and they're tremendous partners with us in that.
So let's begin with some of the journalists.
SALLY QUINN, THE WASHINGTON POST'S "ON FAITH": Joshua, I think after listening to what everyone has to say, it seems to me that the whole issue really comes down to the legality of the hiring and how do you deal with that. That really is the crunch. That's the question. What are the legal aspects of hiring people who are not of a certain faith working for one faith or not allowing people of a certain faith to be hired? Without the legal aspects being cleared up, how do you do anything?
DUBOIS: Well, two points. One, I'll address the question directly, but two, I just want to go back to something Stephen said earlier: the range of issues that this office is confronting and the dire need to connect with organizations on the ground that are serving people in need.
The hiring issue, which I will address in just a moment, is important. It's something that is an important part of the public dialogue and that a lot of people on both sides care deeply about. What's also important, though, is the fact that we have too many folks who need job training and aren't getting it. We have too many folks who are struggling to find affordable housing and could use responsible partnerships between the federal government and local organizations to get that housing.
There are a range of issues that we're working on on a day-to-day basis that, quite frankly, aren't as titillating as some of these more controversial issues that are discussed in the press but that at the end of the day impact people's lives. That's where we spend the vast majority of our time, thinking about those and working on them. So I will say that I know that it's an important topic in the press and with some key groups, but there are a range of other issues that this office is addressing that I think are equally important as well.
On the hiring issue, this is a difficult issue and there are clear perspectives on both sides. What the president has decided to do and what we believe is the best approach to this is to fully understand this issue. As issues arise out in agencies, whether it's on co-religion in hiring, hiring discrimination or any other difficult legal issue, we will consider them. We will work with the White House counsel and with the Department of Justice, the attorney general, to fully explore that individual case and make a recommendation to the president. At the end of the day, he will determine what he thinks the best path forward is.
Now I know that's certainly not satisfying to individuals on both sides – many of our friends in conservative communities are in some ways not happy that a new mechanism has been created to really look at this issue. And many of our friends in progressive communities have expressed that they wished for more sweeping action at the outset of this office. So we recognize that there is some disagreement there, but the president really thinks that before we take any action on this or other challenging legal issues, we need to fully understand, get the lawyers involved and address it as fully as we can.
QUINN: Are you saying that you will do it on a case-by-case basis?
DUBOIS: On a case-by-case basis, that's correct. Thanks, Sally.
LUGO: Before we go to the next question, Stephen, could you comment? I'm just curious, to what extent was this particular issue, the legal one and particularly the hiring issue, a practical obstacle to you at the local level in seeking to implement these initiatives?
GOLDSMITH: Well, until you called on me, I saw no reason to get in the middle of this conversation.
(Laughter.)
DUBOIS: Come on in, the water's fine.
LUGO: I saw you ducking the question.
GOLDSMITH: That's totally Joshua's problem. I didn't want to get into it at all. (Laughter.) First of all, I appreciate his answer. This was a big issue when President Bush introduced the legislation, as your question reflects. It's what killed the legislation and what kind of drove many of us crazy.
Of all of the mayors I know who had faith-based organizations, it never was an issue. I know there have been lawsuits, and you can come up with examples. I kind of agree with the way Joshua put it; it's important to some folks. But as a practical matter, it wasn't. I appreciate the First Amendment consequences and all the like, but if the guy is homeless and needs help, that really was a more essential focus. I don't want to demean the question; the question is an important question. But as a practical matter, never.
I come from this kind of idea that if you're trying to do the right thing, you can always reach consensus, and I couldn't figure out why I couldn't reach consensus on the legislation the president had suggested on this issue. I realized that people really didn't want consensus; they really wanted to argue about the issue. But at the local level, it never was an issue for any of the Democratic mayors or the Republican mayors.
LUGO: Interesting. Dick, did you want to say anything?
NATHAN: First off, picking up on what Joshua said, when it comes to outreach – getting the government to penetrate the bureaucracies to encourage alliances, cooperation, new groups coming in and working together – that's an important effort and there's momentum, and I think the way he said it is very good. At the same time, when it comes to a grant and an organization has to decide, should I apply, and what do I say in my application, and what's going to happen to my application –
So my less cautious commentary, Steve, than yours to Joshua is, that's absolutely right what you said, that this is delicate and difficult, legally very complicated. You should take some time to get your legal experts – and there are two in this room who are very smart and special – to look at what you're dealing with.
I don't think you can have that as an operating premise on a long-term basis because there would be too much uncertainty in the system. So my suggestion to you, in as constructive a way as I can advance it, is that at the same time you bring the legal experts in and get deeply into this question and see what it really is in your world, you look toward an end-game that gives clarity to the many groups out there that you want to work with because it will need that, I think.
Not for alliance-building and not for the sort of bully pulpit function of all of this, in past and future, but for the money, grant-making side. I'm fascinated that that was the first question and the crunch word that you used – you're going to have it. I would urge you to think about the fact that at some point you may have to come to grips with it more than you may want to.
DUBOIS: I definitely appreciate that.
NATHAN: Is that okay, Chip?
LUGO: Just like there are continuities between administrations on this, there are also continuities between the Roundtable and the Pew Forum on this issue because we are retaining the A-team of Chip Lupu and Bob Tuttle, who have worked with the Roundtable on this, to help us in the Forum continue to provide you with good, legal analysis on this issue. So stay tuned on that score.
NATHAN: And they are terrific.
ROBERT MARUS, ASSOCIATED BAPTIST PRESS: As Joshua and the rest of the panel knows, hiring is not the only legal issue that remains controversial. The president taught constitutional law, and the people who supported him might have a higher sensitivity to Establishment Clause violations, and the lawsuits still come up all the time with these programs.
Has the president, Joshua, given you and your office any kind of instruction on how to deal with these kinds of cases in the future and how to investigate your programs, your agencies, to make sure that they are abiding by the First Amendment's religion clauses, both of them?
DUBOIS: I think what he's done is appointed some great folks in the Justice Department, who will fully explore these issues as they arise and who have both a clear understanding and respect for the Constitution but also are sensitive to the need for responsible faith-based partnerships. So beyond that, I think he's put some good folks in place who can address these issues, and I think that's probably the best way forward.
KIM LAWTON, RELIGION AND ETHICS NEWSWEEKLY: Joshua, I keep hearing about people who are on the council, people who are on task forces, people who are on both, people who are on task forces and not on the council – can you give me a sense of how many task forces there are under your office?
DUBOIS: Sure, the overall structure of this whole thing. Let's do that.
LAWTON: Yeah, how they're meeting and what they're talking about.
DUBOIS: The overall structure is an Office of Faith-Based and Neighborhood Partnerships. That's sort of the umbrella for everything – not everything, but everything in my little world. We unfortunately don't have the Department of Energy underneath us. (Laughter.)
So that's the overall umbrella. We then coordinate 11 centers for Faith-Based and Neighborhood Partnerships, plus a strategic advisor at the Corporation for National Service, and they work on a day-to-day basis to connect those agencies with local organizations. We also have this advisory council that you're referring to, the president's Advisory Council on Faith-Based and Neighborhood Partnerships.
These are 25 people who are serving one-year terms, and they're focused on six separate issues. And really, there's been a lot of misreporting about the goals and the mandate of that council. It's not to provide grants or weigh in on grant funding or the management of this office, but instead it's to think about how the federal government can come into more effective and responsible and legal partnership with local community organizations, both faith-based and secular, to fulfill some specific goals.
The six things they are looking at are:
the environment and climate change. How can the federal government work with local groups to address environmental issues?
the economic recovery. How can we form better partnerships around the recovery?
international development. How can we work though our center at the Agency for International Development to form better partnerships in that regard?
responsible fatherhood and healthy families, which you heard me mention before.
reform of the faith-based office. How can we, both on the technical assistance side but also on the legal side, come into more appropriate and effective relationships with faith-based groups?
interfaith dialogue and cooperation. How can we, through various mechanisms, whether the State Department, AID, but also here at home through the Corporation for National Service, come into better relationships with faith-based groups?
Those are the six task forces of the council. On the task force level, which is below the overall council level, we can add in other experts, and that's what you're referring to, that other people can weigh in on these issues. We have a range of players and actors who are providing their advice in that regard.
So there's an overall office. There are 12 centers. There's an advisory council that has some task forces. It actually functions well even though that's a lot of words there.
LAWTON: There are six task forces specifically on this issue?
DUBOIS: That's right. Thanks, Kim.
LYNN SWEET, CHICAGO SUN-TIMES: Josh, how many people do you have on your payroll? Is it the same as in the Bush White House? And how do you overlap, if at all, with the newly renamed Obama Office of Public Engagement?
DUBOIS: It's a great question. We will be at about the same number, between five and seven folks in the White House office, and then the centers will be between three and five people in each of those offices as well. We're still staffing up. That will go well into the summer and fall.
The way we relate to OPE, the Office of Public Engagement has a faith-outreach liaison within its office, whom we engage with multiple times per day so that we can make sure we're closely coordinating.
ELEANOR CLIFT, NEWSWEEK: Do you actually have a budget to make grants, and what is it? Are you doing any oversight of grants that were made during the Bush era, and have you drawn any conclusions about those?
DUBOIS: I am thankful for that question. I love answering this. Thankfully we have no money in the White House office to disperse to any faith-based organizations. This is one thing that – I don't think it was at all intentional – but for some reason there was a perception in the previous administration that there was this big pot of money in the White House that could be dispersed out to faith-based organizations. That didn't exist and doesn't exist now.
CLIFT: That is the urban myth, if you will.
DUBOIS: It is.
CLIFT: It's usually the way to give money to groups that –
DUBOIS: – you're friendly with and so forth. Now there are competitive grants all across the federal government, and our job is to make sure that faith-based and local neighborhood organizations are aware of those opportunities and can apply for them. We continue to do that. But there's no set of faith-based funds, although that perception is certainly out there.
One of the things we're trying to do as we focus more on civic partnerships is to disabuse folks of the notion that the only way we can and should partner with local organizations is through grants because, quite frankly, there aren't enough grants out there, and then some organizations aren't ready to come into partnership with the federal government.
ADRIEL BETTELHEIM, CONGRESSIONAL QUARTERLY: You've talked about the importance of reducing unintended pregnancies and reducing abortion. I'm wondering if you could point to any programs around the country that you're holding up as models for other similar activity?
DUBOIS: The answer is not yet, quite frankly, because we are in a process where we're reaching out to a range of organizations and just listening to what they're doing, what's working on the ground in each of those areas. We're compiling all of that data, that information, both about programs that work, about policies, potential legislative approaches, and then we'll put together recommendations for the president, who will then sign off and announce the way forward on that issue. There are a lot of great organizations out there. I wouldn't want to preempt the president by highlighting them just yet, though.
LUGO: Stephen, could I ask you whether there was any thought given during the Bush administration to expanding the scope of the faith-based office because it seems to me like they're taking on a lot more policy domains than was ever anticipated in the Bush White House. Any discussions along these lines?
GOLDSMITH: I'm not sure whether they are or not. I don't mean that in a critical way. I mean, in the Bush White House there were multiple points of entry into domestic policy, and the faith-based office was one voice. Depending on who was there and who was elsewhere at the time, sometimes a more forceful voice and sometimes not.
If you just think about urban policy in the Obama administration, there are multiple places for that voice. You can think about this a couple of ways. One is the policy influence of the faith-based office, so the extent to which the faith-based office is a powerful voice with the Domestic Policy Council, that's really important. That was an issue in the Bush White House, where that voice came from. Some people in the room have actually written about John DiIulio's relationship and how all that happened.
I think rather than answer your question directly, I would say the extent to which the director is effective, not just with the bureaucrats but with senior policy officials because of his strength and his position, he can make a difference. Sometimes that ebbed and sometimes it flowed in the Bush White House.
ADELLE BANKS, RELIGION NEWS SERVICE: Question for Joshua as well. I'm wondering about the advisors on the advisory council and how you view them. Do you see them more as sounding boards whom you call up perhaps every day, every week, depending on the issue, or do you expect them to come up with recommendations that will actually turn into policy that the president will work for?
DUBOIS: What we expect is in February of next year to receive a report from them in the six areas that we've laid out that talks about how the federal government can do a better job of connecting with local groups to address a particular issue. So, if it's related to the economic recovery or to the environment, we want them to give us recommendations about how the Department of Energy can engage with local groups to fulfill a particular energy-related or environment-related goal.
These are wonderful folks. We have a lot of wonderful relationships both on and off the council, and they certainly call us and we call them. But it's about receiving that policy-based recommendation at the end of the year that we can then consider and potentially move forward on.
GOLDSMITH: You'll need intermediaries, though, because the accountability provisions of the American Recovery and Reinvestment Act are excruciating. It's hard enough for a faith-based organization to comply with normal government mandates, but these are – whether or not they're a good idea is interesting. It will require the director to be very effective through intermediaries in order to allow any substantial participation.
DUBOIS: One of the key things we learned from the previous office was about the role of intermediaries and how effective they can be in terms of increasing efficiency. You can spend $50,000 to administer a $50,000 direct grant, but if you work through an intermediary you can do it in a more efficient way, in a way that's more accountable as well. So we've certainly learned from that and are moving forward with that in mind.
LUGO: Dick, could I ask you to jump in because you probably have studied every aspect of government reform related to administration. I'm sure there's a general literature on the role of advisory councils and their impact on policy execution at the administrative level.
Any light you can shed in view of those broader concerns and studies, not necessarily on the faith-based office and the council, but just more broadly? What's the role of these advisory councils? Do they work? What are the dos and don'ts basically on those?
NATHAN: One of the things that hasn't been mentioned is how is this going to fit with recovery, one of your six areas, and that huge set of programs and purposes? We have gone through the Recovery Act with a fine-toothed comb. What is actually in it? What's in it and important, I think, to pass along as another, I hope helpful, comment, Joshua, is that most of what has to happen out there in the domestic public sector that isn't an entitlement or transfer grant has to happen through or by state and local governments.
In many cases, Congress, the administration and various interest groups put their fingerprints on the law by including requirements to use the money to also achieve some special purpose, such as: make education work this way, make the Workforce Investment system work that way, do thus and so with Head Start, do something with the TANF program to get more families who need aid aided. Some of those things are purposes that are new and that aren't just going to help state and local governments with their budgets. What's going to happen when the money runs out? State and local governments are in terrible fiscal straits now. This money is going to be fiscal relief, but there are also things that they're supposed to do that are additive.
So it is one of the most complicated, biggest challenges that I've ever seen for getting out in the country and trying to link up the very good purposes of your important office with the millions of people and agencies who do wonderful, important work in the domestic public sector.
I guess my advice answering your question is, be wary of reports written in Washington. I left Washington deliberately 30 years ago because I thought it's a little bit unreal to me. Don't just spend a lot of your time and your wonderful energy, Joshua, getting a report out next year that covers six subjects. Try to collect information. Try to learn. Travel, yourself. Get a feel for what the Recovery Act looks like to wonderful mayors like Steve and leading officials and state government budget directors, policy office directors. It's a very, very big country.
DUBOIS: Sure. It's an important caution. We've certainly taken into account, even in the early weeks of this office, that the Recovery Act is massive – massive amounts of money and also the various intricacies there – and largely relates to state and local governments. So we work very closely with the Office of Management and Budget to make sure that the needs of faith-based and community-based organizations and the information about those partnerships is embedded in the guidance that goes out from OMB to states, governments and localities.
More importantly, we actually just had a conference a couple of weeks ago with offices of state government and local governments that are working on outreach to community-based organizations and tying organizations to those institutions of government. We were able to brief them on the Recovery Act, make sure that they knew all the programs that were out there so that they could take that back to their bosses, either mayors or governors, and work to form those partnerships. So it's a great point and one that we're certainly moving forward on in a robust way.
GOLDSMITH: A way to think provocatively about this – the conversation is so friendly I feel like I need to cause a little bit of trouble – not to you personally. Some of these things are really easy until you think about them in great detail. So if you think about the Recovery Act issues, and then you think about a lot of folks out there who need help, and then you say, well, what's the benefit of the faith-based world?
Lots of benefits in addition to faith, and one is a primary source in this country of volunteerism. Then you say, well, it's going to go back 15 years to when this stuff first erupted. It erupted over Teen Challenge. In fact, did you have to be a master social worker in order to deliver drug therapy? Even if you were effective but you didn't have the credential, were you allowed to do it?
I know this is not directly a federal issue, but as we just step back and think about this, one of the purposes was to level the playing field and say, when you impose regulatory rules, do they add more in cost than they do in benefit? There's a lot of money slushing through the system now, perhaps aimed at legitimate purposes, but to the extent that the regulatory regimes accrete as they go down – federal, state, local – and impose limitations on the ability of well-intentioned volunteers in the faith world to reach out to their neighbors, then they'll have a counterproductive effect.
It's really not meant to be a criticism about anything that's gone on, except to say the efforts at the state level and the federal level to make sure that good-hearted folks of faith are allowed to reach their neighbors – there is not enough federal money, as Joshua said several times, to reach these grant organizations. So the question becomes, how do those dollars leverage the faith world and small community guys so that the neighbors become more involved and there is a great reservoir of civil hope and volunteerism in our world. Whether Wilson [Goode], for example, taps those or not will depend a lot on the rules that flow down from those grants.
DAVID CAPRARA, BROOKINGS INSTITUTION: Hi. I direct the Brookings international volunteering project and was the faith-based director previously at the Corporation for National and Community Service. First a comment then a question. Commendations to Pew, not only for convening us today, but for all you did to convene groups like Amachi with partners throughout the last decade. To see the partnership model that flourished though the seeds that Wilson Goode planted around this country certainly is an end outcome, and I'd suggest in areas like youth violence, mediating partnerships like Bob Woodson's.
Really happy Mr. DuBois and the president have accented the family-strengthening area. It was a significant part of what you said. We have Diann Dawson in the room here, from HHS [Department of Health and Human Services], who's worked on this fatherhood and healthy marriage program and seeing how that connects to children of prisoners and prisoner reentry. So commendations on that.
Also, Joshua, I think his common-ground approach – if you haven't, go to WhiteHouse.gov and see the video. I think it's a great message. I think his practical step-by-step approach, and most importantly maybe listening, if the answers aren't here in Washington but in these grassroots intermediaries.
The question: the Cairo speech. For many of us that look internationally on this agenda, last week was a watershed moment, and I'd like to ask both Joshua and Steve, who maybe dealt with the compassion agenda in terms of PEPFAR [the President's Emergency Plan for AIDS Relief] and what have you, the implications of the president's speech on how we look internationally. Perhaps it's linked to Smart Power, whether we're looking at MBGs and malaria or peace-building effects. I have to my left here Doug Johnson, who has done this work with madrassas in Pakistan and actually has data to prove it works. But could you comment on the president's speech last week?
DUBOIS: It's a great question, and we were honored to work with the president on that speech. Most importantly, we'll be working to follow up on some of the things he proposed there. I think there were a couple of key parts. One is just the overall tone that was set, and then the other is some of the next steps we now have to take to fulfill the obligations and the things the president put forth.
We're working closely with the State Department and NSC [National Security Council] and AID to move forward, whether it's on his proposal for an entrepreneurship summit in the Arab world in the relatively near future or serving as a catalyst to make sure that youth in America can have direct translation services online with youth across the Arab world. So the short answer is he put forth some very specific ideas, and now we have to take it up and run with it.
LUGO: Stephen, he wanted you to comment as well on international partnerships, on PEPFAR and so forth. No?
GOLDSMITH: No, I defer to David and Joshua. I'm just a local mayor, so I don't want to venture too far. I think one of the important things that President Bush did is that this faith-based initiative was part of everything. This president's rhetoric – in the positive sense, the use of the word "rhetoric" – on these issues will set the stage internationally and domestically. The most important thing that happens is the use of the bully pulpit. Those words do count, and I think David's comment is very helpful.
VINCENT DICARO, NATIONAL FATHERHOOD INITIATIVE: On an issue like responsible fatherhood, there are members of Congress in both the House and the Senate who have been doing just incredible work for years – Sen. Evan Bayh from Indiana being one of those, Danny Davis in the House, and others. I don't know what the implications are in terms of the separation of powers and that sort of thing, but is there any vision in terms of how the faith-based office is going to interact with those members of Congress?
DUBOIS: We work very closely with them, and then-Sen. Obama was the cosponsor with Sen. Bayh of the Responsible Fatherhood and Healthy Families Act. That was one of the pieces of legislation that was closest to his heart and to his agenda. So we are in regular conversation with Sen. Bayh and with Congressman Davis, the respective leads on that bill in the House and Senate. The bottom line is, yes, we are working with them closely.
GOLDSMITH: In these areas there are a lot of interesting choices, and I think that the priority for the fatherhood initiative on the part of this White House is important. I started my public career in child support. Every AFDC mom in my city was my client, and I started some fatherhood programs that worked and some that didn't.
But all I'll add is a P.S. To the extent to which the faith-based initiative celebrates marriage and not just fatherhood – I mean, there are some value issues that affect conduct that are more difficult. They're more provocative and they pick up some opposition; they also produce some results. What I hope we're careful not to do is squeeze out the value part of the agenda – and I'm not suggesting you're trying to do that – but these are important issues. The inherent strength of the faith groups is the extent to which they contribute to that.
JOSH GOOD, ICF INTERNATIONAL: I have a question also about the way that you're working with other offices in the White House, like the Office of Social Innovation and the Office of Urban Affairs Policy. And then linked to that in terms of time of those four priorities that you laid out – the economic recovery, responsible fatherhood and marriage programming, reducing unintended pregnancies, and promoting interfaith dialogue – are those priorities for the next year, the next three or four years, the next eight years?
DUBOIS: For this administration. There's obviously a lot to do there, and we're certainly humble in our expectations about our ability to change some of these things. We think we can have an impact, but obviously we're not going to be able to solve every problem. So we're looking at those as administration priorities.
In terms of the way that we relate to other offices in the White House, the great thing is that, one, there are a lot of folks whom I have been working with for a while. I began in then-Sen. Obama's Senate office and carried through on the campaign, and I'm now here in the administration, so lots of good relationships there over the course of time.
But more importantly, we just have a very vibrant Domestic Policy Council. This is one of the things that Stephen stressed – the ability to engage at the DPC level with other offices. My office is in biweekly meetings with other DPC office heads. We're able to weigh in, whether it's on the budget or the Recovery Act or any bill that's moving through the White House and to form very close, collaborative relationships with the urban affairs policy folks, with the Social Innovation Office, as you mentioned. So I think it starts and ends with relationships, and we're well-positioned to make sure those relationships are fruitful.
NATHAN: Can I make a comment?
LUGO: Yes, absolutely, please. Anytime.
NATHAN: One of the things that we've bequeathed to you, Luis, is Anne Farris, who was the co-author of our report on how this administrative apparatus that Joshua now inherits is being shaped and used in a new moment.
Two things about that that fit with what you just said is that a lot of the activity involved getting out in the country and bringing churches and government people and your people together to listen, to interact. David, I don't know how many of these they had, but there must have been, what would you say, 40, 50? I mean, a lot.
But I would like to say too, to Stephanie and to Anne, that one of the things that we found was very helpful to do – and I think it would be helpful to you, Joshua – is that we put out a weekly newsletter, which some of you I hope remember and read. You can still get it through the Pew Forum. That's a commercial message.
In those newsletters we often – and Anne was the one who often did this – described what people said and who was there and what was happening. So I think as you work really hard – and there are so many things to keep track of – that there is a role for informing yourselves and informing people in the country about what your apparatus is doing and what you're learning. I mean, they learned a lot. There were four different directors. We had them all in for our annual meetings in Washington at the Roundtable.
DUBOIS: It's an important point, and we certainly look forward to communicating about our office more broadly for public affairs reasons, but also because we want local organizations to know how they can access our office and how they can work with the federal government. So we certainly will be doing that.
KATHERINE MARSHALL, GEORGETOWN UNIVERSITY: I'm with the Berkley Center for Religion, Peace, and World Affairs at Georgetown University. I wanted to follow up on the international question. As a practical matter, most of what's filtering out to those of us who are fascinated by what's happening is on the domestic side. So I'd be interested in some kind of a breakdown between domestic and international in your time.
Then two other dimensions. How far is the office or the group seen as getting into some of the international security apparatuses in the White House? Then, finally, there are voices in the wilderness that are basically saying that the crisis that we're seeing in the United States is nothing compared with what's coming to the poorest people in the world. How much thinking is there on recovery at the global as opposed to the national level?
DUBOIS: Great questions. In terms of how we spend our time, it really depends on the issues that are moving and the things that we have to confront. So, with the president's speech in Cairo in terms of the actual substance of the speech, the engagement around the speech, and then the follow-up, these days we tend to be spending a lot of time on international issues. Things ebb and flow, but the good thing is we have a great team of folks. Some are here today, even someone from our center at AID, who work on a full-time basis on a range of these issues.
There's only one center that is explicitly international in focus, and that's the one at the Agency for International Development. There's not one at the Department of State, so we tend to do a lot of that work out of the White House in terms of engaging, especially on international diplomacy issues and working with the State Department.
In terms of our interaction with the security apparatus, we try to focus on how the government is partnering with faith-based and with neighborhood organizations to achieve a particular purpose. So that limits our purview to some extent. But that purpose can be a security-based purpose or it can be a development-based purpose. But that's the lens we look through. We're not necessarily involved in conversations about peace and war more broadly, and I'm thankful for that.
What was the third question?
MARSHALL: The international crisis.
DUBOIS: The economic crisis, more broadly? I think it's a key point. It's something that our advisory council is certainly looking at in terms of their focus on international development and interfaith cooperation.
LUGO: Josh, if I could just follow up on that, is there any plan or thought given to expanding the number of these offices? You mentioned the State Department, for instance, didn't have one. That would seem to be critical to Katherine's question. Any thought given to expanding it beyond the 11?
DUBOIS: I think we have a pretty good foundation where we are now, and I think this is actually unique in government that we have this level of integration with a range of agencies. So, we're happy with where we are. Now obviously that can be reassessed on a case-by-case basis.
SUSAN PAGE, USA TODAY: Joshua DuBois, you said in your answer to the very first question that this issue of hiring that the press is fascinated with is not something that drives your day. I wonder what you have found to be the biggest challenge in this office in meeting the mission that you set out for yourself, maybe something you didn't expect before you took this job.
DUBOIS: The slow machinations of bureaucracy I would say are – (laughter) –to order staples takes a couple weeks. So to get people in place in terms of personnel and so forth across agencies takes quite a while. I guess just getting set up is one important thing. But, as Dick noted, we've been able to move pretty quickly in that regard. So that's one thing.
Then I think the recovery package and the economic recovery law and making clear the range of provisions in that bill that apply to community-based organizations, trying to get that information out to them so that they can compete on an equal basis and think through how they help get our economy back on track. That's a dense and a time-consuming process, but that's very important and we spend a lot of time on it.
GOLDSMITH: I'm a heavy fan of your potential success here, Mr. Director, because I do think – this kind of responds to the last question – that levels two through 20 of the bureaucracy put up with the faith-based initiative because the president or presidents want them to. They actually don't believe that faith will transform lives as much as professionalism in the delivery of government services.
So as you drop down through levels of bureaucracy, you've got thousands of RFPs and peer reviews and evaluations, and it's not clear – I mean, it's not like people are refusing to follow the law – but what was somewhat surprising, even in the last eight years, was the resistance of those levels to the initiative. Acquiescing is different than actually enthusiastically supporting, and the extent to which the director and President Obama are effective, then this foundation that President Bush laid will permeate further down and will have a much larger effect, I think.
LUGO: Dick, please.
NATHAN: The best job I ever had was as a bureaucrat in the budget office, OMB. I would like to suggest this, Joshua, that this instrumentation, the 11 offices, the signaling and satellite system for penetrating into agencies and getting your message to involve more people than five or seven of your people, that's a trick. But I would add one thing, which maybe is a little different from what Steve said, and that is, the people that work in government are wonderful, caring people. You have to rely on them a lot now because it's hard to get your –
But what I want to say is that you want to get your signal out there in the country, but also down and into the government where your leaders in the 11 agencies – and this is something we've looked at but not as much as maybe would be good to look at – how smart are they and how effective have they been in finding the people in the government agencies there already who share your purposes, who are deeply caring people of deep faith, and people who want to do what the president wants them to do? That's a lot of people.
I'm amazed every day when I meet somebody who's working so hard and is doing such good work and cares so much, and you've got to find those people because it's not every person but there are a lot of people. That's what the satellite office structure can enable your people to do. Five or seven people in your office and three to five in the satellite offices, that's good, that's new. It really is distinctive, but you want to add to your army.
DUBOIS: Certainly. They have to be entrepreneurs. They have to look outside of the walls of their office and become catalysts for change, and that's certainly what we're hoping to do.
JOE ANN SCHNEIDER, UNIVERSITY OF MARYLAND: Thank you. I'm an associate research professor at the University of Maryland, College Park, and director of the Faith and Organizations Project, which is a research practice project that looks at how all of the world's great religions and different denominations and groups in the U.S. approach doing faith-based service, how they are different, what's unique, and how you maintain that. We are nearing the results of our second study, and there are a couple of very, very quick top-line things I want to share leading to a question for Joshua.
One of the things that we have found is that there are several different systems that relate to different religious approaches to doing faith-based service. One of the concerns we had with the Bush administration approach was that it really focused on the evangelical approach and a protestant approach, which was congregational. Evangelical doesn't mean just conservative Christians; it crosses all religions. But the bottom line is that all the hiring issues, all the stuff that's inside Washington, is just so not important outside.
The other thing is that while there has been a focus on how to get congregations involved, really the key concern that we see is how can you better partner the larger organizations with the smaller and with religions where congregations aren't the major source?
So my question, Joshua, is twofold. One, could you talk a little bit more about civic partnerships, what that means? And, two, how do you see your office encouraging, using, gathering research from across the board to get these things out there?
DUBOIS: That broad-based engagement is key, and it really begins with relationships and whom you're reaching out to and talking to. I think we're casting a wide net. We're certainly meeting with Judeo-Christian organizations, but also with the Hindu American Foundation and the Sikhs, and so on and so forth, and also non-sectarian organizations – Boys & Girls Clubs and Big Brothers, Big Sisters – and trying to learn from their approaches.
In terms of civic partnerships, what we mean is, what can we do that doesn't necessarily involve a direct grant disbursal? How can we connect an organization on the West Coast that's doing great things with an organization on the East Coast that could learn from them? How can we, as Steve said, work through intermediaries to use those organizations to strengthen smaller organizations? We've been able to learn a lot from the work of the previous administration in that regard, and I think we can build on that.
LUGO: Joshua, just one more word on the research and best practices, and if there is any plan for that. Then I want to ask Dick to see how prevalent that is, the R&D function as it were, within governmental agencies for the communities they serve.
DUBOIS: The president cares a lot about what works. Now we don't run any independent grant programs through our office, but in terms of the programs that are out there, we are working to build in – and it was built in before to some extent – but we're working to continue to focus on programs that work and eliminating programs that don't. So that will be a part of pretty much everything that President Obama is taking up in terms of grant programs related to social services. But we also want to engage with other organizations, with Pew and with others that are studying these topics, and try to make our information available to you.
NATHAN: As time runs out – and this has been really interesting, and wonderful to meet you, Joshua – I just want to make a commercial statement. David Wright's report, which is 91 pages, is divided so that a very big part of it, almost 50 pages, is about institutional and organizational reforms – what they tried to do, what they learned, where they went with this apparatus as it was being experimented with and put in place – and it is really quite significant. David divides it in his report: first wave, second wave, third wave, fourth wave.
So there's a lot of experience that gets into some specifics about what kinds of handles, what kind of programs, what kind of relationships turned out to be important in the way this evolved – some good experiences and some bad experiences. But I think that could be helpful to you and to the people here.
GOLDSMITH: Best practices, though, could also include just tax deductions for non-itemizers. It could include more choice on the part of individuals who need help. I'm not disagreeing, but I just want to say that the array of policy levers is greater than just the grant side.
LUGO: For the record, we don't mind disagreements here at the Pew Forum. We always conduct civil activities and always at a high level of discussion, but disagreements are allowed.
MICHAEL KESSLER, GEORGETOWN UNIVERSITY: Hi. I'm from Georgetown University Department of Government and the Berkley Center. Josh, this question is for you. Good to see you outside of the law school setting. You spoke a number of times about responsible partnerships, and that often triggers questions about how the sectarian groups will use the money in a way that isn't sectarian.
In light of Justice Alito's opinion in Hein v. Freedom from Religion Foundation, which essentially takes away the right of citizens to question discretionary use of the office's funds – it kicks it back to the president and the executive agency to determine essentially and self-constrain. I'm curious how you have thought of what it is that you can and can't do in recruiting and in engaging faith-based organizations, and if there's anything that you learned from the case, if there's anything that you think you'd do differently?
DUBOIS: I think some principles are clear, that federal funding shouldn't be used for sectarian purposes, that the funds should be segmented and that there should be some level of oversight. Also there are some things that aren't about specific legal guidelines but that are just good to do, like encouraging organizations and helping to facilitate the process of them applying to be a 501(c)(3), which would address some of these issues as well.
I think we're not going to solve everything out of our office, and that's why we have a very close relationship with the White House counsel and with the AG, and as issues arise, I think we can work with them to come up with recommendations.
MAKEBA D'ABREU, THE BALM IN GILEAD: Good afternoon. I wear two hats today, with Target Ministries and with The Balm in Gilead, which does work with faith communities around HIV and AIDS. This question is to Mr. DuBois. How will your office ensure and expand the partnerships among faith-based organizations, community-based organizations and government to address HIV and AIDS domestically, and how do people who are living with HIV and AIDS and advocates find themselves among your six priorities?
DUBOIS: It's a key question, and I think it goes back to the relationship that we have with other offices on the Domestic Policy Council. Jeff Crowley, whom I know you know, is a wonderful leader in the Office of National AIDS Policy and is developing a national AIDS strategy. Our job is to bring the voices of the faith community and their perspective to Jeff so that as he's going about that work he can incorporate them. I know you've met with Paul and with others.
We want to make sure that Balm in Gilead and other organizations, faith-based groups that are working on the scourge of HIV/AIDS, have their voices represented. So whereas it's not something that we're necessarily moving forward on out of our office, the structure that we've set up allows us to bring those voices to bear with Jeff and with the Office of National AIDS Policy and make sure that those voices are heard.
LUGO: Thank you, Joshua; thank you, Stephen; and thank you, Dick. And thank you, Stephanie, for organizing this great event. Josh, you need not worry about our research getting to you.
DUBOIS: I know it's coming.
LUGO: Thank you so much for coming.
This written transcript has been edited by Amy Stern for clarity, grammar and accuracy.