Voters who plan to support Republican or Democratic candidates this November differ over the importance of many issues to their 2018 votes, but one issue that ranks high across the political spectrum is Supreme Court appointments: 81% of Democratic voters and 72% of GOP voters consider this to be very important to their vote this year.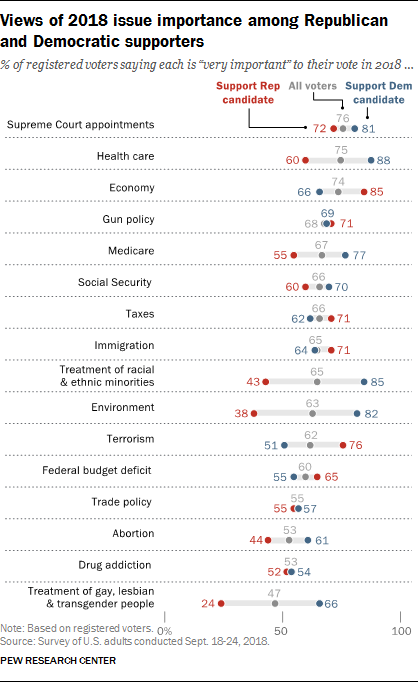 Large majorities of Democratic voters also view health care (88%), the treatment of racial and ethnic minorities (85%) and the environment (82%) as very important voting issues. These issues rank far lower among Republican voters. Six-in-ten Republicans say health care is very important to their vote this year, and only about four-in-ten say the same about the treatment of racial and ethnic minorities (43%) and the environment (38%).
The economy tops the list of important issues in the upcoming election among supporters of GOP candidates, with 85% saying it is very important – a view shared by a smaller majority (66%) of those backing Democratic candidates. And while 76% of GOP voters say terrorism is very important to their 2018 vote, just 51% of Democratic voters say the same.
Republican voters are somewhat more likely than Democrats to name taxes (71% vs. 62%), immigration (71% vs. 62%) and the federal deficit (65% vs. 55%) as very important to their vote. And Democratic supporters are more likely than Republican backers to name the treatment of gay, lesbian and transgender people (66% vs. 24%), Medicare (77% vs. 55%), abortion (61% vs. 44%) and Social Security (70% vs. 60%) as very important.
Health care is a more important issue to Democratic voters this year than in 2016 or 2014, while its importance has fallen among voters supporting Republicans. Before the 2014 midterm elections, there was a 5-percentage-point gap between Republican and Democratic voters; this fall the gap is 28 points.
Democratic voters are less likely to rate the economy as a very important voting issue than in past years. Currently, 66% say the economy is very important, the lowest share saying this in a decade. Republican voters continue to rank the economy as a top voting issue (85% very important).
The federal budget deficit has been more important to Republicans than to Democrats since 2010, but the share of Republicans saying this is down by double digits (65% say this today, down from 81% in 2014 and 82% in 2012). Among voters in both parties, the importance of taxes is little changed from 2012.
Over much of the last decade, Republican voters have been more likely than Democratic voters to say immigration is a very important issue in their vote. But the gap is narrower than in the past. Today, the gap between Republicans and Democrats is just seven points (71% to 64%).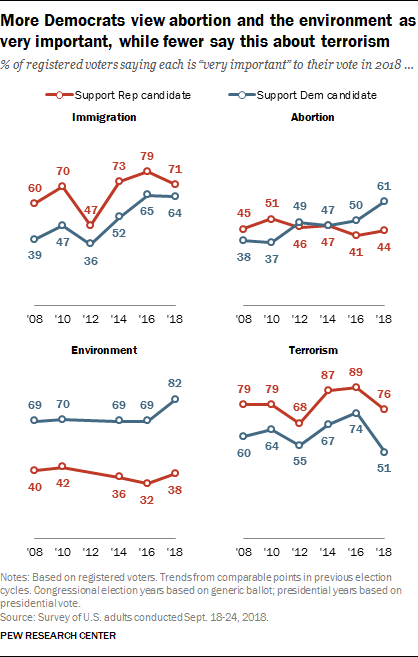 About six-in-ten (61%) supporters of Democratic candidates now say they consider abortion to be a very important issue to their vote; this is the first time in the past decade a majority of Democratic voters have said this. The share of Democratic voters who rate abortion as very important has increased 14 percentage points since 2014 and 23 points since 2008. Republicans are about as likely today as in the past to say abortion is very important to their vote.
Supporters of Democratic candidates have consistently been more likely than GOP backers to consider the environment to be very important to their vote choice, but the share of Democratic voters saying this has increased from past years. About eight-in-ten (82%) now say this is very important, up from 69% in both the 2016 and 2014 elections. There is little change in the importance of this issue among Republican supporters.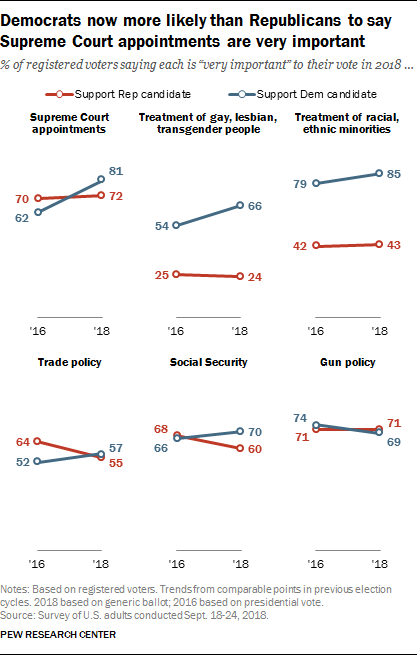 While several issues have become more important priorities for Democratic voters, terrorism has fallen sharply in importance. About half of Democratic voters say terrorism will be very important, down 23 percentage points from 2016. The partisan gap over the importance of terrorism, which has been evident for a decade, now stands at 25 points (76% of Republicans, 51% of Democrats).
As Congress considers Brett Kavanaugh's nomination to the Supreme Court, appointments to the high court rank among the top issues for both Democratic and Republican voters this year. But, in contrast to 2016, Democratic voters are now more likely than Republican voters to say this is very important to their vote. The share saying this among Republican voters is largely unchanged from 2016 (about seven-in-ten both years), but the share of Democrats saying the court is very important for their vote is 19 points higher than it was in 2016 (81% now, 62% then).
The share of voters saying the treatment of gay, lesbian and transgender people is very important is up this fall among Democratic supporters (66% now from 54% in 2016) but little changed among Republican backers (24% now; 25% in 2016).
The pattern since 2016 is similar for the importance of the treatment of racial and ethnic minorities. Currently, about twice as many Democrats (85%) as Republicans (43%) rate this issue as very important.