The 2016 presidential campaign has exposed deep disagreements between – and within – the two parties on a range of major policy issues. But these divisions go well beyond the issues and extend to fundamentally different visions of the way that life in the United States has changed.
Overall, 46% of registered voters say that life in America today is worse than it was 50 years ago "for people like them," while 34% say life is better and 14% think it is about the same. Republican and Republican-leaning voters are more than twice as likely as Democratic voters to say life in this country has gotten worse over the past half-century for people like them (66% to 28%).
Among GOP voters, fully 75% of those who support Donald Trump for the Republican presidential nomination say life for people like them has gotten worse, compared with 63% of Ted Cruz supporters and 54% of those who back John Kasich. While Democratic voters generally express more positive views of how life in the U.S. has changed over the past 50 years, those who favor Bernie Sanders are more negative (34% say life has gotten worse) than those who support Hillary Clinton (22%).
The latest national survey by Pew Research Center, conducted March 17-27 among 2,254 adults, including 1,787 registered voters, finds higher levels of dissatisfaction – with long-term changes in the country, the federal government, as well as with the economy and personal finances – among Trump supporters than among those who back any other candidate, Republican or Democrat.
Overall, there has been no increase in voter anger toward the federal government since before the start of the presidential campaign. Currently, 22% of registered voters say they are "angry" at the federal government, while 59% are "frustrated" and 17% "basically content." These opinions are little changed from last fall, in Pew Research Center's major study of attitudes toward government, and from early 2014.
Republican and Republican-leaning voters (35%) continue to be more likely than Democrats and Democratic leaners (10%) to express anger at government. Within the GOP, anger at government is heavily concentrated among Trump supporters – 50% say they are angry at government, compared with 30% of Cruz backers and just 18% of those who support Kasich.
GOP voters who support Trump also stand out for their pessimism about the nation's economy and their own financial situations: 48% rate current economic conditions in the U.S. as "poor" – no more than about a third of any other candidate's supporters say the same. And 50% of Trump supporters are not satisfied with their financial situations, the highest among any candidate's supporters.
The major issues that have emerged in the presidential campaign reveal divisions within the two parties in different ways. But for the most part, the gaps are much wider among Republican voters than among Democrats, especially when it comes to opinions about immigrants and immigration policy, government scrutiny of Muslims in the United States, and abortion and other social issues.
Overall, 57% of all registered voters say that immigrants in the United States today strengthen the country because of their hard work and talents, while 35% say they are a burden because they take jobs, housing and health care. Republican and Republican-leaning voters are more than three times more likely than Democrats and Democratic leaners to view immigrants as a burden (56% vs. 17%).
Among those who support Trump for the GOP nomination, 69% say immigrants are a burden, compared with 51% of Cruz supporters and 40% of Kasich supporters. Fewer than one-in-five Clinton (17%) and Sanders supporters (14%) consider immigrants a burden on the country.
Overall, most voters continue to oppose subjecting Muslims living in the United States to greater scrutiny solely because of their religion. Again, GOP voters are divided: most Trump (64%) and Cruz supporters (53%) say U.S. Muslims should be subject to heightened scrutiny; most of those who support Kasich (58%) say they should not. Large majorities of Sanders (85%) and Clinton supporters (75%) oppose subjecting U.S. Muslims to additional scrutiny solely because of their religion.
On the other hand, there are differences within both parties in opinions about the fairness of the U.S. economic system. Democrats overall say the system unfairly favors powerful interests, but Sanders supporters (91%) are more likely than Clinton supporters (73%) to describe the economic system as unfair. Among Republicans, a majority of those who back Trump (61%) view the system as unfair, compared with 51% of Kasich supporters and 45% of Cruz supporters.
A majority of all voters (60%) say that global problems would be worse without U.S. involvement, while 34% say U.S. efforts to solve problems "usually end up making things worse." Among Sanders supporters, 45% say U.S. international efforts make things worse, compared with 28% of Clinton supporters. Trump supporters (38%) are more likely than Kasich (27%) or Cruz (25%) supporters to say the same.
Trade has emerged as a contentious issue in both parties' candidate debates, but majorities of both Clinton (58%) and Sanders supporters (55%) say that free trade agreements have been a good thing for the United States. Cruz supporters (48% good thing) and Kasich supporters (44%) are divided, but among Trump supporters, just 27% say trade agreements are beneficial for the U.S, while 67% say they are bad thing.
Social issues, such as abortion and same-sex marriage, divide Republicans along different lines than do immigration or trade. Far more Cruz supporters (73%) than Trump (53%) or Kasich (50%) supporters say abortion should be illegal in most or all cases.  Only about a quarter of Clinton supporters (24%) and 21% of Sanders supporters favor making abortion illegal in at least most cases.
Not all issues are so divisive. Among all voters, 71% say that, when thinking about the future of Social Security, benefits should not be reduced (26% say reductions need to be considered). Among supporters of the presidential candidates, majorities ranging from 62% to 73% say Social Security benefits should not be reduced.
The 2016 Campaign
As the primary campaigns move into a pivotal stage, 41% of Republican and Republican-leaning registered voters say they would like to see Trump nominated as the party's presidential candidate, compared with 32% who favor Cruz and 20% who support Kasich. Reflecting the pattern seen in several GOP primary contests thus far, Trump nationally draws more support from Republican voters who have not completed college than from college graduates.
Kasich's strongest groups are the mirror image of Trump's – he fares better among better-educated Republican voters and those with higher incomes. Cruz gets higher levels of support among religiously observant GOP voters than those who are less observant.
Among Democratic and Democratic-leaning registered voters, 49% prefer Clinton, while 43% support Sanders. As has been the case in several primary contests to date, Clinton nationally draws greater support among blacks than whites. Sanders has much broader appeal among young voters, especially young men, than among older voters.
As they were in January, registered voters are generally skeptical that any of the presidential candidates would make a good president. Far more voters continue to say that Trump would make a poor or terrible president (59%) than a good or great chief executive (26%). The share anticipating that Trump would be a "terrible" potential president has increased six percentage points, from 38% to 44%, since January.
Though viewed less negatively than Trump, more voters also say both Clinton and Cruz would make poor or terrible presidents than good or great ones, while expectations of a Sanders presidency remain mixed. These views are little changed since January.
Kasich, meanwhile, is better known than he was in January and more voters view him as a potentially good or great president than did so then (33% now, 13% then). One-in-five voters (19%) say Kasich would be poor or terrible in the White House (24% said this in January), while 39% view him as a potentially average president (up from 32% two months ago.)
Presidential primary campaigns are typically bruising affairs, but the current contest has taken an especially heavy toll on Republican unity. Many supporters of both Kasich and Cruz take a dim view of Trump as a potential president. A majority of Kasich supporters (55%) say Trump would be a poor or terrible president, with 36% describing him as terrible. Half of Cruz supporters (50%) think a Trump presidency would be poor or terrible, with 28% saying Trump would make a terrible president.
Among Democrats, only about a quarter of Sanders supporters (28%) say Clinton would make a poor or terrible president.
GOP voters also are skeptical that the party will unite behind Trump if he is the party's nominee. Just 38% say the party would "unite solidly" behind Trump, while 56% say disagreements within the party would keep many Republicans from supporting him. That is much lower than the share of Republican voters who expected the party to unite behind Mitt Romney (65%) and John McCain (64%) at comparable points in the 2012 and 2008 nomination campaigns.
By contrast, most Democratic voters (64%) think their party will solidly unite behind Clinton if she is the nominee. In March 2008, about as many Democrats (66%) said the party would unite behind Barack Obama if he won the Democratic nomination.
Thus far, the 2016 presidential campaign has attracted very high levels of interest – fully 85% of registered voters say they have given "quite a lot" of thought to the election. That is higher than the shares of voters who said they had given a great deal of thought to the election at this point in 2012 (66%) and 2008 (78%).
Yet the primary process gets relatively low marks from voters in both parties, with the notable exception of Trump supporters. Just 35% of registered voters – including 42% of Republicans and 30% of Democrats – view the primary system as a good way of determining the best-qualified nominees. Among Trump supporters, however, 60% have a positive view of the primary process, compared with no more than about 40% of the supporters of any other candidate.
There also is general agreement among the supporters of the remaining candidates – again, with the exception of Trump backers – that the billionaire has received too much press coverage. Overall, 75% of voters say news organizations have given too much coverage to Trump. No more than about four-in-ten say that about any of the other candidates (41% say Clinton has gotten too much coverage).
In a campaign that has been punctuated by harsh personal attacks, about two-thirds of voters (68%) say that "personally insulting political opponents is never fair game;" only 30% say personal attacks are sometimes fair game. Two-thirds or more of supporters of all candidates — with the exception of Trump supporters — say personal attacks are off-limits; Trump supporters are more divided (47% say they are sometimes fair game, while 51% say they never are).
The Political Landscape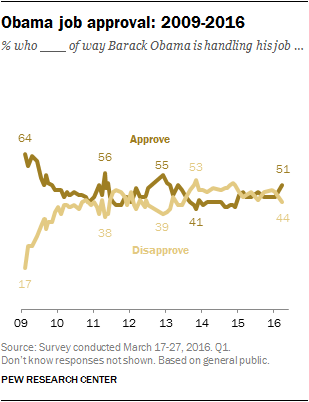 With less than a year to go in his presidency, Barack Obama's job rating is in positive territory for the first time in nearly three years. Currently, 51% of the public approves of the way Obama is handling his job as president, while 44% disapprove. In January, Obama's job ratings were more mixed (46% approve vs. 48% disapprove).
The public's views of the nation's economy are little changed from December: 29% view economic conditions as excellent or good, 43% say they are only fair, while 28% say they are poor. As was the case in December, economic optimism remains somewhat limited. Currently, 22% say they expect conditions to be better a year from now, 17% say they will be worse and 55% say they will be the same.
The public's perceptions of the Republican and Democratic parties have shown little change over the past year. A majority of Americans (54%) say the Republican Party is "too extreme," which is unchanged since last fall. Fewer (37%) continue to describe the Democratic Party as too extreme.
Similarly, perceptions of whether the parties are tolerant and open to all groups of people, care about the middle class and have good policy ideas have changed little since February 2015. About twice as many view the Democratic Party as tolerant and open than describe the GOP this way (65% vs. 32%). More also say the Democratic Party cares about the middle class (61%) and has good policy ideas (53%) than say this about the Republican Party (43% and 45%, respectively).