35% of Teens Have Some Experience with Dating or Romantic Relationships; 18% Are Currently in a Relationship of Some Kind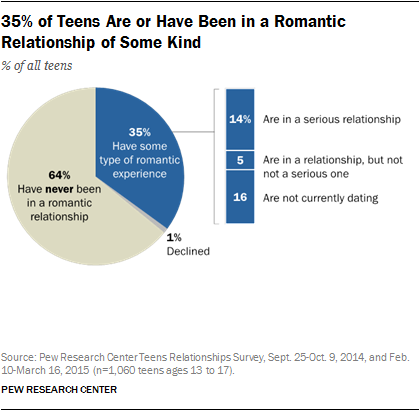 Dating and experience with romance are relatively common – but far from universal – among teens ages 13 to 17. Some 35% of teens have some type of experience in a romantic relationship, a figure that includes current and former daters, as well as those in serious and less-serious relationships. The survey asked about three different categories of romantic relationships and found:
14% of teens are currently in a relationship they consider to be serious with a boyfriend, girlfriend or significant other.
5% of teens are in a current romantic relationship, but do not consider it to be serious.
16% of teens are not currently dating, but have had some sort of romantic relationship (whether serious or otherwise) in the past.
Some 64% of teens indicate that they have never been in a romantic relationship of any kind (and 1% declined to provide their relationship status). The 35% of teens who say they are either currently involved with a romantic partner or have ever dated, hooked up with or had a romantic relationship with someone will serve as the focus of the remainder of this report. When we refer to "teen daters," "teens with relationship experience" or "teens with dating experience" we are referring to this roughly one-third of teenagers who are currently in some type of relationship or have been at some point in the past.
Most teens with romantic relationship experience are not sexually active. Some 30% of teen daters say they have ever had sex.5 Two-thirds of teen daters (66%) indicate that they have not had sex, and 2% declined to indicate whether they are sexually active or not.6 7
Older teens are more likely to have experience with dating and relationships, and they also are more likely to be sexually active
Age is the primary demographic dividing line when it comes to dating and romance. Teens ages 15 to 17 are around twice as likely as those ages 13 to 14 to have ever had some type of romantic relationship experience (44% vs. 20%). These older teens also are significantly more likely to say they are currently in an active relationship, serious or otherwise (18% vs. 6% of younger teens).
Older teens also are more likely to be sexually active, as 36% of 15- to 17-year-olds with romantic relationship experience have had sex, compared with 12% of 13- to 14-year-olds with relationship experience.
Besides age, there are relatively few demographic differences when it comes to teens' experiences with dating and romantic relationships. Boys and girls, and those with different racial, ethnic and economic backgrounds are equally likely to have been in such relationships.