The Can-Spam Act has not worked for most email users so far; Disillusionment is growing as 29% of email users say they are using email less because of spam
The distress of Internet users at spam has increased in recent months and growing numbers of Internet users are becoming disillusioned with email, even though tough, anti-spam legislation went into effect on January 1.
A new survey by the Pew Internet & American Life Project between February 3 and March 1, 2004 shows the following:
29% of email users say they have reduced their overall use of email because of spam. That figure is an increase from last June, when we found that 25% of emailers were reporting a reduction in their email use.
63% of email users said that the influx of spam made them less trusting of email in general. That figure is higher than the 52% of email users who reported declining trust in email in June.
77% of emailers said the flood of spam made the act of being online unpleasant and annoying. That is an increase from the 70% of those who said in June that spam was making online experiences unpleasant and annoying.
In all, 86% of email users reported some level of distress with spam.
The impact of the Can-Spam legislation is mixed, but not very encouraging so far. Some email users say they are getting less spam both in their personal email accounts and in their work accounts. But the vast majority report either no change in the volume of spam that gets into their in-boxes or that the number of unsolicited commercial emails is growing.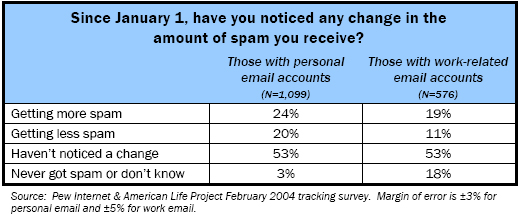 Fully 71% of those with email accounts report that they have received pornographic spam. And the one area where the Can-Spam seemed to be having some clear effect involved porn. Of those who had gotten pornography in the past, 25% say they are getting less porn spam now. That compares to 16% who say they are getting more and 56% who say they notice no change.
The Can-Spam Act was approved by Congress last year and signed into law on December 16. It went into effect on January 1, 2004. The law attempts to regulate rather than ban the practice of spamming by requiring email marketers to include legitimate return addresses and opt-out information in all the unsolicited messages that they send. The statute outlaws fraudulent spam, where spammers lie about who is sending a message, what material the message contains, and where the email is originating. It is common for spammers to commandeer others' computers and them to send their messages. Those who commit such frauds can now be punished with prison terms and heavy civil penalties. Several major Internet Service Providers just filed suit against alleged spammers using these provisions of the law.
The Pew Internet Project survey showed that in behavioral terms the impact of spam was felt equally among most demographic groups. But in attitudinal terms, the problems with spam are not evenly distributed. Women are more likely than men to report serious levels of declining trust in email and say that the influx of spam made being online unpleasant or annoying for them. At the same time, younger Internet users (those between ages 18 and 29) were the least likely age group to report a lower level of trust in email.
There is new evidence in the survey about why spam is an attractive activity even though public revulsion is strong. Some 9% of email users say they had responded at one time or another to an email offer only to find out it was phony or fraudulent. Online minorities and those with lesser amounts of household income and education were the most likely to report. In addition, 5% of email users said they had ordered a product or service that came to them through an unsolicited email. That translates into more than six million people. Furthermore, 3% of email users said they had provided personal information to those who sent them unsolicited emails.
In all, 42% of email users said they were aware that Congress and the Administration had approved anti-spam legislation and that it had gone into effect on January 1.
The national phone survey covered 2,204 American adults, of whom 1,371 are Internet users. The margin of error on data involving Internet users is plus or minus 3 percentage points.
The Pew Internet & American Life Project is a non-profit, non-partisan research organization that is funded by the Pew Charitable Trusts to examine the social impact of the Internet. It does not advocate policy outcomes.